Buffalo Point Overlook Trail Loop (Buffalo River) – 1 mi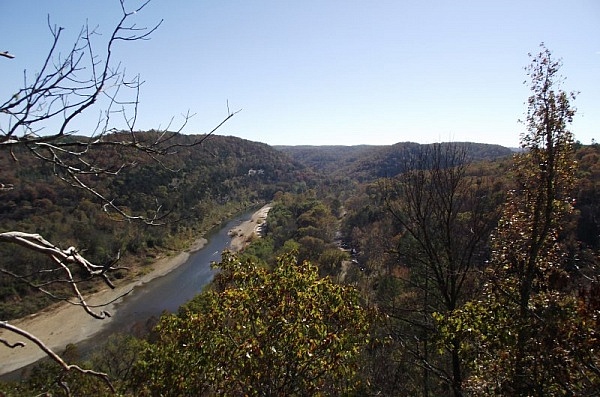 Buffalo Point, formerly Buffalo River State Park, is a beautiful campground area built along a section of the lower Buffalo National River. Many of the rock and wood buildings in the campground were built during the Depression by the Civilian Conservation Corps.
When you visit, be sure to check out the Overlook Trail. This 1.3-mile loop hike is not very long and features a great scenic view of the river.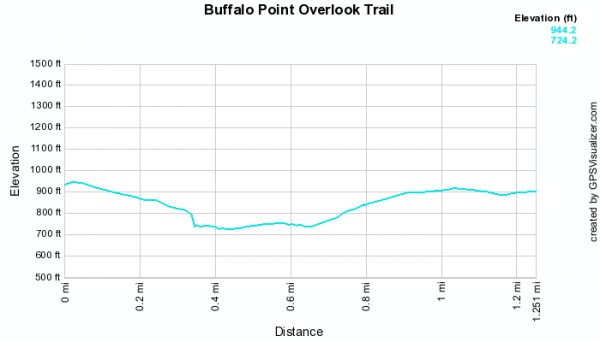 . 
Buffalo Point Overlook Trail Map
Click here for full-screen trail map.
Although the trails at Buffalo Point are not blazed, it is not difficult to see where the trail is located. There is parking at the trailhead. (This is the same trailhead for the Indian Rockhouse Trail.)
It is on the main road about 200 yards past the Buffalo Point ranger station.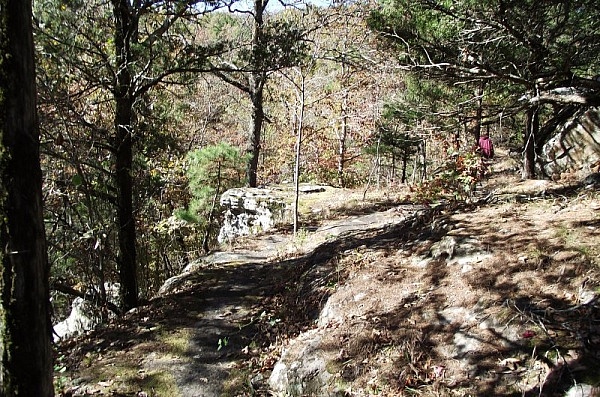 I followed the trail clockwise. The overlook is about 1/3 a mile from the trailhead. From there, continue on to the right.
Eventually, you will reach a fork where the Overlook Trail meets the Campground Trail. Here, turn right to continue on the loop.
After another quarter mile or so, there is another fork. Turn right here again to continue the loop back to the trailhead.
The loop will finish back at the trailhead parking lot.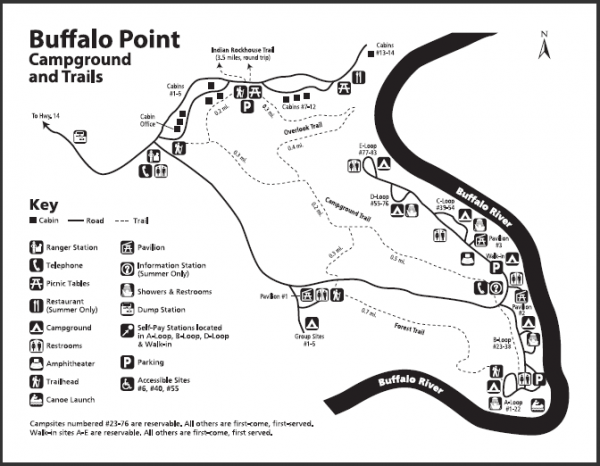 Although the trail is short, be prepared for a bit of a climb. There is an elevation change of about 200 feet.
These are some photos and my gpx map from my hike in October.
Click here to download Mike's gpx file.
Buffalo Point: Overlook Trail

Location
Buffalo Point Campground, Buffalo National River, Marion County, Arkansas
Hike Length/Type
1.3 mile loop
Difficulty
Moderate (3 of 5)
Directions
The trailhead (with parking) is on Highway 268 (the main road) about 200 yards past the ranger station. (It is the same area where the Indian Rockhouse Trail begins.)
Other Permitted Usage
None
ATT Cell Coverage?
Partial.
Official Info - Phone/Links
(870) 439-2502 Website. Buffalo Point Trail Map.
Weather/Conditions
50's/60's
Date Hiked
10-30-2010 (a.m.)

Print Friendly