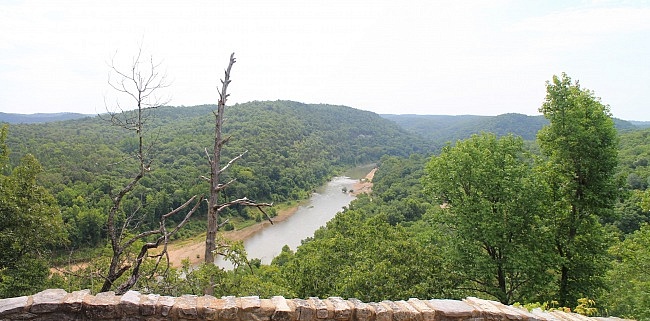 The Overlook Trail loop (about 1.3 miles) at the Buffalo Point Campground (Buffalo National River, Marion County) is an enjoyable and not-too-challenging walk with a cool overlook of the river.
The net elevation change is only about 200 feet. The trail starts at the same area as the Indian Rockhouse Trail.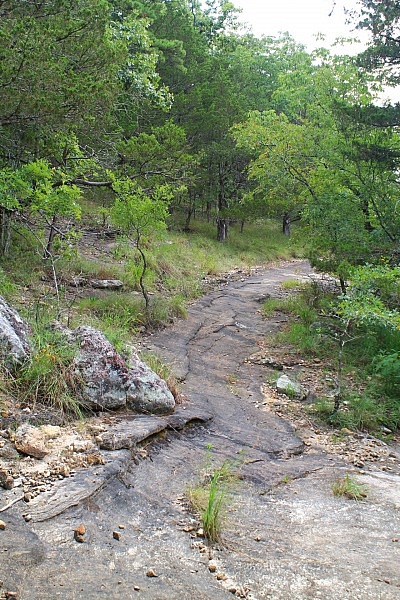 Getting to the Overlook Trail at Buffalo Point
Buffalo Point Campground (formerly Buffalo River State Park) is the most developed campground in the Buffalo National River.
To get there from the north, take Highway 412 to Yellville, and then take Highway 14 heading east (really south). After 14 miles, take a left onto Highway 268. (Watch for the park signs on Highway  14. Wild Bill's Outfitter is at the turn.)
From central Arkansas, take I-40 to Conway, then get on Highway 65 heading north. Stay on 65 for 64 miles to Marshall. Take Highway 27 north to Harriet then turn left (west) onto Highway 14. Take a right 9 miles later  on Highway 268 at Wild Bill's Outfitter. (Watch for the park signs.)
Highway 268 takes you into Buffalo Point Campground.
At about 1.5 miles, the Ranger Station is on the right.
The trailhead parking is on the right about a mile further up the road.
CLICK – Google Maps Directions to Overlook Trailhead at Buffalo Point
The Trail
The Overlook Trail itself is only about .7 miles long, but the entire loop is about 1.3 miles.
The first .3 is a downhill forested walk to the overlook which features an expansive view of the Buffalo River. From there, the trail makes a sharp right turn and stays relatively flat for another .4 miles. There are some cool rock formations along this stretch.
To make the loop, turn right and head back uphill when you reach the Campground Trail.
After about another .3 miles, you make another right turn (as the sign indicates) to finish the loop back at the trailhead.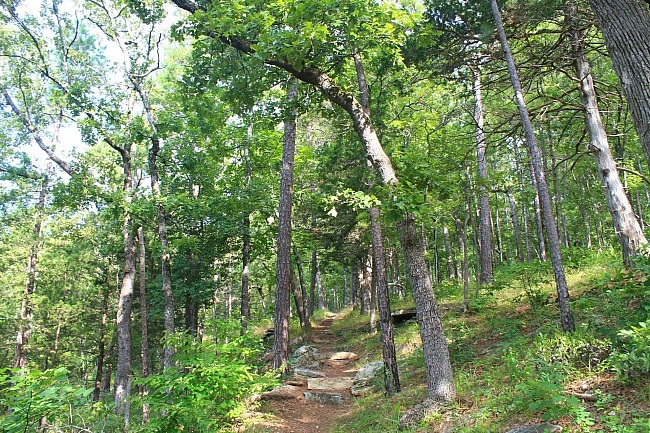 When I last hiked the trail in July, I ran into a large group of deer on the Campground Trail part of the loop.
Although there are no blazes, the trail is well-traveled and easy to follow.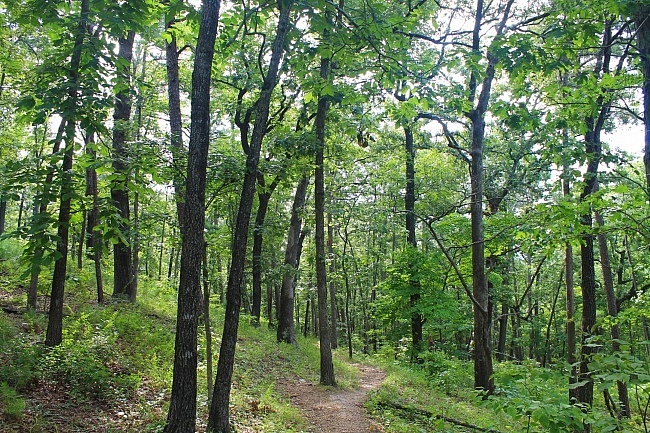 Buffalo Point is a beautiful campground area built along a section of the lower Buffalo National River. Many of the rock and wood buildings in the campground were built during the Depression by the Civilian Conservation Corps.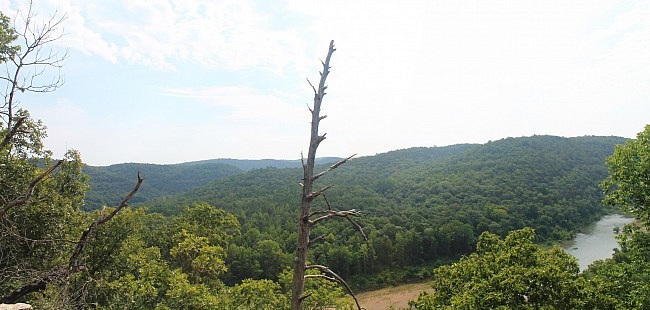 As with most of the Buffalo River area, I only had limited (AT&T) cell service in a few places.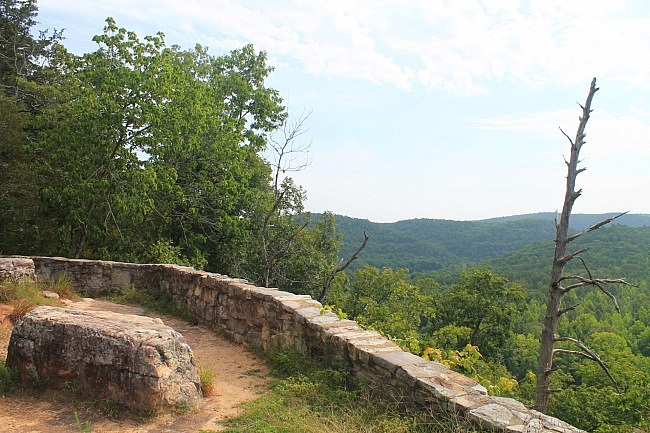 These photos are all from my July 27, 2014 visit to the trail.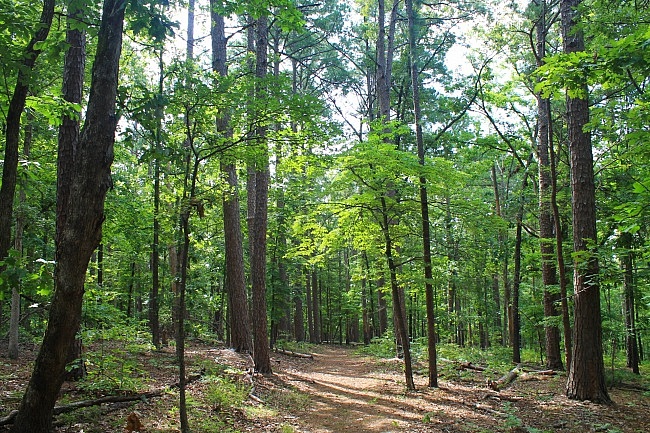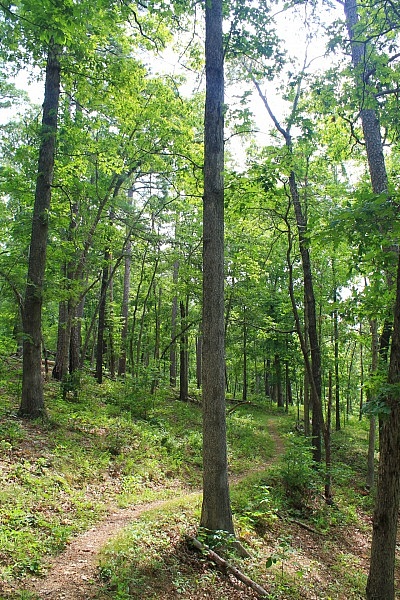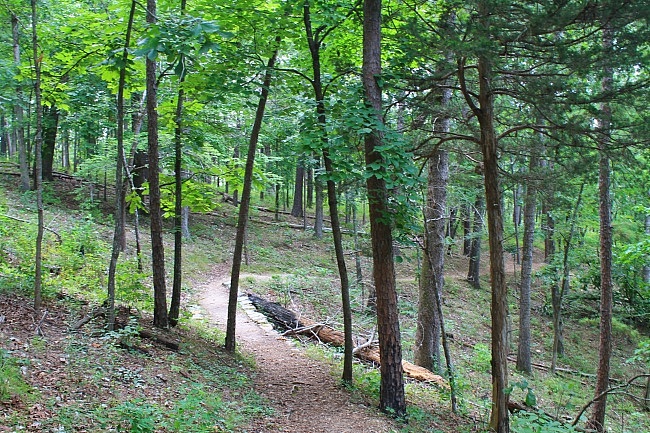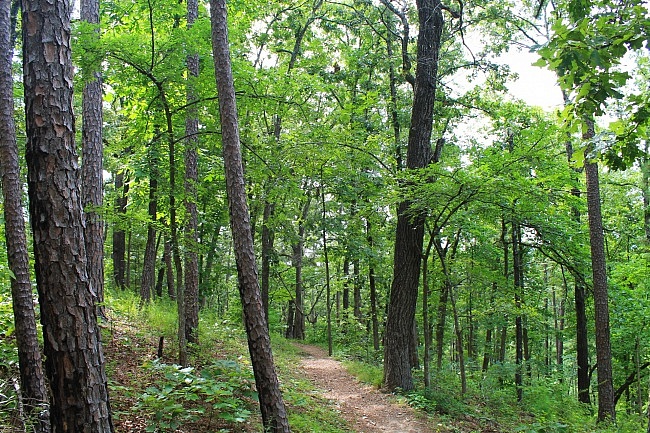 Photo Gallery
Click here or below for full-screen photo gallery.
Maps
CLICK – Interactive Trail Map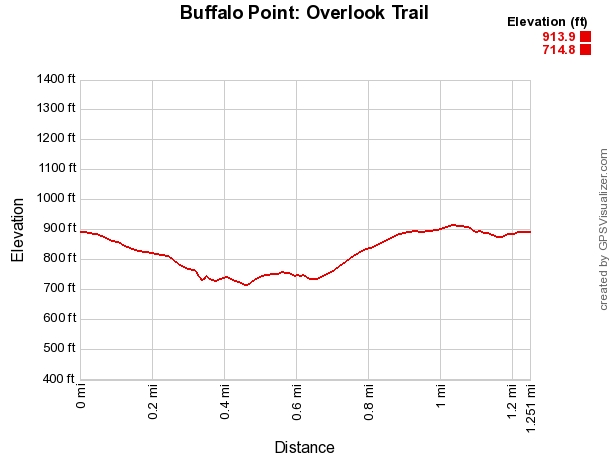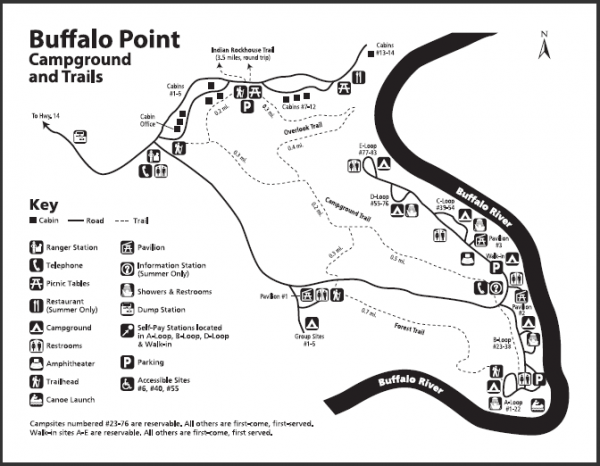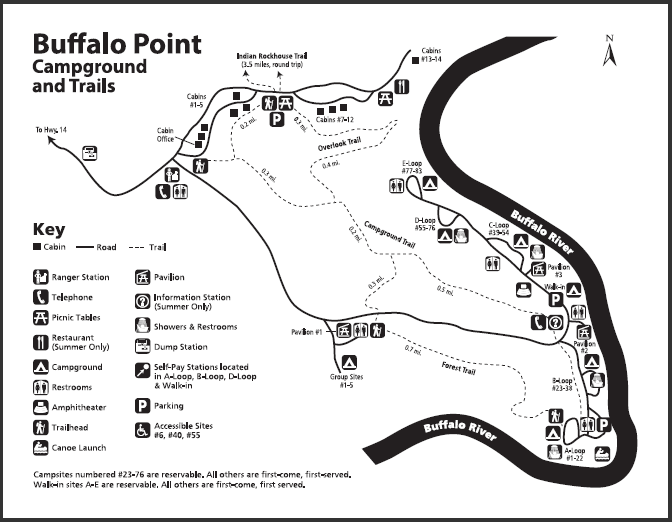 [Last revised: 9-3-2017]