[Note: as of 7-20-2015, the Lost Valley Trail is closed due to damage from recent flooding. Check with National Park Service for more information.]
A few weeks ago on June 6, while returning from a family vacation, we made a brief stop in the Buffalo National River and walked the Lost Valley Trail. While it was pouring down rain that early afternoon, we were debating whether to give it a try. (Of course, I was up for it. But not everyone gets into walking in the rain.)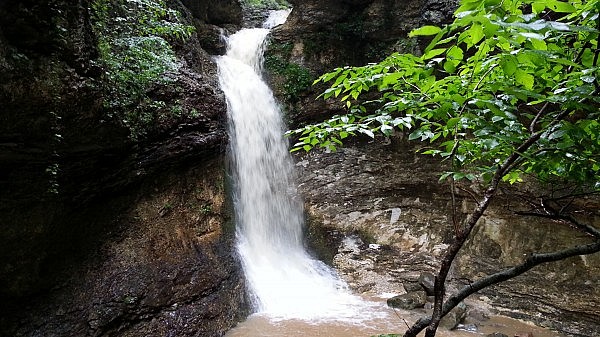 It was still sprinkling when we started walking the trail about 2 p.m. It had pretty much stopped by the time we reached the waterfall.
Thanks to all the recent rain, there was lots of water flowing in Clark Creek and the surrounding streams. It was really cool.
Of course, the highlight of the trail is Eden Falls. I had been to Eden Falls 4 or 5 times already, but never at such high water. I thought the waterfall that day was awesome.
I didn't have my regular camera with me, but I was able to take some cell video of the waterfall. These are the videos I took.
These first two videos were taken down at Eden Falls. The video at the bottom was taken above the falls at the entrance of Eden Falls Cave.