Mount Nebo: Nebo Steps/Nebo Springs Loop – .5 mi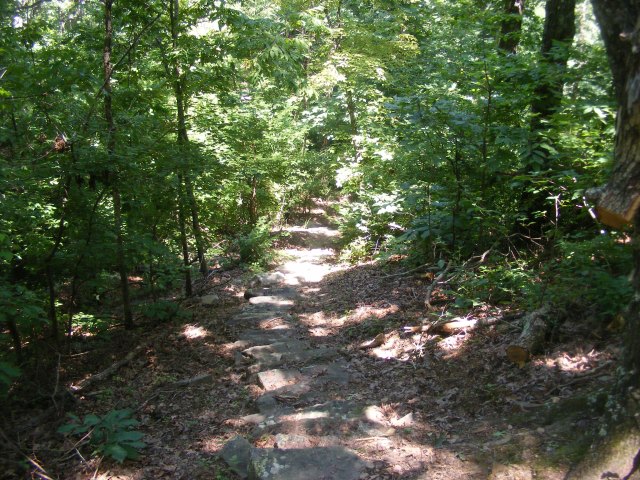 Nebo Steps (.1 mile) and Nebo Springs (.3 miles) are two short trails at Mt. Nebo State Park which connect the rim and bench levels of the mountain. (See here for more about the two levels.)
This hike makes a .7-mile loop of the two trails.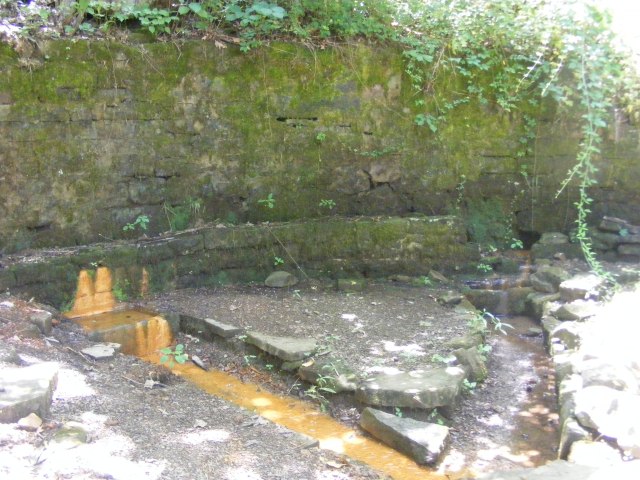 .
Nebo Steps/Nebo Springs Loop GPX Map
Click here for full-screen trail map.
I did not find the short Nebo Steps Trail to be that interesting. This trail (which starts from the Rim Trail near the Visitor Center) is basically a stone step staircase going from the Rim Trail to the Bench Trail. And during the summer at least, there are not any scenic views.
At the Bench Trail, you make a right turn and walk about .2 miles to the east trailhead of the Nebo Springs Trail. This trail makes a short dip down to the Nebo Springs (built in the 1800's), then crosses the Bench Trail, and starts heading back up the mountain.
I thought the Nebo Springs Trail was pretty neat. It has a walk through the woods, some cool stone steps, interesting rock formations, and scenic mountain views.
Once you reach the Rim Trail, take a right and head back to where you started.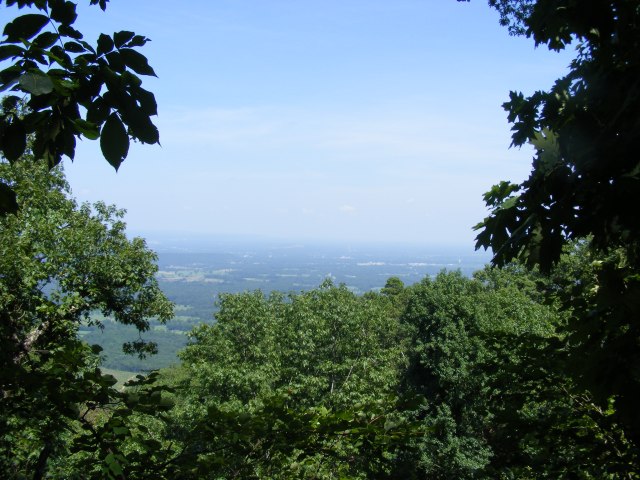 As usual, I have posted some of my photos and a gpx map made from my gps data.
Click here for GPX file download.
VITAL INFO

Trail Name and Location
Nebo Steps/Nebo Springs Loop - Mount Nebo State Park
County/State
Yell/Arkansas
Date Hiked
07-18-2010
Weather/Conditions
90's, hot.
Directions
Parking is at the Visitor Center. To get to the Nebo Steps trailhead, take the Rim Trail to the right for about 100 feet. I walked the Nebo Steps Trail down to the Bench Trail. Then I turned right and walked (about .2 miles) to the East trailhead of the Nebo Springs Trail. That eventually goes back up to the Rim Trail. At the Rim Trail, turn right and head back to the start.
Length
.7 miles
Loop?
Yes
Difficulty

(1=Easy; 5=Most Difficult)

3
ATT Cell Coverage?
Yes
Official Info (Links)
Website. Mt. Nebo State Park Trail Map.

Print Friendly