Queen Wilhelmina is a wonderful state park that sits on top of Rich Mountain, Arkansas's second highest mountain in the Ouachita National Forest.
The Ouachita Trail, a 223-mile hiking trail that runs from LeFlore County, Oklahoma, to Pulaski County, Arkansas, runs through the middle of the park.
There also are a couple of short trails in the park. My favorite is the Lovers Leap Trail. It's a cool wooded 1-mile loop trail at the east end of the park. The trail has some climbing, but it is not very difficult with only about a 250-foot net elevation change.
CLICK – Google Maps Directions to Lovers Leap (South) Trailhead at Queen Wilhelmina
The highlight of the trail is the Lovers Leap overlook. The wooden-platform overlook has an awesome south-facing view of the surrounding area. There also is a great vista area with a similar south-facing view on the south part of the trail
The trail makes almost a complete loop going from just north of the lodge to just south of the lodge at the same spot where the Reservoir Trail starts. The trail length is one mile. It is another .1 mile to complete the loop by walking around the lodge.
A note about the lodge. As I write this, the lodge is still undergoing a major renovation, but it is expected to reopen some time in 2015. In the meantime, the trails at the park are open, but you will need to stay out of the designated construction zone.
When I last walked the trail in September, I had AT&T cell coverage only on part of the trail. On my hike, I started at the south trailhead and took the trail counterclockwise.
The trail was in great condition and well blazed (green blazes). Part of the trail overlaps with the Ouachita Trail which is blazed blue.
These photos are from my September 27 visit.
Photo Gallery
Click here or below for full-screen photo gallery.
Maps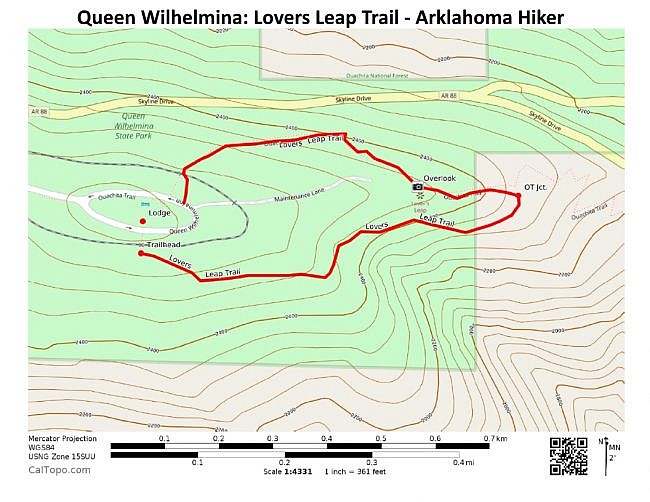 CLICK – Interactive Trail Map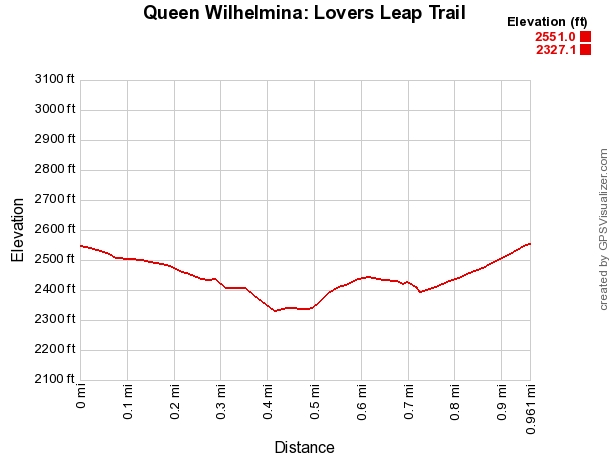 [Last revised: 9-4-2017]