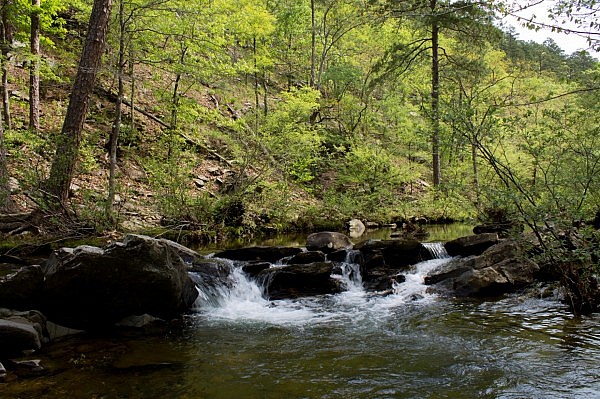 Back in April, I got to hike the west part of the Caney Creek Trail in the Ouachita National Forest's Caney Creek Wilderness (Polk County, Arkansas). I hiked it from the west trailhead near the Cossatot River over to the trail's juncture with the Buckeye Trail, a distance of 5.7 miles, and then back for a total hike of 11.4 miles.
This trail has lots of wet crossings, especially during wetter times like during my April hike. The trail crosses the Cossatot River and then crosses Caney Creek 10 times before reaching the Buckeye Trail juncture. So I had 22 wet crossings on my hike. (By the way, I need to get some decent water shoes.)
It was a very scenic hike. I thought the areas along Caney Creek and the Cossatot River crossing were wonderful. (I hope to get a full trail summary posted soon.)
My favorite spot was this cascade or mini-waterfall on Caney Creek. The trail doesn't cross exactly at this spot, but it is in full view from the trail.
These cell videos are from my April hike.