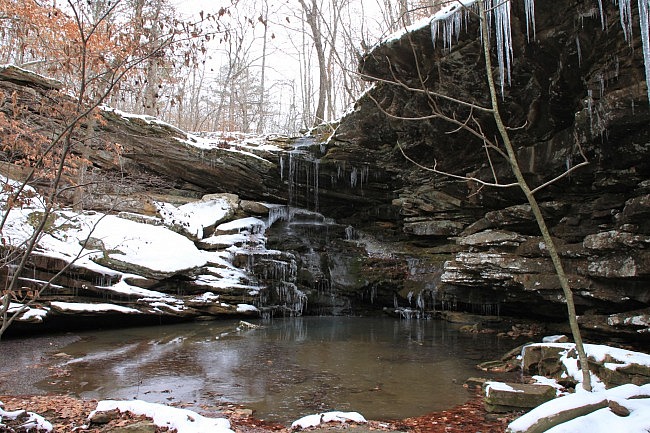 In all my years of going down to the Buffalo River area, I've never met anyone who has been to Magnolia Falls, or for that matter, ever heard of anyone even mention this falls. Thus, this waterfall may be the best kept secret in the Buffalo River area.
The falls is in southwest Newton County in the part of the Upper Buffalo Wilderness that is in the Ozark National Forest. There is very easy vehicle access to the trail head and a well-defined trail that is relatively easy to follow.
To get to the parking area, head on Highway 21 to the area between Mossville to the north and Edwards Junction to the south. About 2.5 miles south of the Mossville Church (or 1.8 miles north of Edwards Junction), take County Road 6 (aka Forest Road 1462) to the west.
There is no sign here, but it is a pretty significant gravel road. If you follow your odometer, you should know it when you see it. (For approximate Google Maps directions to this area, follow this link.)
Once you turn west onto CR 6, about .3 miles down the road is a pull-off area for parking. There is a sign on the left side of the road noting "Wilderness Access." Park here on your right, and enter on the trailhead to your right.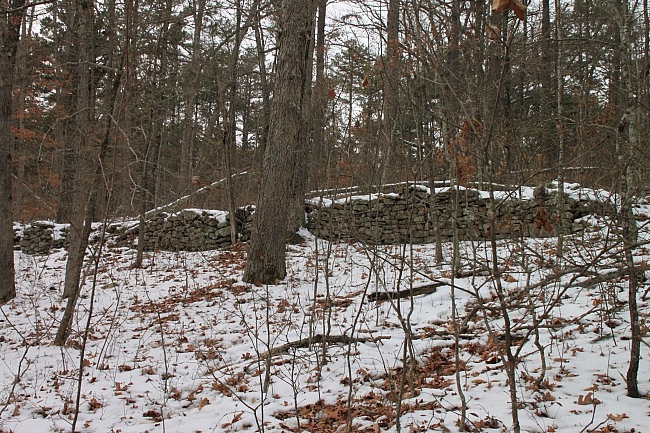 The trail mostly follows an old jeep road. You will pass a couple of campsites, and then several trees that have fallen over the trail that you'll have to navigate around to continue on your way.
I was a bit concerned about the trail condition at this point, but now I think they have been left there to prevent people driving jeeps down the trail.
After a short stretch you will see a trailhead register.
The trail crosses a creek bed and then a place where the trail seems to split. Take the spur to the left.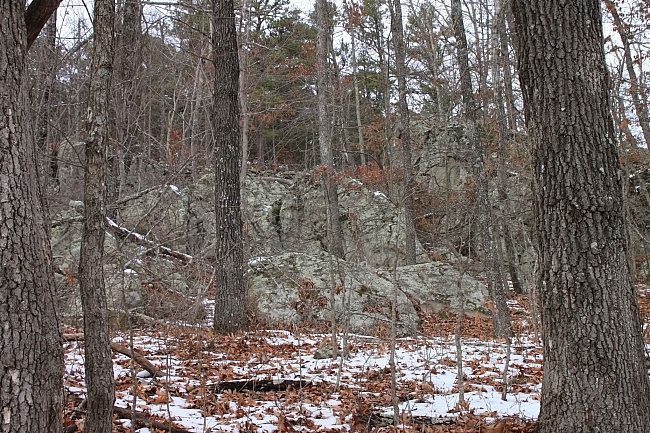 Soon you will pass by a stone wall that was built by early settlers in the area. Eventually that wall turns into some interesting rock formations that, if you look closely, have more rocks on top of them as a continuance of the stone wall. It's an interesting stretch of trail.
The road descends a little, but not steeply. Then at about 1 mile, the trail crosses another little creek bed.
As soon as you cross the creek bed, the trail splits. The main trail continues straight here (and if you follow it, it can eventually lead you down into the valley and back up to the bottom of Woods Boys Falls). But to get to Magnolia Falls, turn left here along the spur trail that follows the creek bed. When we were last here, someone had made an arrow out of rocks on the ground to point in that direction.
As you turn left on the spur trail, you will follow the creek bed gently down. Shortly, the creek hits another larger creek. At this point, to your left will be Magnolia Falls. You can view it from above or scramble down into the valley for a lower-level view of it.
To the right, just a few yards downstream is Woods Boys Falls. It's a tough angle to photograph from up top, so I'll have to make a return trip this spring to get some of it from below.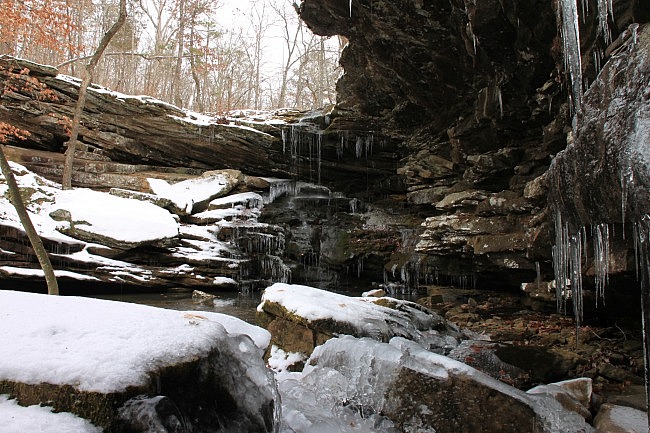 Magnolia Falls itself is a very interesting 26-foot tall waterfall that pours into a great little pool of water. The area around Magnolia Falls is very scenic beyond just the falls itself with some great bluffs and rock features. There was quite a fair amount of water flowing when we were there in spite of it not being terribly wet up to this point this winter. Plus, the cold and snow had created a lot of great ice features for our viewing.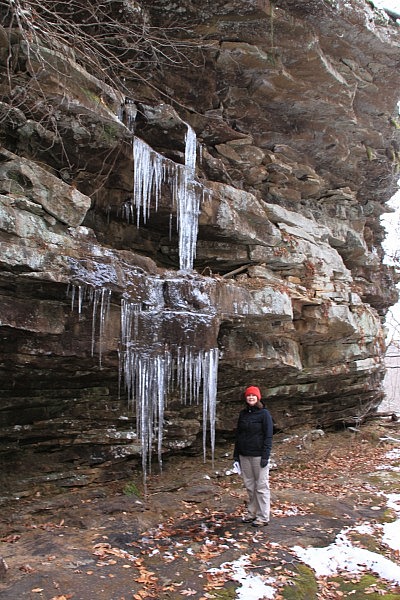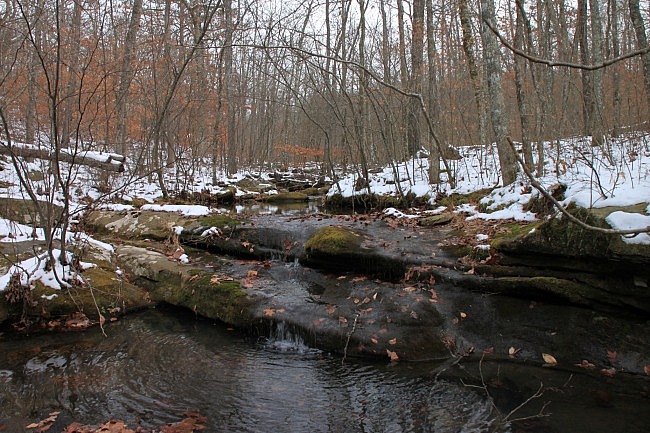 Note of caution: As always, be very careful around bluffs because of the risk of a dangerous fall. 
If you venture around the top of the bluff above Woods Boys Falls, you will also get a great look into the Boen Gulf area and its spectacular bluff lines — especially in winter when  the leaves are off the trees.
There is a volunteer trail along here that is also easy to follow, but be safe since it travels the bluff line and it is a sharp drop down in many places.
If you go far enough (maybe another .25 miles), there will be a way to scramble down through the rocks to get to the base of the valley below.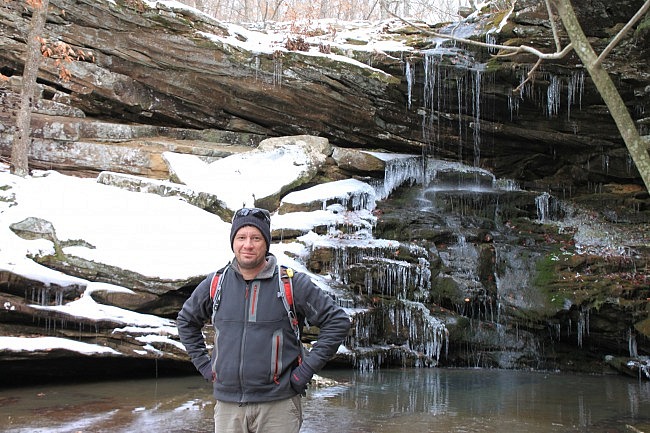 This is a great little area, and we are so happy to have found it.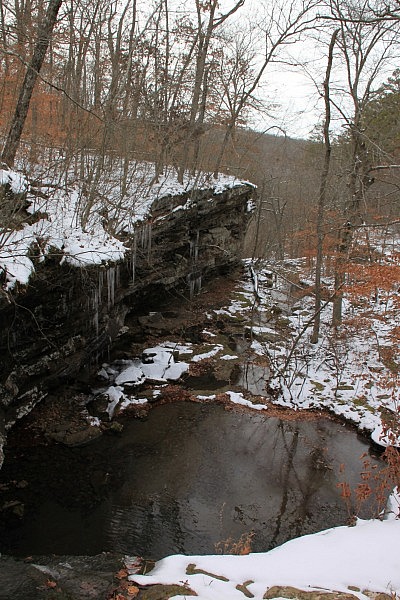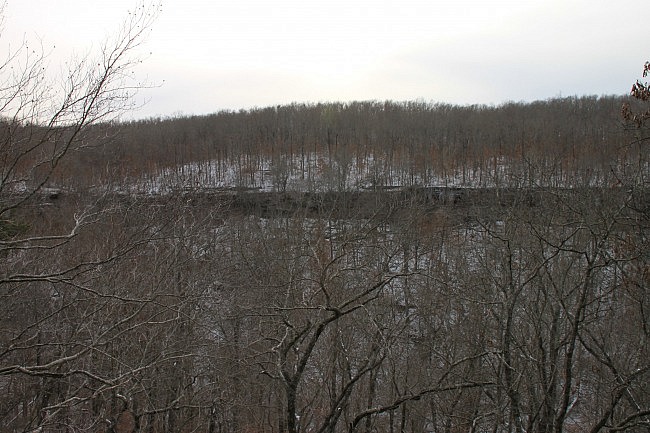 Final Notes
It is about 2.1 miles round trip to Magnolia Falls, but plan on spending some time and energy exploring around the area.
I rate the difficulty as mildly challenging (2 of 5).
As for footwear, I always recommend hiking boots in winter weather.
Tim Ernst covers this waterfall in Arkansas Waterfalls and in the Boen Gulf Access part of Buffalo River Hiking Trails — although "Buffalo River Hiking Trails" doesn't specifically help in finding the waterfalls.
These photos are all from our hike on December 30, 2012.
Photo Gallery
Click here or below for full-screen photo gallery.
[A version of this post was first published on January 1, 2013 on the blog "Exploring Northwest Arkansas."]