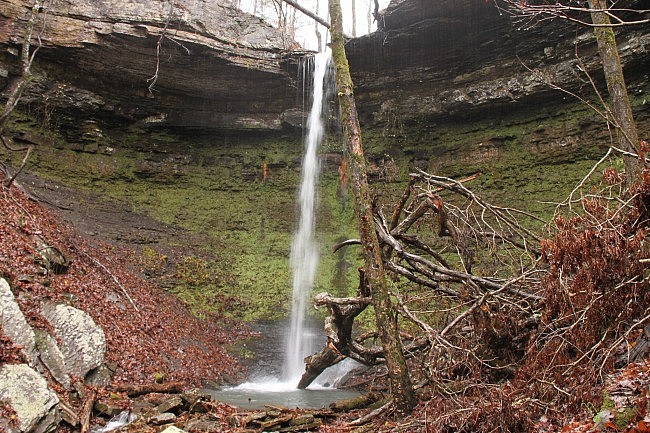 We were fortunate to spend Thanksgiving weekend at the cabin.  It was an amazingly rainy weekend, and we got to spend a lot of time with rest and relaxation.
However, by Sunday I was starting to get cabin fever, and with all the rain, I knew the water would be flowing. We didn't want to venture too far out in the wilderness as the rain had gone from light to very heavy, and as much as I love the outdoors, in a cold, wet rain can be a tough way to go about enjoying them.
After a couple of failed attempts to see other waterfalls (due to many water crossings being flooded), we headed down to check out Highway 123 Falls, a 47-foot Ozark National Forest waterfall in northeast Johnson County.
Getting to the Falls
To get to Highway 123 Falls, take Highway 123 south from the entrance to Haw Creek  Falls Campground. 6 miles south of the campground is a large gravel pull-off on the right side of the road. Park here.
For approximate Google Maps directions from your location to this area, see this link.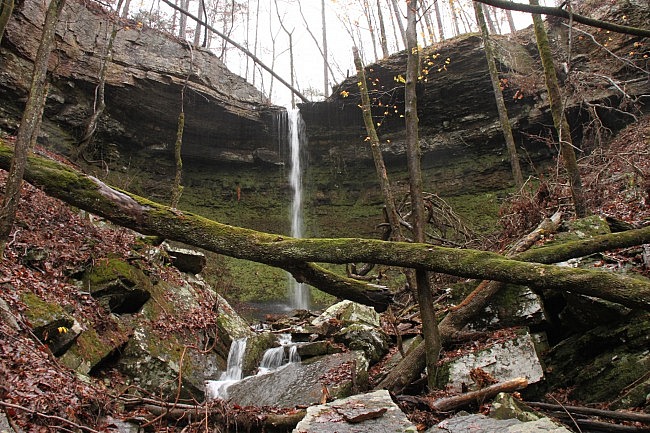 There is a creek that flows under the highway on the opposite side of the highway.  Follow that creek about 100 yards from the road, and you will arrive at Highway 123 Falls.
During leaf-off, you may be able to see the falls from the road, but doing the bushwhack (there is no trail here) will get you a much better look.  There isn't a steep incline to get to the falls, but footing was a little tricky at times.
Highway 123 Falls is a 47-foot tall falls in a nice little hollow. It was definitely worth the trip.
Caution: as always, be very careful around bluffs and drop-offs.
Final Notes
The total distance there and back is about 200 yards.
Not far away are Haw Creek Falls and Pam's Grotto.
I rate the difficulty of reaching the falls as mildly challenging (2 of 5).
For footwear, I recommend trail shoes.
You can read more about this in Tim Ernst's Arkansas Waterfalls.
These photos are from my November 29, 2015 visit.
Photo Gallery
Click here or below for full-screen photo gallery.
[A version of this post was first published on December 13, 2015 on the blog "Exploring Northwest Arkansas."]