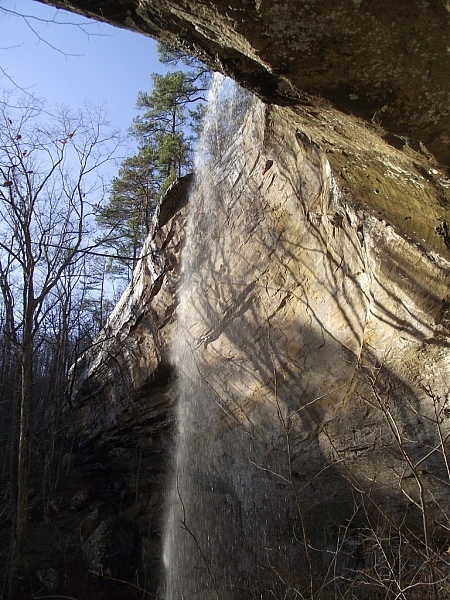 The Kings Bluff Loop Trail is a 1.8-mile trail in the Pedestal Rocks Scenic Area (Ozark National Forest, northern Pope County). The elevation change on the trail is only about 350 feet. It is a pretty easy hike. There is parking and a vault toilet there at the scenic area. It is on highway 16, a few miles east of the intersection (at Pelsor) of Highway 7 and Highway 123.
Of course, the highlight of the trail is Kings Bluff Falls. At 114 feet, Kings Bluff Falls is one of the tallest waterfalls in Arkansas. It is beautiful. Like many waterfalls in Arkansas, your best chances to see it in action are probably during leaf-off months and after a recent rain.
A few weeks ago, I headed to the Kings Bluff Loop Trail in the Ozark National Forest, about 45 miles northeast of Clarksville. I didn't get there until around 2:30 p.m. I figured I should have enough time before dark to hike the Kings Bluff Loop Trail and the adjacent Pedestal Rocks Loop Trail. Neither is a long trail.
It turned out that I didn't have time to do both. I ended up spending over an hour at Kings Bluff Falls because it's just so awesome.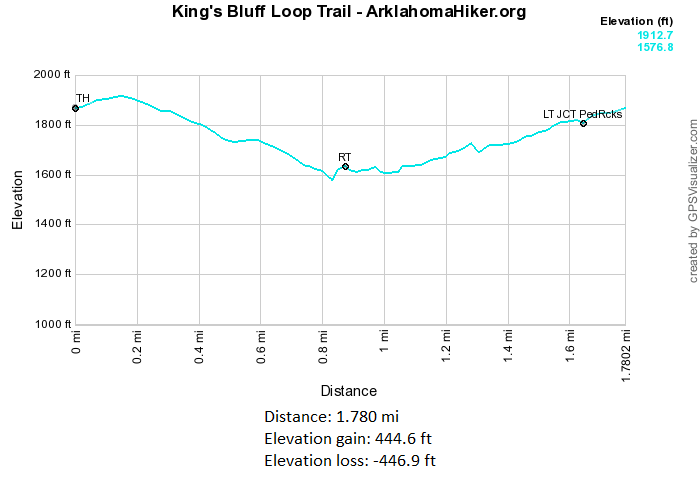 Even though there is a railing near the waterfall, you should be very careful in the falls and bluff areas. It can be dangerous. 
 Kings Bluff Loop Trail Map
Click here for full-screen trail map.
Unfortunately, there is not an official trail to the prettiest view of the falls — the lower area. There is an established (unofficial) path that heads down to that area though. (Most of the photos I took are from the lower area of the waterfall.)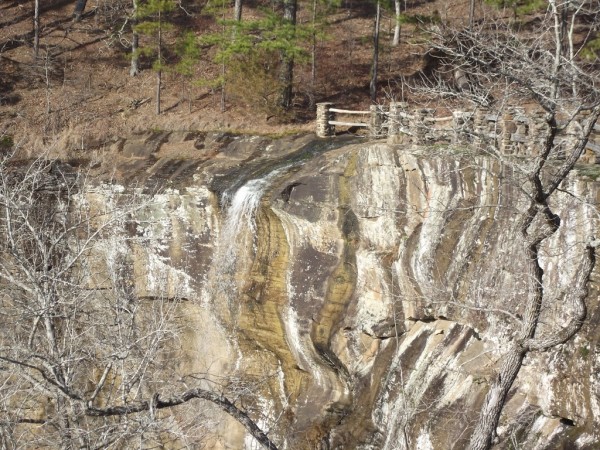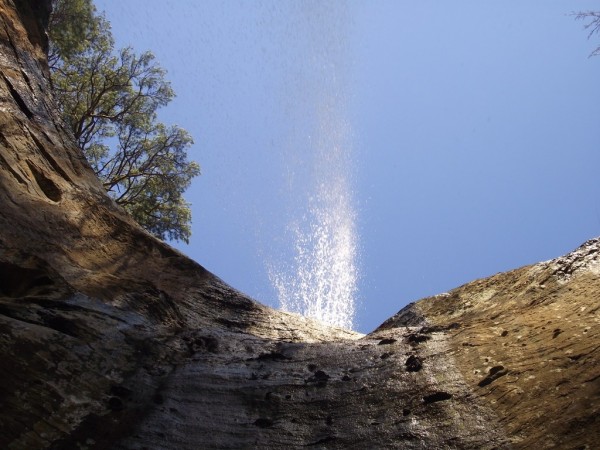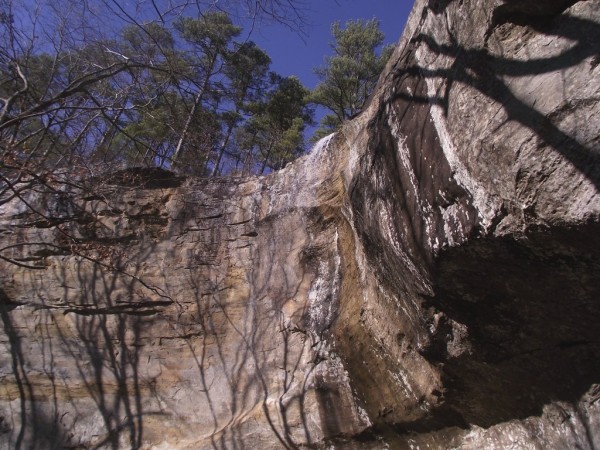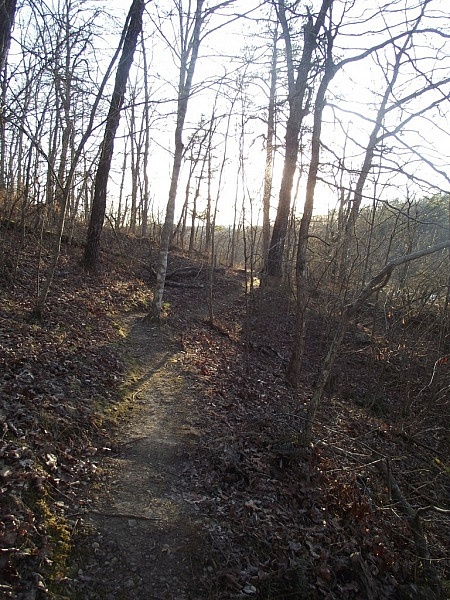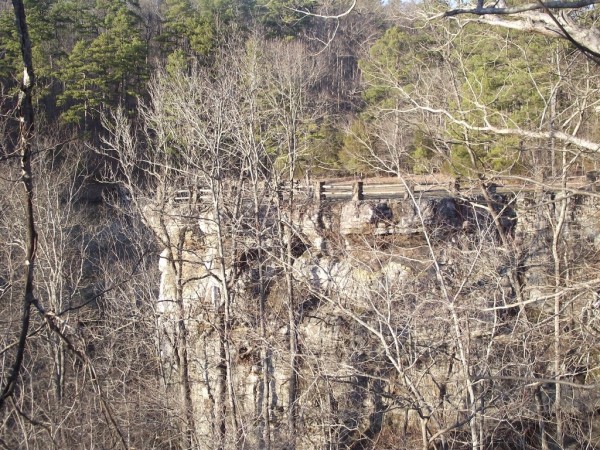 Also there are some really cool bluffs and geologic formations that run for a half-mile or so past the waterfall area.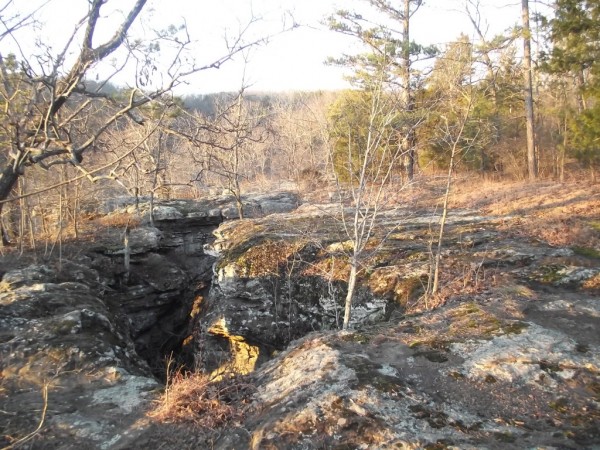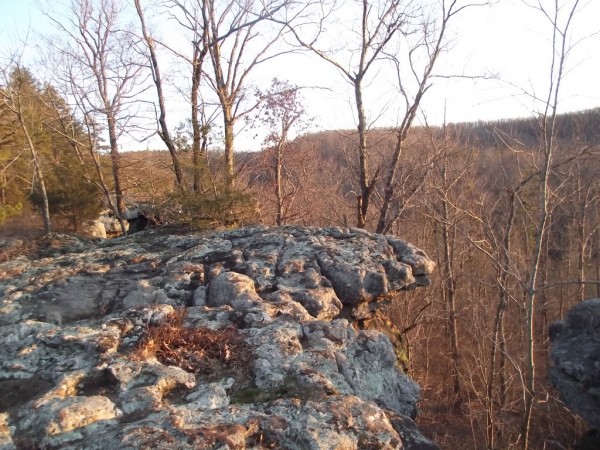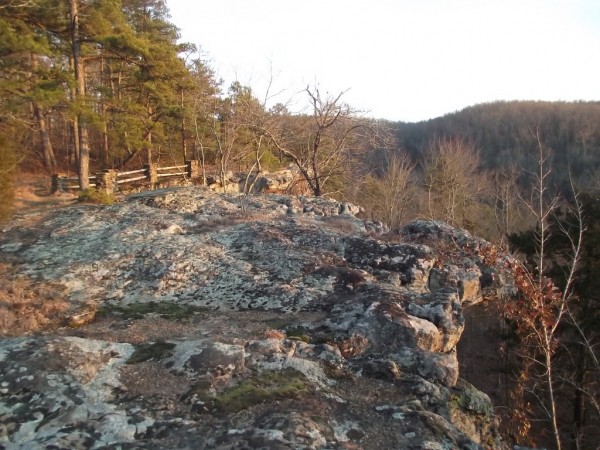 As usual, I have posted some of my photos and a gpx map made from my gps data. You can click the photos for a larger view.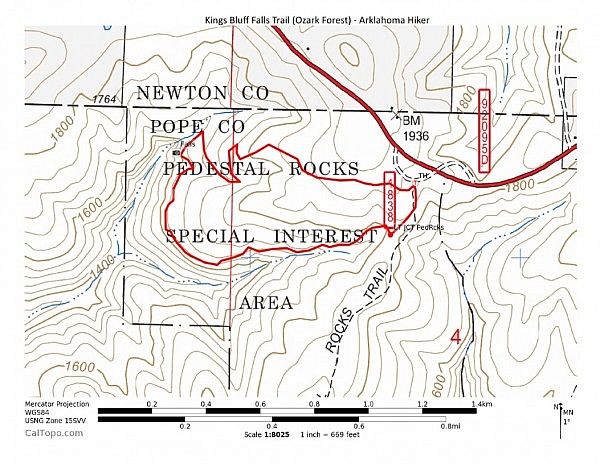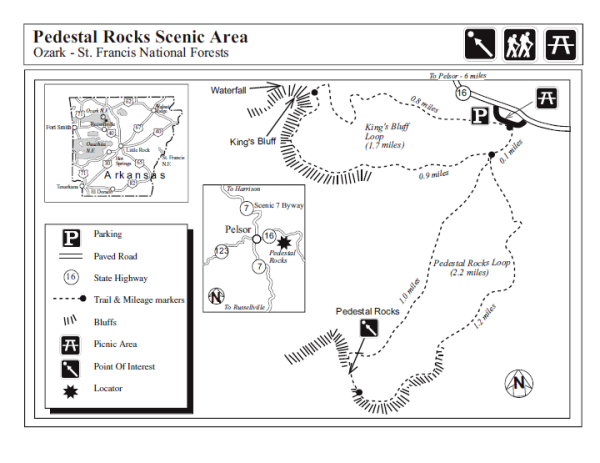 Click here for gpx file download.
King's Bluff Loop Trail (Ozark Forest)

Location
Pope County, Arkansas
Hike Length/Type
1.8 miles, loop
Difficulty
Moderate (3 of 5)
Official Directions
Take Arkansas 7 to Pelsor, turn east on Arkansas 16 and go 6 miles. The scenic area is located on the south side of the highway.
Other Permitted Usage
None
ATT Cell Coverage?
40%
Official Info - Phone/Links
(479) 754-2864 Recreation area website.
Weather/Conditions
Upper 40's, chilly, sunny.
Date Hiked
1-28-2012