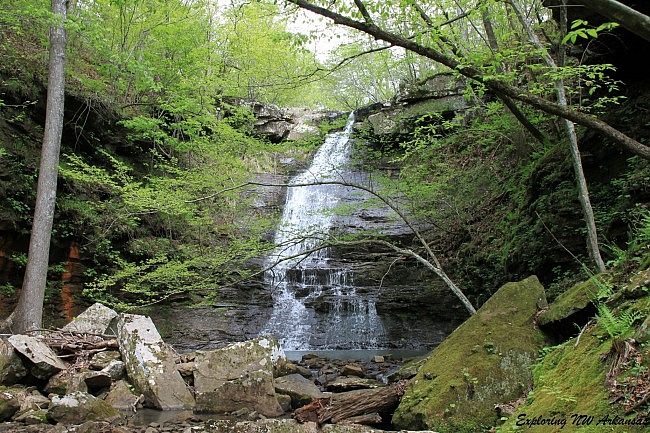 Native American Falls is a fantastic waterfall in some rugged country within the Piney Creeks Wildlife Management Area in the Ozark National Forest in northwest Pope County.
The parking spot is easy to find and the falls is rugged to get to, but you will be rewarded with a fantastic 41-foot tall waterfall that cascades down the bluff and some beautiful scenery along the way.
Getting to Piney Creeks Wildlife Management Area
The trailhead is easy to find. It is .4 miles south of Pelsor (aka Sand Gap) on Highway 7. Pelsor is a small community 28 miles south of Jasper and 28 miles north of Dover on Highway 7.
There is a sign for the Piney Creeks Wildlife Management Area on the west side of the highway. Park by the sign.
For approximate Google Maps directions to this area from your location, see this link.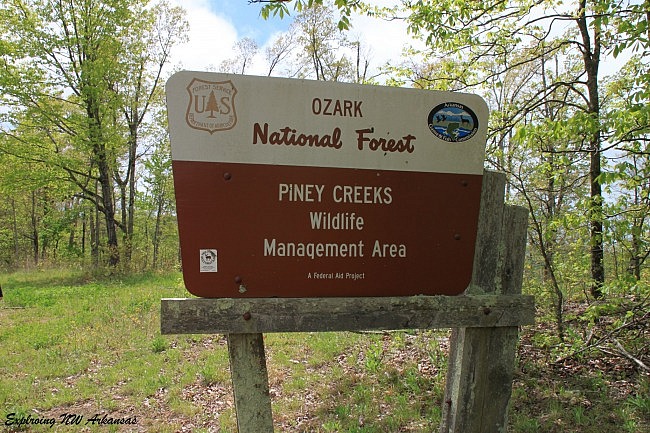 Getting to Native American Falls
From the sign, head directly into the woods and down the hill. There is no maintained trail here and really only a rough trace of a trail to follow, so you'll most likely have to make your own way.
The route down will at first follow an area that has been dramatically cut back because of nearby power lines, but eventually it ends up in the woods. Keep heading straight down.
When you get to the bottom of the hill, you'll reach a small creek. Turn left at the creek and follow it downstream.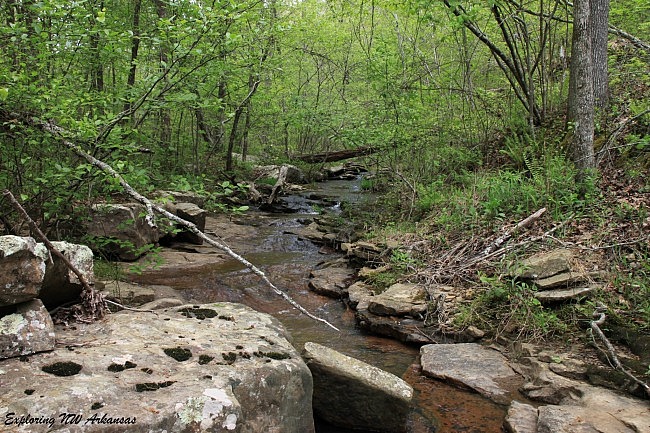 Here's a couple of helpful hints (especially if you don't have a GPS).
First, when you get to the creek, you may want to set up a cairn (pile of stacked rocks) to mark the spot so you know where to turn to head back up the hill on your way back.
Second, the best "trail" we found was on the opposite side of the creek a little ways off the creek. But as you can tell from the photo, it's pretty rugged, so find the best way downstream you can.
After about .4 miles downstream, you will come to the top of Native American Falls. To get to the bottom, go to the left side of the falls (when facing downstream). You'll cross over a neat overhang area that will give you a decent look at the falls and get to a group of large rocks. There will be a trail of sorts that heads steeply down the hill to your right.
When you get to the bottom, you can climb back up a few hundred yards to the falls. You'll be rewarded with a great view and a thunderous sound of water.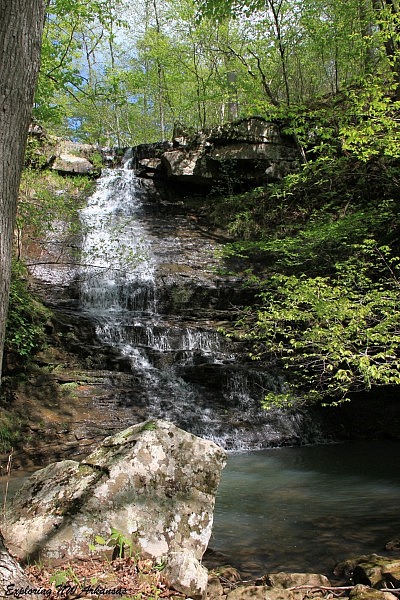 There is a lot more to explore in the area including a couple of smaller waterfalls downstream. We saved those for another day.
Once you are done exploring, head back the way you came. The total distance back and forth from the falls is only 1.5 miles, but because of the tough terrain and the steep slopes, it will feel like a lot more than that.
Notes of caution: The backcountry, especially when exploring areas without maintained trails, can have unpredictable footing, so be careful — especially along slick stream crossings and bluff lines.
And as always, be very careful around bluffs because of the risk of a dangerous fall.
While we were at Native American Falls, we came across another couple that was out hiking, and one of them had slipped on a slick rock and had apparently broken her ankle. It was a long piggy-back ride out!
Final Notes
The total distance to the falls and back is about 1.5 miles.
I rate the difficulty as strenuous (4 of 5).
For footwear, I recommend hiking boots.
As far as the best time to visit, I recommend either winter or early spring wet season when the water is running well but before the forest becomes too woolly.
These photos are all from our April 26, 2015 visit to the falls.
Photo Gallery
Click here or below for full-screen photo gallery.
[A version of this post was originally published on May 31, 2015 in the blog "Exploring Northwest Arkansas."]