While not as awesome as the Rim Trail, the Bench Road Trail at Mount Nebo State Park is a pleasant wooded stroll with a number of cool sites.
The trail sits on the natural bench that circles the mountain a few hundred feet below the rim level.
It was built in the 1800's as a road for residents and visitors to the mountain. It was Bench Boulevard in the 1890's.
Except for its length, the Bench Road Trail is a pretty easy walk. Including the last quarter-mile walk on the highway, the hike is 3.7 miles.
The trail is not a road today except for service vehicles. It's plenty wide for walking in groups. Dirt bikes and horses are also permitted on the trail.
Most of it is pretty level, but some of it sloped. The net elevation change is around 150 feet.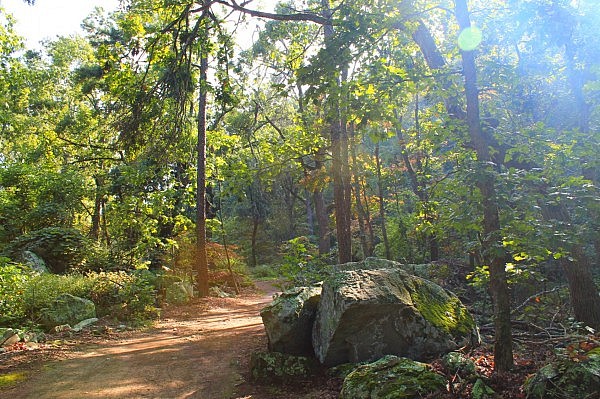 I recommend walking the trail starting at the main trailhead (with parking) and heading clockwise. You will see the trailhead on your left as you come up the mountain on Highway 155. If you see the covered Bench Overlook on your right, you've passed it.
In the first stretch of the trail around the south end of the mountain, there are some cool boulders along the trail. There are also some great views of the rocky bluffs up near the mountain's rim.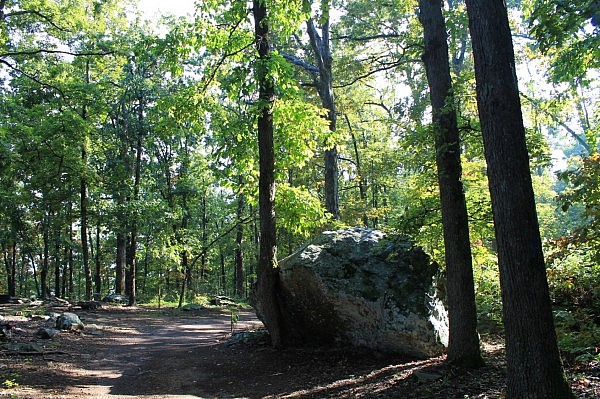 One of the highlights of the trail is Fern Lake. It served as a source of recreation for guests of the Summit Park Hotel around the turn of the century.
The trail goes by a number of mountain springs including Darling Spring and Gum Springs. It also goes by a quite a few intersecting trails including the Nebo Springs, Nebo Steps, Varnall Springs, and Summit Park trails.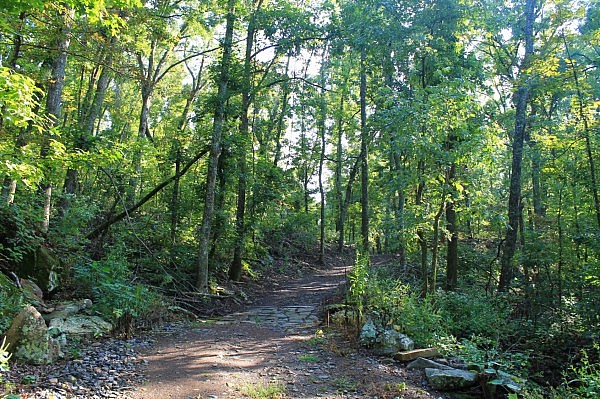 During leaf on, there aren't a lot of vistas of the surrounding area. There are a few nice vistas around the northeast part of the mountain. (During leaf-off, there are more views.)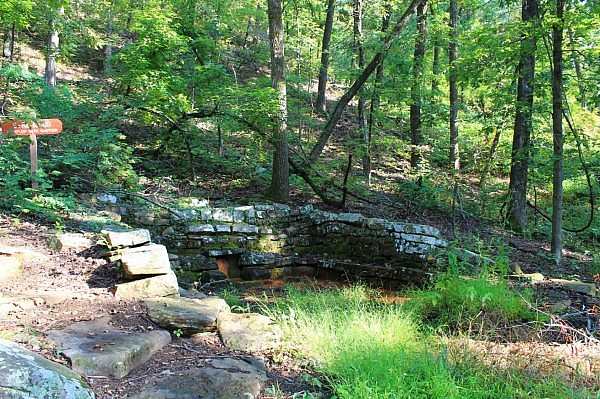 The trail ends at the covered Bench Overlook, a beautiful vista spot. From here, it is another quarter-mile walk along Highway 155 to get back to the trailhead.
These photos are all from my September 21 walk on the trail. It was a beautiful late afternoon walk. Rain showers had passed through a few hours earlier.
I had good AT&T cell coverage the entire hike.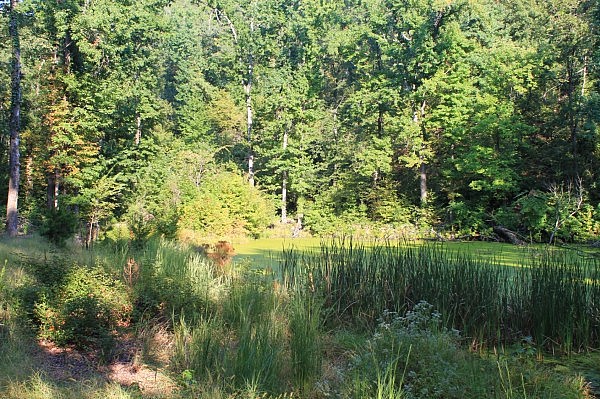 Photo Gallery
Click here or below or below for full-screen photo gallery.
Mount Nebo Bench Road Trail Map
Click here for full-screen trail map.