Falling Water Falls in the Ozark National Forest [north Pope County] may be the easiest, most beautiful waterfall to get to in all of Arkansas.  It falls about 10 feet down but can be very wide during high water.
To get there from Jasper, take Highway 7 south to Pelsor. Then take Highway 16 east for 10 miles to Forest Road 1205. This road leads you to (and past) the Richland Creek Recreation Area campground, a scenic area with dozens of great camp sites.
FR 1205 runs along Falling Water Creek, and just off the road at about 2.3 miles is Falling Water Falls.
[See this link for approximate Google Maps directions from your location to Falling Water Falls.]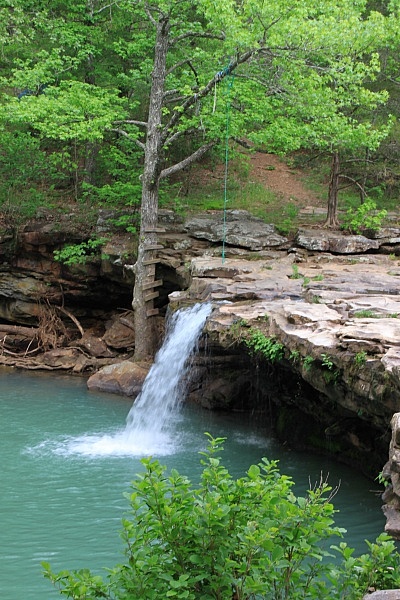 You can see the waterfall from the road (it's hard to miss), and you can view it from the car. But you should get out and explore it a bit. It is a great little waterfall just barely off the beaten path.
The photos here are from our visit on April 28, 2012.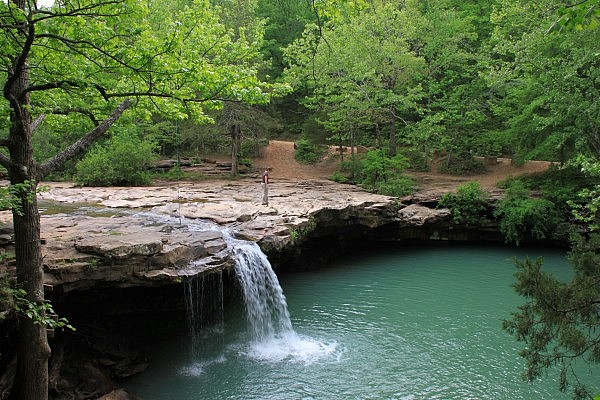 There are also a lot of great campsites right off the road here along Falling Water Creek. It is a beautiful area and I would encourage you to explore both up and down stream for more great sights along this wide-flowing creek.
Photo Gallery
Click here or below for full-screen photo gallery.
[This post was originally published on May 16, 2012 on the blog "Exploring Northwest Arkansas."]