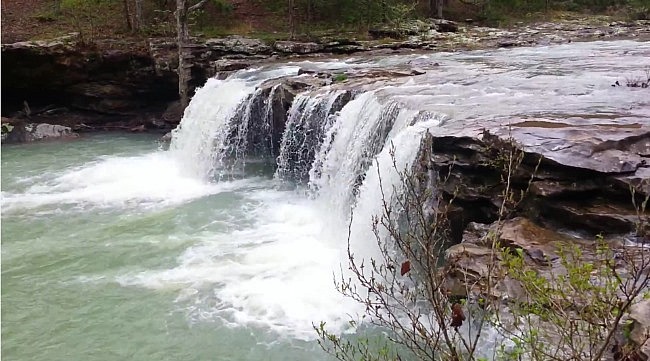 Falling Water Falls (north Pope County) is one of the best known waterfalls in the Ozark National Forest. It is a beautiful 10-foot waterfall on Falling Water Creek, near the Richland Creek Wilderness.
During most of the year, there is just one flow,  but during high water, the flowing area can span 40 or 50 feet.
Getting to Falling Water Falls
For most people, to get there you should first head toward the community of Pelsor (or Sand Gap). It is in north Pope County at the intersections of Highways 7, 16, and 123.
From here, go east on Highway 16 like you are heading to Pedestal Rocks Scenic Area. Stay on Highway 16 for about 10 miles until you come to County Road 68 where you will take a left (heading east again). You may see a sign here for Falling Water Falls Horse Camp.
After about a mile, the road curves left and becomes Falling Water Road. Stay on this road for about another mile until you see the waterfall area on your right. There is a bit of off-road parking here.
See this link for approximate Google Maps directions from your location to Falling Water Falls.
My Visit to Falling Water Falls
These videos are all from my visit to Falling Water Falls the late morning of April 18, 2015. It had been raining some that morning and the previous day. There was a very nice higher-than-average flow that morning. (The same morning I visited Six Finger Falls.)
It's not a very tall waterfall, but it's a beautiful area. It's one that's great to look at from multiple angles. The videos here were taken from at the waterfall level, above the falls, and also one a little ways downstream.
You can read more about Falling Water Falls in Brent's post here.