I don't really know how to describe Buzzard Roost — other than, it's just a cool place to explore.  It's got a lot of great rock formations, great views, caves, and even two natural bridges that can all be explored.
We hadn't heard a lot about the Buzzard Roost Special Interest Area, but we had seen mention of it. So we decided to head out and take a look for ourselves.
The trail is unmarked, but with some good directions, you should have no problem finding it.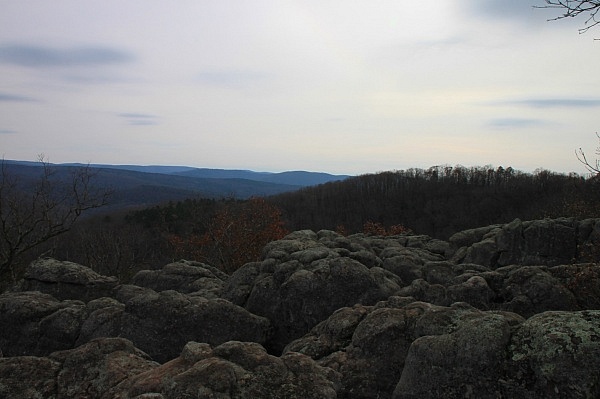 Directions to Buzzard Roost Trail
To get to the trailhead, take Highway 7 to the small community of Pelsor (about halfway between Jasper and Dover) and turn west onto highway 123.
Take Highway 123 for 4.7 miles, and turn left onto FR1802/1805, CR 14/61, Treat Road. (Yes, this road has 5 different road names, depending on what map you're using. It is a prominent gravel road on your left, and had a white sign noting it as Treat Road.)
Once on Treat Road, go 6.5 miles down the road (set your odometer, it will seem like forever), and you will come across a white house on your right and a barn on your left. Find a place to park along the road here.
The trail takes off right next to the barn. Try to not block any of the driveways.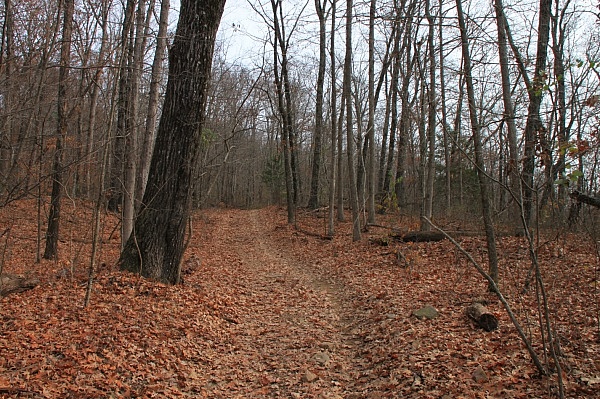 The Buzzard Roost Trail
The trail takes off just north of the old barn and heads into the woods away from Treat Road. It's not marked, but it's pretty obvious. The trail follows a four-wheeler road the entire way, so it is relatively wide and easy to follow (although big mud holes on the trail are a bit troublesome).
The path is pretty flat for a while; then it turns left and runs along a ridge. There are great views of the valley below on your right when the leaves are off the trees.
The trail then turns back right and starts to descend a little. It passes a small pond on your left. Keep going. Past the pond, the trail becomes steeper.
At 1.8 miles, there is another four-wheeler road that joins from the left. Ignore it.
Shortly after, there is another four-wheeler road on the left. Make note of this one because we will come back to it later. For now, stay on the main trail (to the right).
After about another .2 miles, there is a big, roundabout that seems to be a popular camping site and turnaround for four-wheelers.
From here, go down the hill on a small trail that is marked with orange paint on the trees. After a hundred yards or so, you'll get to Buzzard Roost.
The area is pretty cool with a lot of round-topped rocks that look out over a huge valley. We didn't see any actual buzzards, but it sure seems like it would be a fitting place for them.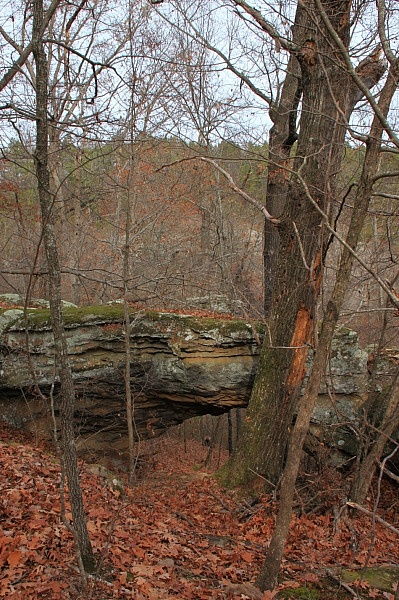 You'll probably spend a fair amount of time jumping from rock to rock getting some different views and exploring. Just be careful. Some of the drops between the rocks are a long way down. Explore for a while.
Once done exploring the rounded rocks, there are other cool things to see here.
To your left (as you look out at the bluff) is a small natural bridge that you can scurry down to and check out.
To the right of the bluff is a little trail down to the area below Buzzard Roost. Below the Roost is a maze of caves, tunnels, and narrow passageways to explore. It appears to be a popular area for camping as well.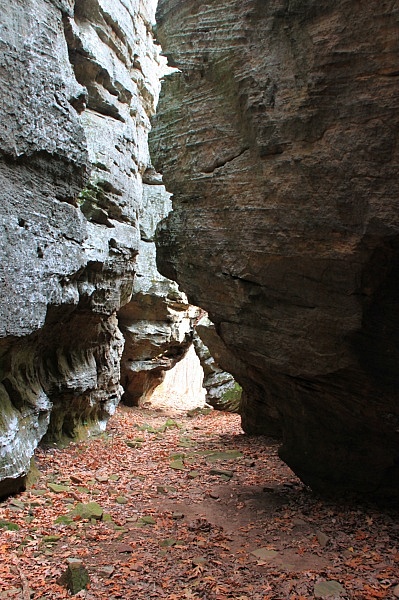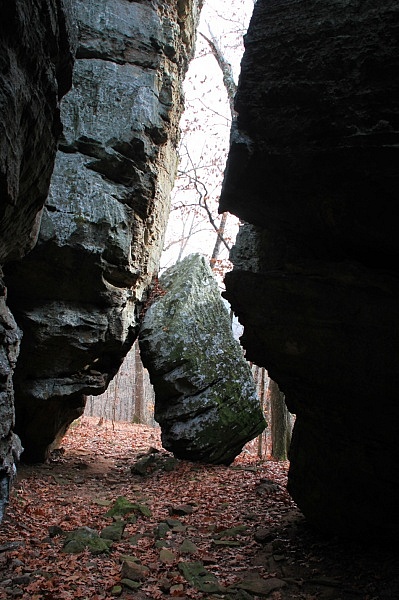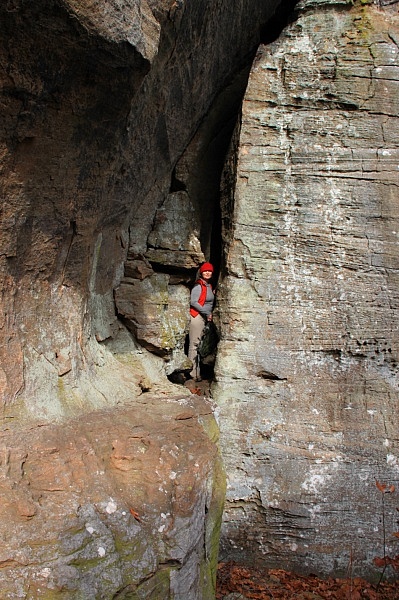 Large Natural Bridge Area
After you're done exploring the caves, there is one more place to explore. Head back up to the top of the Roost, and start to head back to the trail head.
After about .2, you'll note the four-wheeler trail that comes in from the right. Turn right here at the first four-wheeler trail.
After another about .2, the trail will split. Take the trail to the right. When the trail starts to turn back left (to join the other trail), there will be a small spur walking trail to the right that goes straight down the hill. Take it.
After about a hundred yards, you will come to the larger of two natural bridges in the area.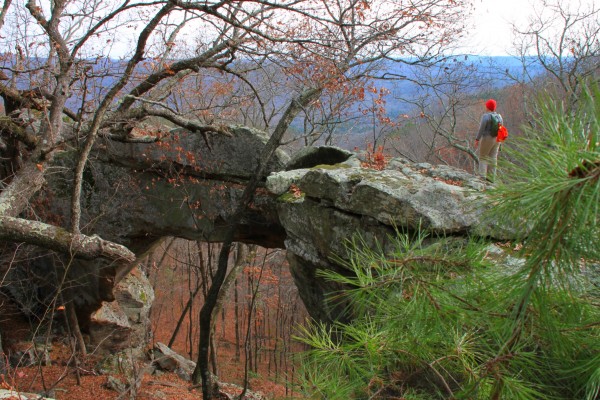 When you are finished here, it's time to head back to the trailhead.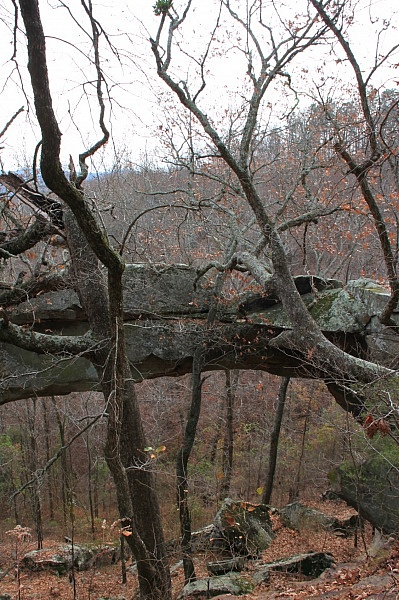 Date hiked: November 30, 2013
Distance: 4 miles (round trip) + some mileage for exploring
Difficulty: Moderate
Footwear: Rocky conditions make hiking boots preferable
[This post was originally published on December 1, 2013 on the blog "Exploring Northwest Arkansas."]