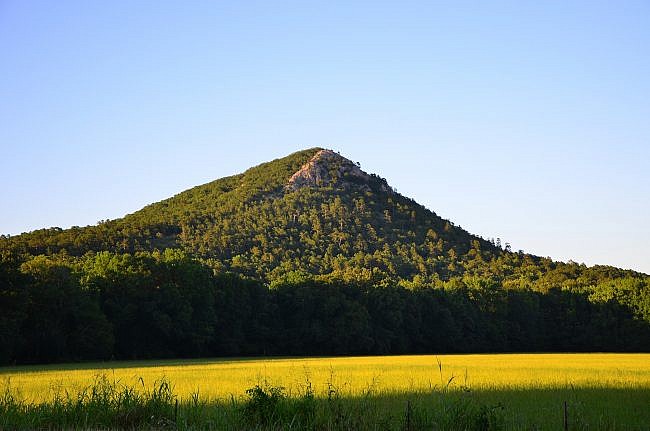 This 2.6-mile loop at Pinnacle Mountain State Park (Pulaski County near west Little Rock) takes you to the summit of Pinnacle Mountain. It includes the West Summit Trail, East Summit Trail, and the north half of the Base Trail (connecting the two summit trails).
The summit of Pinnacle Mountain is one of Arkansas's must-see hiking destinations. It is challenging, but it is a scenic and interesting hike with amazing views.
The Pinnacle Mountain summit trails are not the hardest trails in Arkansas since they are short, but they are definitely among the steepest. (Check out Mike's elevation profile below.) In fact, guidebook writer Tim Ernst says that the East Summit Trail is the steepest trail in the state.
The elevation change from the base to the summit of Pinnacle Mountain is about 725 feet.
There is a trailhead at the base of the west side (West Summit Trail) and one at the east side (East Summit Trail). They both have parking.
The Base Trail makes a relatively level loop around the bottom of the mountain going through both trailheads.
When I recently hiked this loop, I began at the West Summit Trail trailhead and turned left onto the Base Trail. From there I hiked around the base of the mountain to the East Summit Trail. I then climbed East Summit Trail (not easily!) to the summit, and I hiked down back to my car via the West Summit Trail.
Continue reading Pinnacle Mountain: Summit Trail Loop – 3 mi →