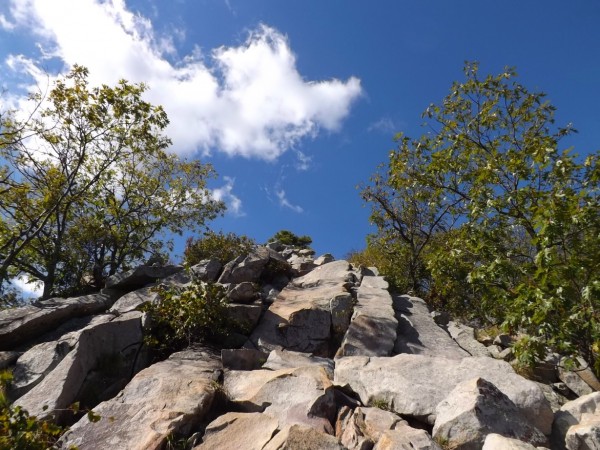 Back on October 17, I had the opportunity to take a visit to Pinnacle Mountain, near Little Rock. It was a beautiful fall day and a great hike.
There are two ways to get to the top of the mountain: the East Summit Trail or the West Summit Trail. There also is a trail (the Base Trail) that loops the entire base of the mountain. So if you want to make a loop of it, you can go up one side, then down the other, and then loop back to the start via either the north or the south half of the Base Trail.
If you make this loop hike, I suggest doing the East Summit Trail (the more difficult one) first.
The West Summit Trail is steep and challenging, but the East Summit Trail is even more so. Tim Ernst has written that it is the steepest trail in Arkansas. (Check out the approximate elevation profile from my 2010 hike post.) While the top half of the West Summit Trail is like walking a very steep staircase with crooked stairs, the top half of the East Summit Trail is pretty much just scaling boulders. Continue reading Pinnacle Mountain Summit Trail Photos October 2013 →