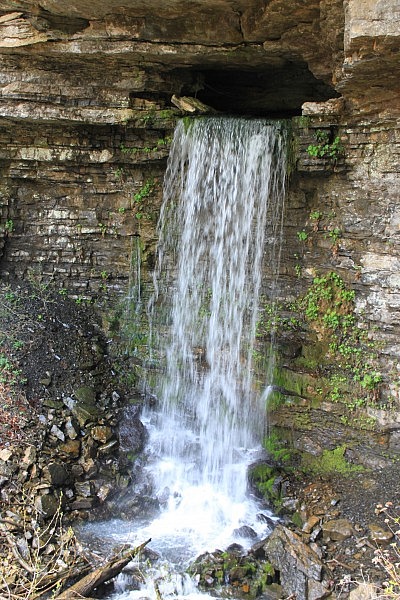 The hike to Big Creek Cave Falls (Newton County, Ozark National Forest) and along Big Creek is one of the best surprise hikes in the Ozarks. This is a spectacular area and is now one of our favorite places in northwest Arkansas.
It's surprising that in 12 years of coming to the area I'd never heard anyone even mention this great hike and unique waterfall. I had just pulled it out of Tim Ernst's Arkansas Waterfalls book and thought, "That looks cool. We should check it out." And it is definitely worth checking out.
The setting is beautiful. There are multiple waterfalls in the area; two of which pour right out of a cave. And the creek itself has a lot of spectacular water features, and the grand finale does not disappoint.
There is no official trail. However, half of the trail is very easy to navigate; the other half requires some imagination and bushwhacking.
The best time to check out the trail is probably in early spring when the water is up, but before the growth in the woods becomes too challenging to navigate.