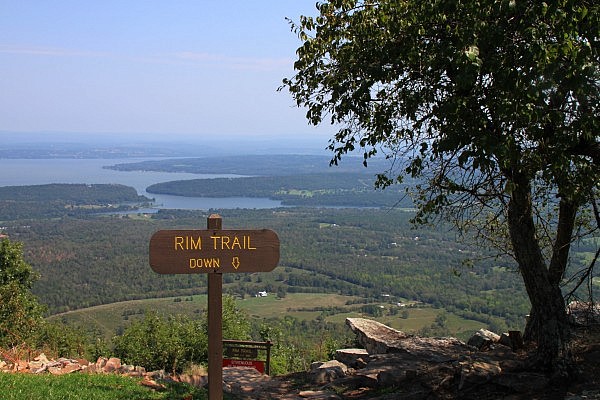 Arkansas has earned the reputation as "The Natural State" because of the beautiful natural sites around the state. And as a part of this reputation, Arkansas has established an outstanding state park system that is diverse in the natural beauty they provide.
Mount Nebo State Park
One of the crown jewels of the state park system is Mount Nebo State Park. The park was established in 1935. Many of the trails and cabins date were built by the Civilian Conservation Corps (CCC), part of President Roosevelt's "New Deal" during the Great Depression.
The park is located seven miles west of Dardanelle on Highway 155. You can get there by taking Highway 7 south, through Russellville and Dardanelle, making a brief right onto Highway 22, and then turning left on Highway 155. (Follow the signs to the park.)
Highway 155 up Mount Nebo is very steep and very curvy. (Don't bring a long trailer.)
At the top of the mountain, there are campsites, cabins that can be rented, private residences, a pool, tennis courts, playground equipment, a basketball court, and a great little visitor center with several snakes on hand, so you can learn about the native species.
You may also catch the sight of hang gliders from the visitor center as it is a frequent launch point.
The park also offers 360-degree views of the countryside which also means fantastic views of the sunrise and sunset (at sites aptly named "Sunrise Point" and "Sunset Point").
Mount Nebo Hiking Trails
The park boasts over 14 miles of hiking trails, all of which connect in ways that can make for a wide variety of routes, distances, and difficulty levels.