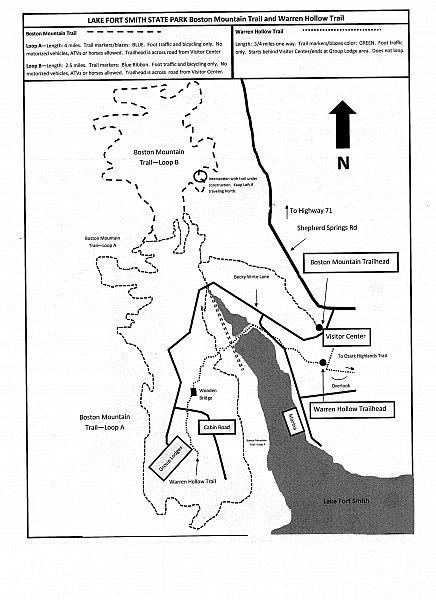 The current Lake Fort Smith State Park is fairly new. The original park closed in 2002 due to the enlargement of the reservoir lake. The current park opened in 2008 with all-new campsites, visitor center, cabins, and swimming pool.
Until recently, the only trails at the park were the Warren Hollow Trail and the beginning of the Ozark Highlands Trail. But in the past few years, two new trails have opened: the Boston Mountain Trail (4-mile semi-loop) and the Shepard Springs Trail.
Recently, the Boston Mountain Trail has been expanded with an additional loop. The original loop A is around 4 miles. Loop B is about 2.5 miles. It is open to mountain bikes and hikers.
The Shepard Springs Trail (hiking only) makes a 5-or-so mile loop with the first few miles of the Ozark Highlands Trail. Continue reading Lake Fort Smith State Park Trail Maps →