[This post was originally published on May 21, 2011 on "A Hiking We Will Go."]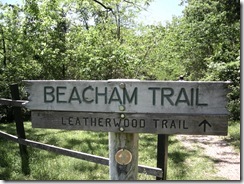 This weekend, we hiked the Beacham Trail at Lake Leatherwood in Eureka Springs. This trail has been on my list for quite a while, having read about it in Tim Ernst's Arkansas Hiking Trails.
There are several trails around Lake Leatherwood, a municipal park in Eureka Springs. Thinking of most city parks, images of a true "hike" are not what come to mind which is probably why this wasn't one of the top trips on our list. We were surprised to find a really nice hiking trail around a very scenic lake.
The weather was great with blue skies and sunshine. They have been missed lately with all of the rain in the area. Things were a bit soggy since yesterday was a rainy day, but we were not deterred. Continue reading Lake Leatherwood: Beacham and Fuller Trails Hike →