This past weekend I hiked part of the Tall Peak Trail in the Ouachita National Forest, Polk County, Arkansas. The trailhead is at the Shady Lake Recreation Area campground, near the Caney Creek Wilderness Area, about an hour's drive southeast of Mena. (I started too late in the day to finish the trail.)
The campground is closed now for winter, but the trails are open. (You may have to park outside the gate.)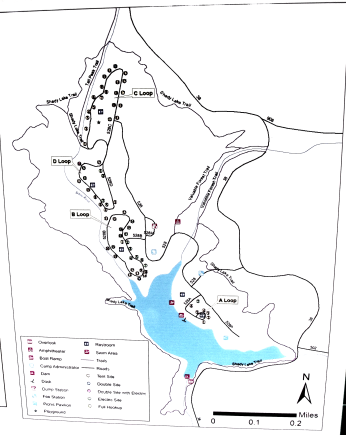 While there, I saw this map posted showing the Shady Lake Trail as well as the Tall Peak trailhead. (The trailhead is at the south end of the campground's C Loop.)
According to the U.S. Forest Service, the Shady Lake Trail makes a 3.2 loop around the lake. Also in the area is a half-mile interpretive trail (the Valuable Forest Trail).
I made this downloadable pdf from a photo I took of the posted map. Link.
I'm hoping to go back soon to hike all of the Tall Peak trail.
More links: