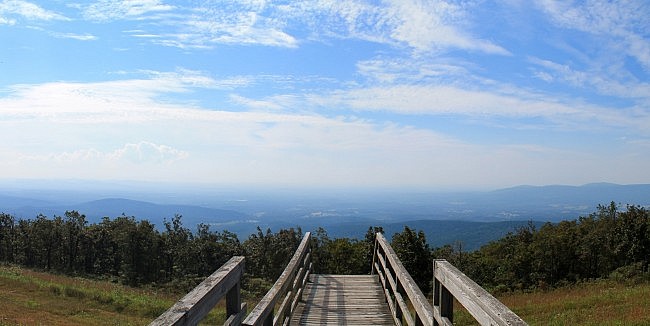 The Reservoir Trail at Queen Wilhelmina State Park is a short but vigorous hillside walk that starts right behind the lodge.
It makes a .4-mile (each way) downhill zigzag on the south side of Rich Mountain leading to a historic reservoir.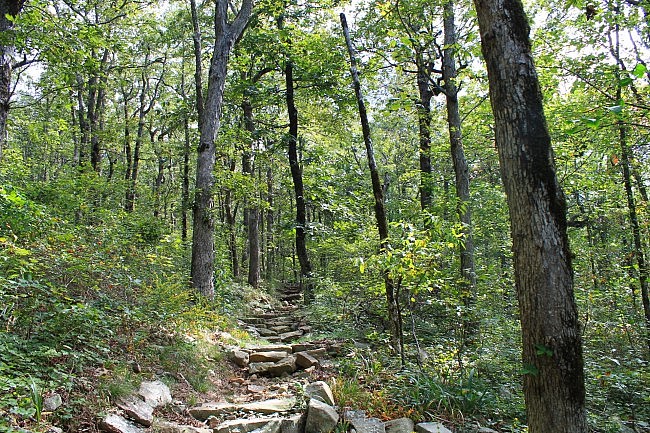 Getting to Queen Wilhelmina State Park
If you are coming from the north on Highway 71, at Acorn, take a right (heading east) on Highway 59/270. After 9 miles, take a left onto Highway 272. (Follow the signs to Queen Wilhelmina State Park.) This takes you up Rich Mountain to Highway 88 (Talimena Scenic Drive). Take a right on Highway 88. After about a half-mile. Turn left into Queen Wilhelmina.
If you are coming from the south on Highway 71, turn left onto Highway 88 in Mena.  Stay on 88 for about 12 miles. Queen Wilhelmina will be on your left.
The trailhead is by the lodge on the south side.
CLICK – Google Maps Directions to Reservoir Trailhead at Queen Wilhelmina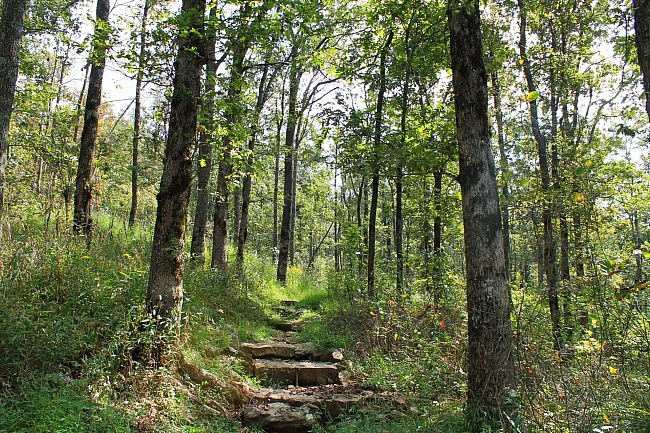 The Trail
The Reservoir Trail starts at the wooden walkway at the south end of Queen Wilhelmina Lodge. This spot is also the south trailhead for the Lovers Leap Trail.
From here, the trail heads to the right (west). Pretty quickly, the trail begins its downhill descent.
By its end, the trail descends 200 feet in elevation.
The prettiest spot is actually at the trailhead where there is a great south-facing view from near the top of Rich Mountain. But the forested downhill walk is a scenic one especially on the numerous stone-step inclines.
During leaf-off, you can catch some nice views through the trees of the Ouachita Mountains.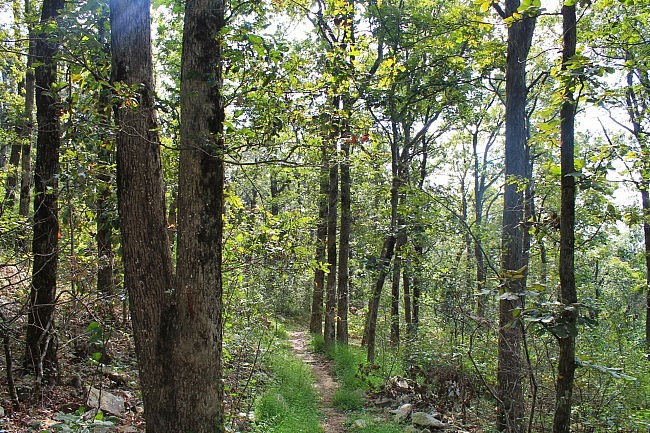 A little past half way, there is a spur to the left that leads to a hike-in primitive campsite area.
At the base of the trail, is the namesake historic reservoir, located just downhill from a spring. The reservoir served as a water source for the 1890's Wilhelmina Inn, which was on the site of the present-day Lodge.
Of course, the hike back uphill is more challenging. There are a few benches on the trail in case you need a rest break.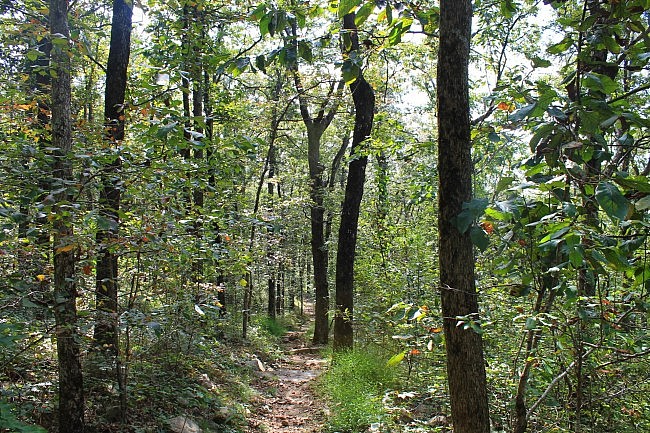 The trail was in pretty good shape when I last hiked it in September. There was a bit of overgrowth, but the trail was very easy to follow.
I only had limited AT&T cell coverage. (The coverage in the park is often spotty at best.)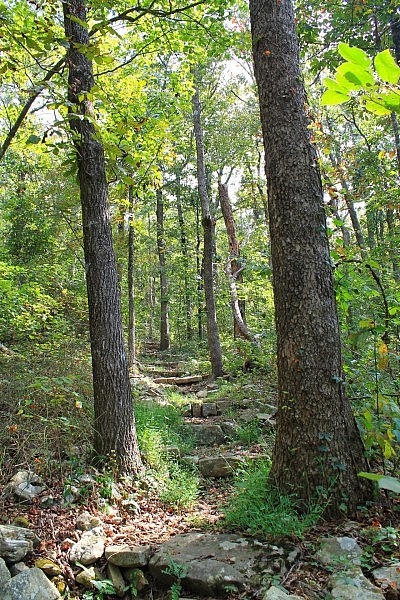 These photos are from my September 21, 2014 hike. The gpx file is from my August 15, 2010 hike.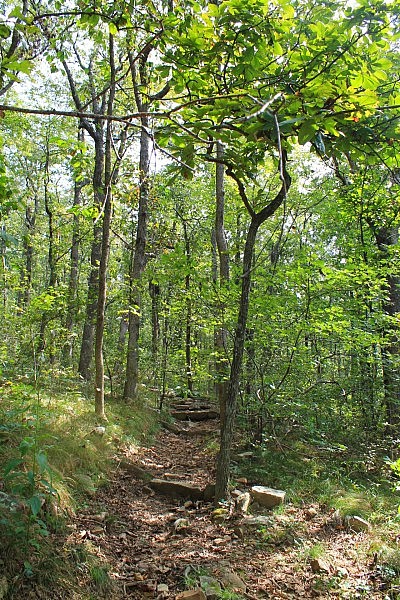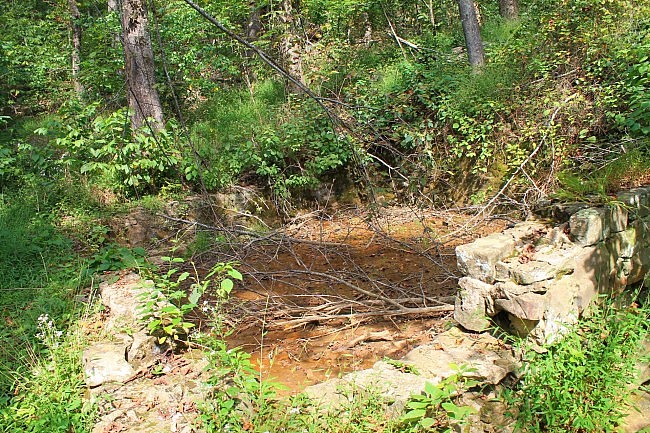 Maps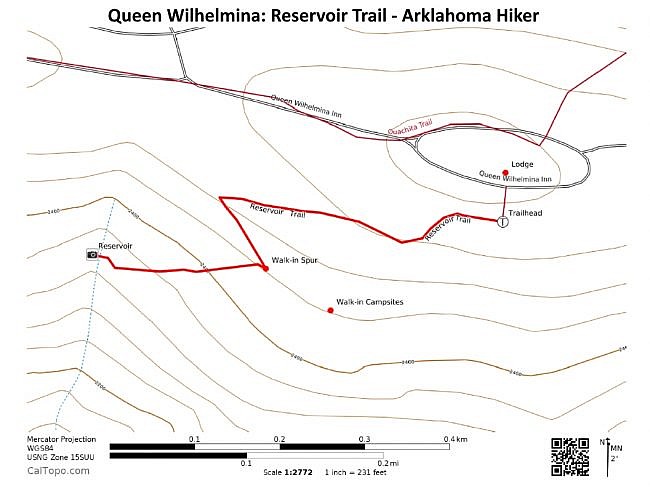 CLICK – Interactive Trail Map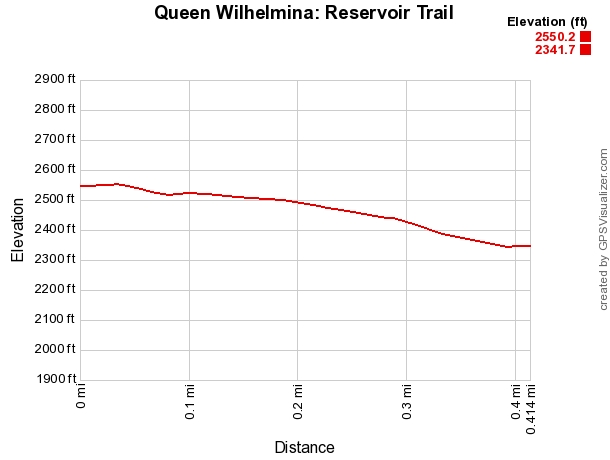 Photo Gallery
Click here or below for full-screen photo gallery.
[Last revised: 9-4-2017]