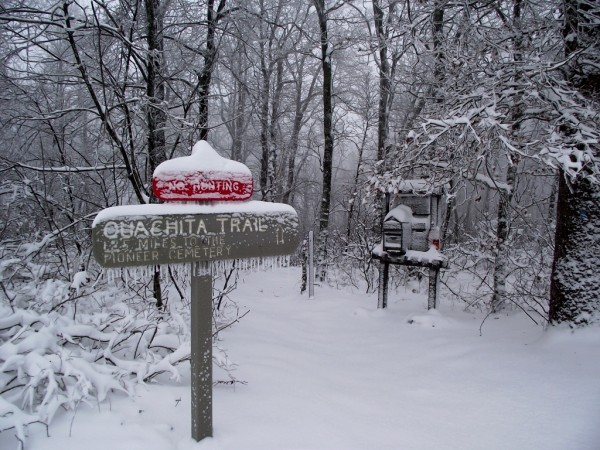 Yesterday, I wanted to take some snow pictures so I headed toward Queen Wilhelmina State Park. It is up on Rich Mountain, near Mena, Arkansas.
It turned out that there was so much snow and ice at the park that the trails were closed, but I was able to get some pictures on the nearby Ouachita Trail section just west of the park. (This is the part I called 02-J, between the park and the pioneer cemetery. It is between Mile 50 and 51.)

The snow seemed a foot or more deep, but I didn't bring a ruler. (Officially, Mena got 9 inches of snow.)
Hiking through snow that deep is kind of like hiking through a giant sandbox. Good exercise, but hard to move very fast.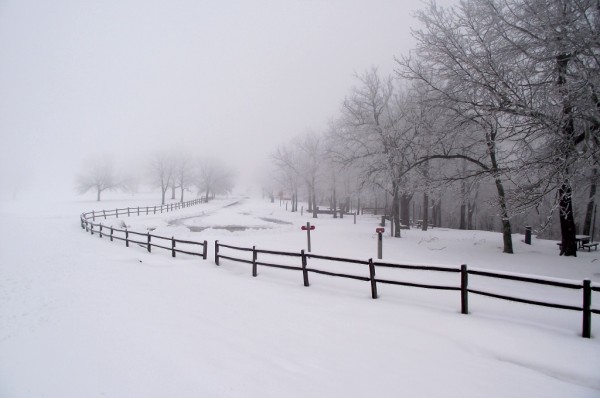 I walked from the trailhead by the park over to the vista spur, about a third-mile each way.
These are some of the photos I took. (Click for larger view.) As you can see, there was a lot of snow, and it was pretty foggy up there.