Last Saturday I had an eventful hike on the Ouachita Trail. I was on Section 4, just east of Highway 71 on East Fourche Mountain.
Some hot hiking, lots of thunder and lightning, and an hour-long thunder shower.
And I saw a bear.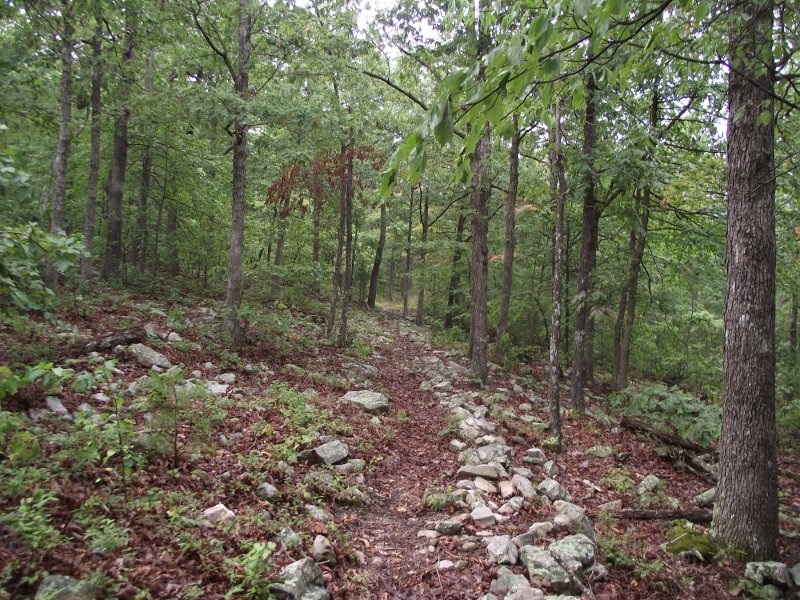 Making a Plan
One of my goals is to day hike the entire Ouachita Trail in pieces. So far (including Saturday's hike), I've done about 30 percent of the 223-mile trail.
I was looking the other day at what to hike next in Section 4. There is a stretch that runs about 16 miles from Highway 71 on the west side (mile 68.1), across East Fourche Mountain, to an intersection with Forest Road 76 (MM 85). (Fourche Mountain has a split at the Foran Gap/Highway 71 area. For simplicity, I'm just referring to the eastern part as East Fourche Mountain.)
I was wondering how I would be able to day hike this area since I usually can't do more than ten miles a day and any section I hike I would have to hike again on the way back out.
The Section 4 map in Tim Ernst's book doesn't show any real access points in that stretch. He mentions some kind of 4-wheeler road that is around the intersection with Turner Creek Gap (mile 79.9). I was hoping that on this hike I could make it to from around MM 85 to Turner Creek Gap (to see what that "road" looks like) and back, about 10 miles total.
I didn't quite make it.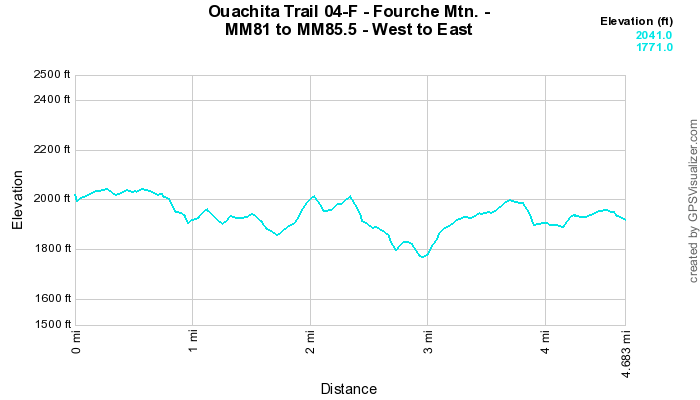 Ouachita Trail 04-F Map
Click here for full-screen trail map.
Morning Hiking
To get to the intersection of the OT and FR 76 (aka County Road 70), I got on FR 76 via highway 71, between Mena and Y City. It's then about 11 miles or so to the OT intersection. The easiest place I saw to park my car (on the side of the road) was about a half-mile east where FR 76A meets 76. So I parked my car there and started walking west. The forest road here actually is part of the trail for a while. (You can tell by the blue blazes.)
So the first half-mile was actually just walking on FR 76. Then the trail splits off from the road to the right pretty close to mile marker 85.
For the most part, this part of the trail is along a ridge on East Fourche Mountain. There is some up-and-down hiking, but not a lot. The total elevation variation is around 250 feet.
Even though it is at a pretty high elevation (around 2000 feet), during leaf-on there aren't many good views of the surrounding area.
The mile or so next to FR 76 is a pretty easy walk. Much of it seems to be a former forest road.
Unfortunately, there were a number of stretches further on that had lots of overgrowth, including thorn vines. Thorn vines aren't much fun to walk through in shorts.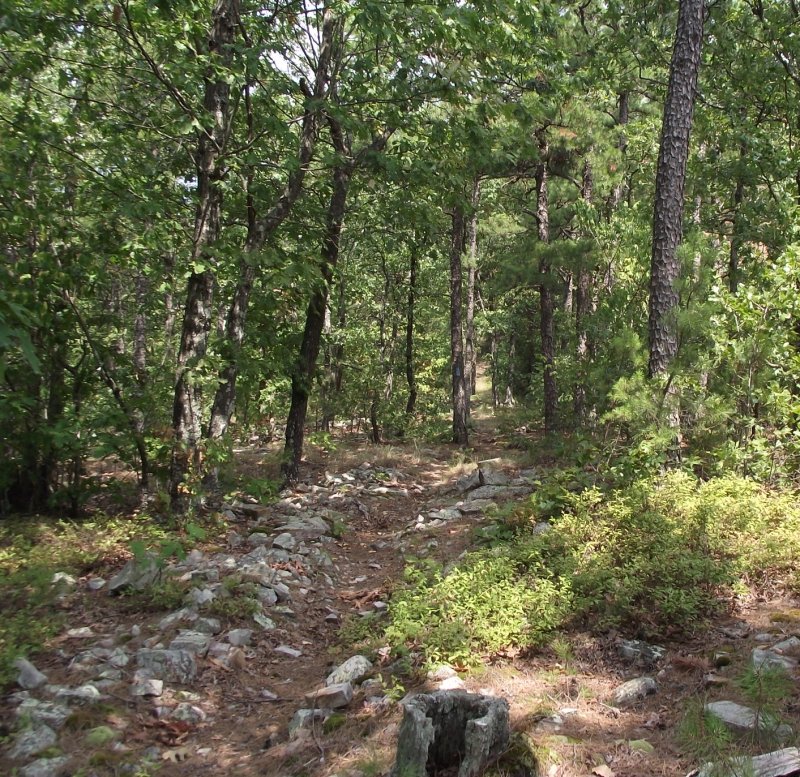 Summer Hiking
For the first half of my hike, the temps were in the 90's and approaching 100 degrees. There was a period of an hour or two where it got a little cooler thanks to some clouds in the area and some showers not too far away.
You might be wondering why I was even hiking in late July, especially with the extremely hot summer we have been having.
Summer in Arkansas and Oklahoma can be difficult hiking weather. But I refuse to stay indoors for four months. Even in the summer, often it won't be too bad in the morning.
But you can still hike in hot weather while having fun and being safe. As long as I prepare and don't overdo it, hot weather hiking is still more fun for me than not hiking at all. So I check the weather. I use sunscreen. I make sure I have plenty of fluids. I'm careful not to push myself too much.
And I enjoy it.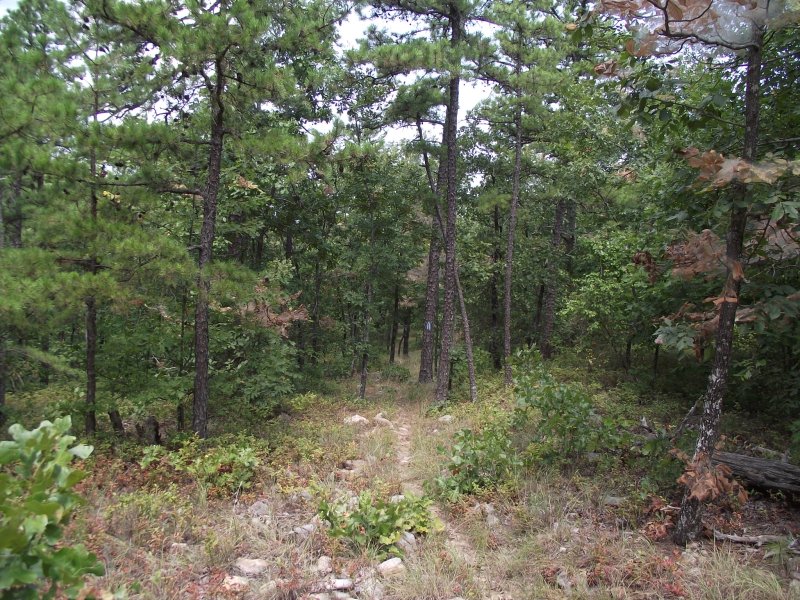 My First Bear Sighting
At about a quarter-mile or so past Mile Marker 81, I thought I saw something up ahead that looked kind of like a dark furry dog on the right side of the trail. I was looking to see what it was. When it crossed over to the other side of the trail, then I could tell that it was a bear cub.
At that point I stopped. I had never seen any kind of bear out in the wild before although I knew that there are bears in the Ouachita National Forest. Part of me wanted to stay and watch or get closer to get a really good look at it. But then I remembered that one of the worst situations to get into in while hiking is to end up between a mama bear and her cubs.
So I turned around and headed back.
I was a little disappointed that I wasn't able to make it all the way to Turner Creek Gap. I was probably only about a half-mile or so short of it.
But I'll be able to go back another time and finish that part.
Rain
On the way back, there was even more excitement for me as a thunderstorm came through. At first it was just a lot of lightning and thunder. Then we got the rain. It was a pretty nice rain shower that lasted for about 45 minutes or so. At first, I didn't even put my poncho on because the rain felt so nice. The rain did a lot to help cool down the temperatures. It was great.
It made the hike back much more pleasant even after the rain stopped. The temperatures were not nearly as hot, and I felt much cooler, as if I had taken a nice swim in the pool.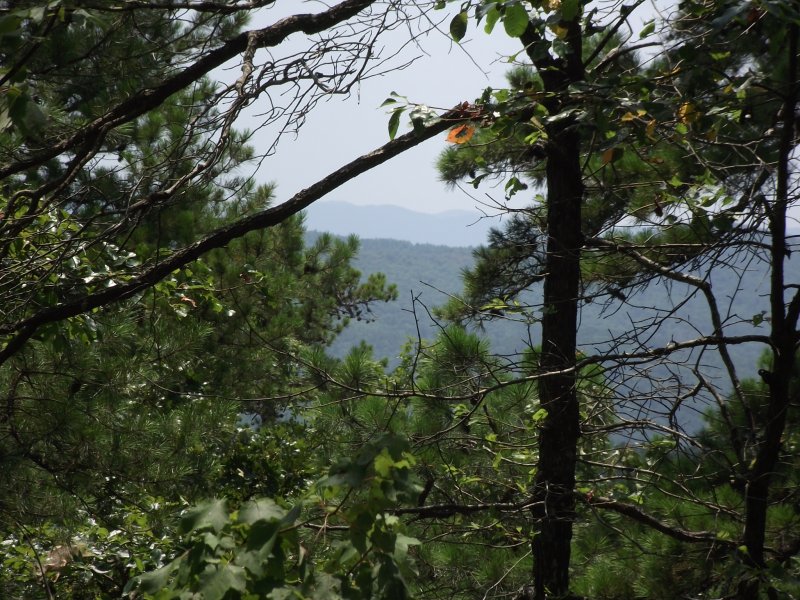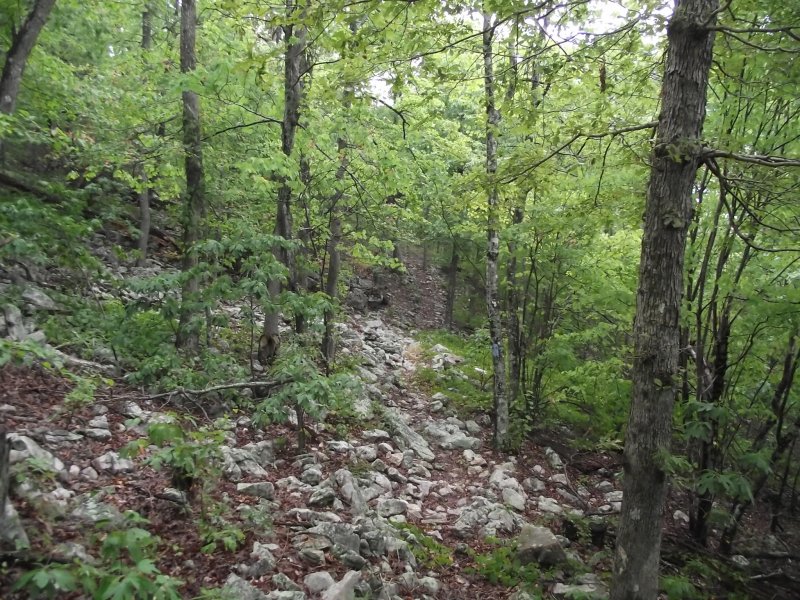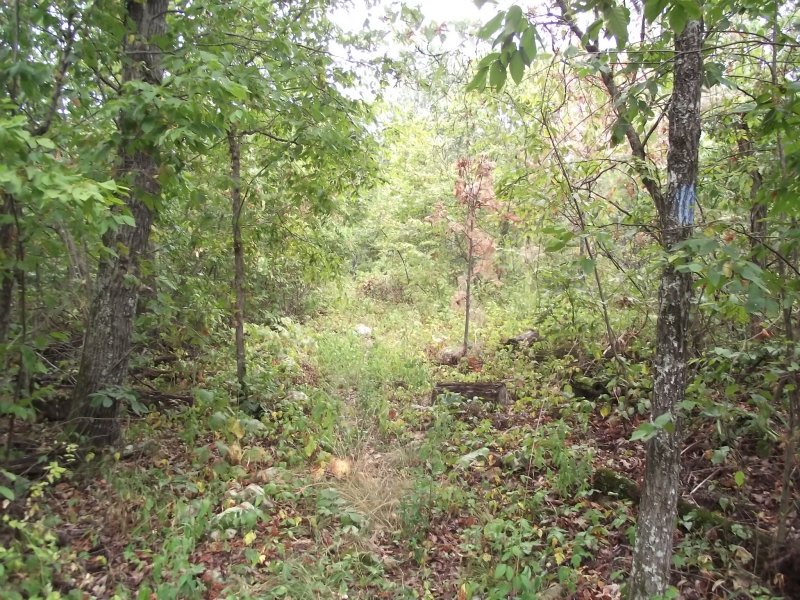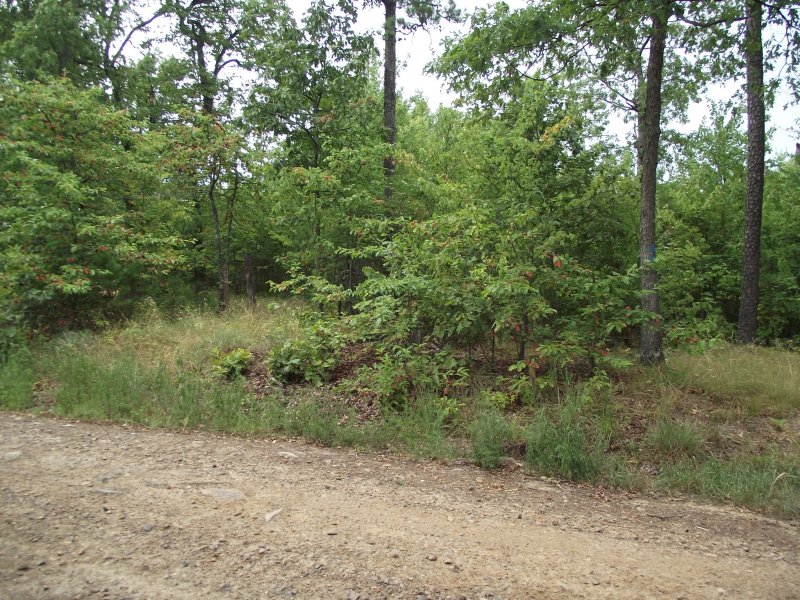 I'm referring to this part of the Ouachita Trail as "04-F."
As usual, I have posted some photos I took on the trail as well as the GPX file I made with my GPS.
Click here for gpx file download.
Ouachita Trail (04-F) Milepoints: 81 to 85.5

Location
Polk County, Arkansas
Hike Length/Type
4.7 miles each way. (9.4 miles out and back.) Blue blazes.
Difficulty
Moderate (3 of 5)
Directions
I started at the intersection of the OT with FR 76. To get there, I got on FR 76 (aka County Road 70) via highway 71, between Mena and Y City. Then I went about 11 miles to the OT intersection. I parked my car on side of road at FR76 and FR 76A intersection. Then I hiked the OT west until around MM 81.
Other Permitted Usage
Mountain bikes
ATT Cell Coverage?
Mostly (About 80%)
Official Info - Phone/Links
501-321-5202 Website. Friends of the Ouachita Trail.
Weather/Conditions
90's - 100 temps, hot, then rain, then less hot.
Date Hiked
July 31, 2011