My girlfriend thought I was crazy for wanting to hike Sunday. Here in western Arkansas, there was snow everywhere (and still coming down), and it was breezy with temps in the low 30's.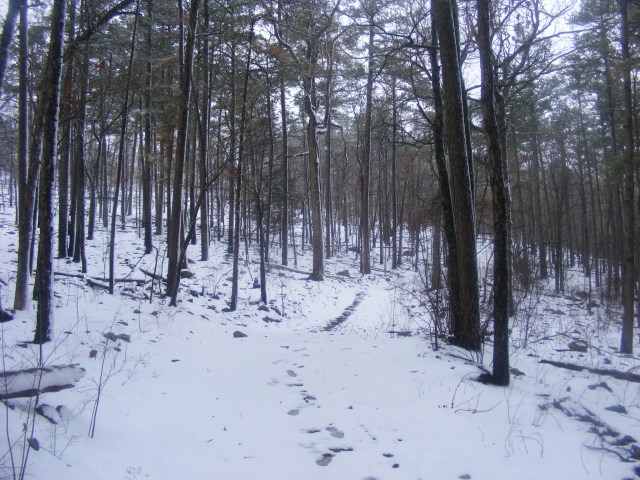 But I had really been wanting to do some more hiking on the Ouachita Trail, and the roads weren't bad. So I went anyway.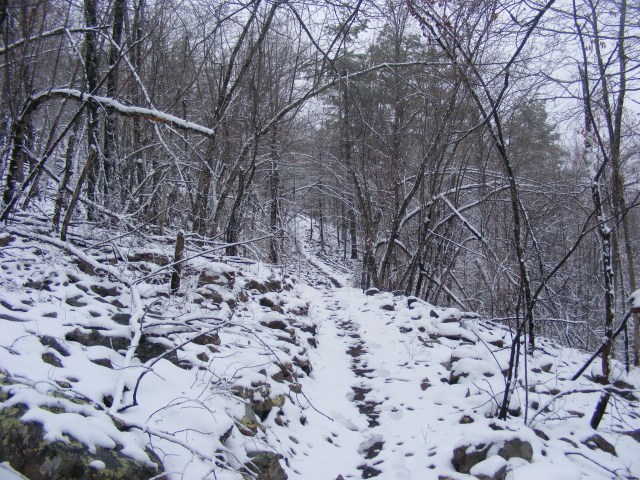 .
OT-04G2-rockhouse-mtn-trax-2010-03-21 gpx
The OT segment I hiked (which I am calling 04-G2) is a 2.1-mile stretch on Rockhouse Mountain, near Big Brushy Campground. It starts at Forest Road 48 and ends at a spur connecting to Forest Road 813.
The snow wasn't really a problem as there was only about 2 inches on the ground. In fact, the scenery was very pretty with the snow.
I was rather cold at first and was thinking that I should have worn better gloves than the cheap ones I brought with me. But after about ten minutes of walking, I was fine.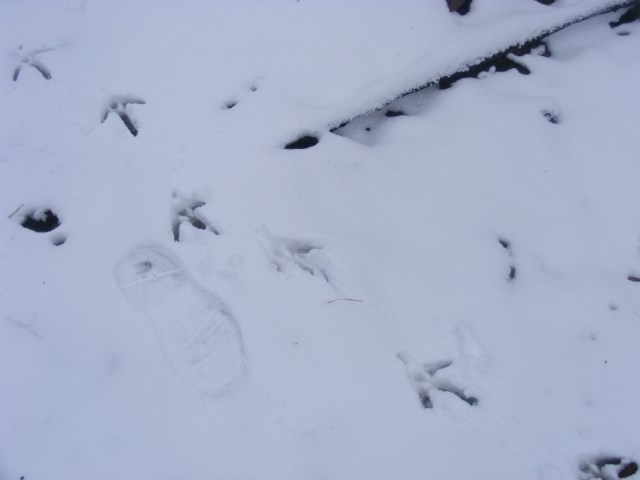 This is not a difficult segment to hike. Actually, it was so not-difficult that I found it a little boring. It goes along the side of Rockhouse Mountain, but it doesn't go up to the top.
I have posted the gpx file I made and some photos I took.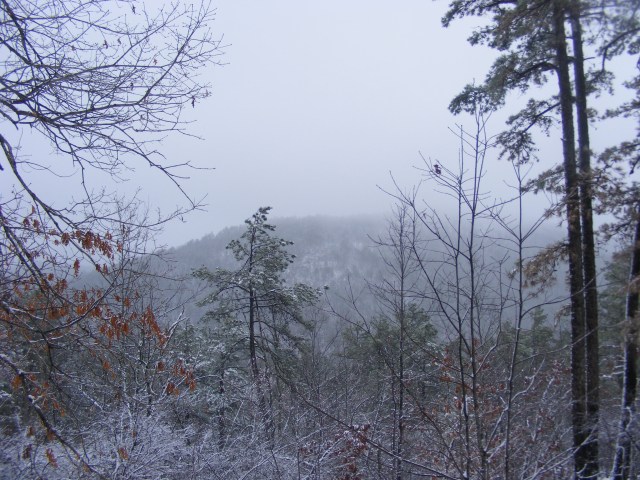 VITAL INFO

Trail Name and Location
Ouachita Trail (04-G2)
County/State
Montgomery County, Arkansas
Date Hiked
03-20-2010
Weather/Conditions
Cold. Temp in 30's. 2 in snow on ground. Periodic snow flurries.
Directions
From Big Brushy Campground, take FR6. Take a right at FR 48. The start of this segment is at the intersection with FR 76. (I parked along the side of the road.)
Length
2.1 miles (one way)
Loop?
No
Difficulty (1=Easy; 5=Most Difficult)
3
ATT Cell Coverage?
Partial