I hiked the Ouachita Trail on the eastern half of west Fourche Mountain about a month ago. (West Fourche Mountain is the part on the west side of highway 71. I don't know why it's not considered a separate mountain.) Last Saturday, I hiked the western part.
I had thought the trail on the western part would be like the other side. It was an enjoyable hike, but it seemed that there were not as many nice views as there had been on the eastern half.
Of course, it was noticeably warmer on this hike than on the earlier one.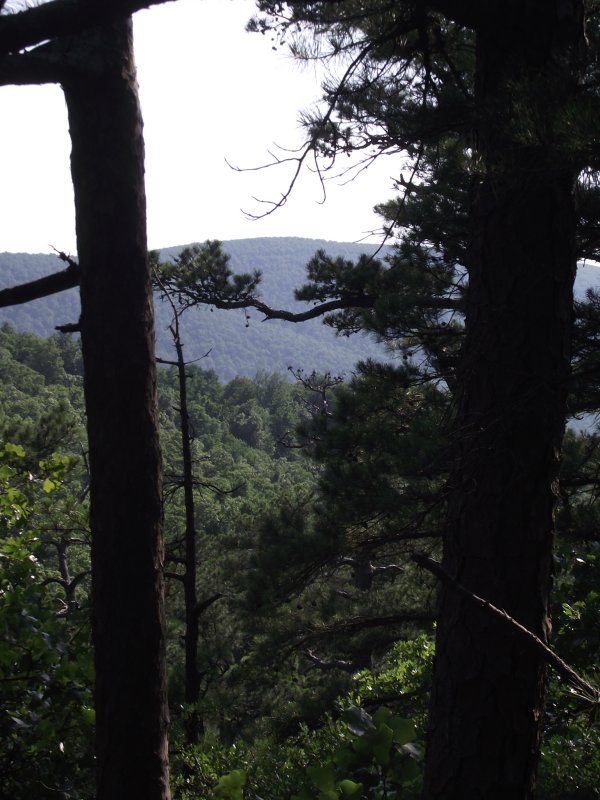 It did seem like there were not as many nice views of nearby mountains as there were on the eastern part. I did notice some scenic views on the way down the mountain. There probably are a lot more good views during leaf-off.
This subsection (which I call "03-FG") is about 4.3 miles each way, making for an 8.6 mile hike out and back. It starts at the intersection of the OT and FR 516 (County Road 97). This is at about 58.5 of the Ouachita Trail. It then heads east up Fourche Mountain to mile marker 63.
The total ascent is almost 1,000 feet. The ascent didn't seem that difficult to me when I was hiking it. It seemed more gradual than on lots of other hikes I have done. I'm sure that is at least partly because I am getting more used to doing these climbs.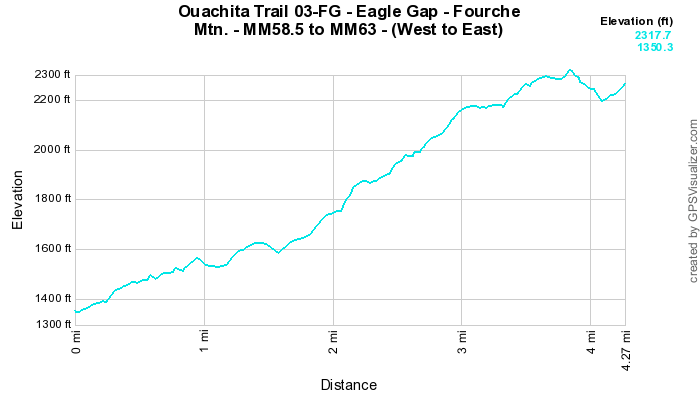 Ouachita Trail 03-FG Map
Click here for full-screen trail map.
Spotting the OT connection at Eagle Gap is not easy.
To get there, head down Highway 270/59 to Eagleton, a very small community west of Mena. Then get on Forest Road 516 (County Road 97). After about 1,000 feet, you cross a railroad crossing. The intersection with the OT is about 2,000 feet further down the road (about a half-mile from the highway).
It is not easy to see the intersection from a car. It looks like there once was a sign there, but it is not there now. I did not see any blazes on the road.
But if you go slow and look carefully about a half-mile from the highway, you should be able to find it. Watch for the blue blazes.
I parked by the side of the road, about 100 feet from the trail juncture.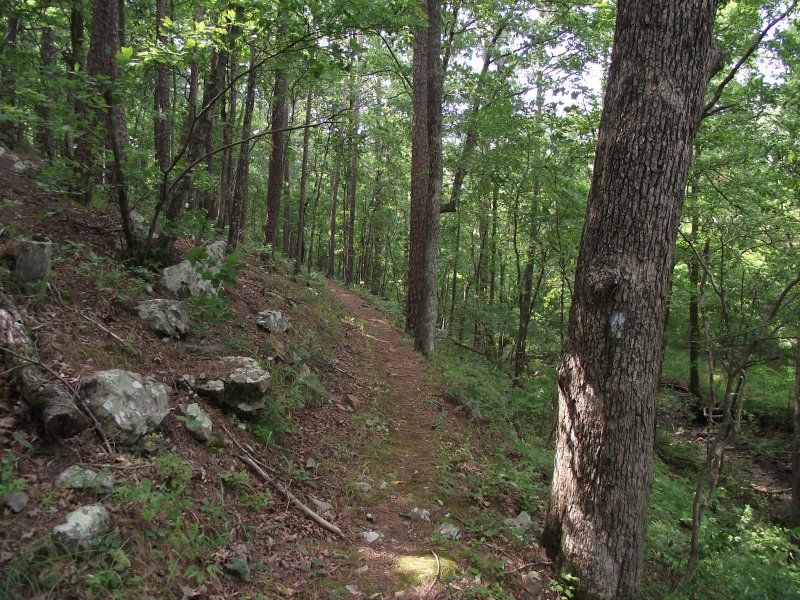 Most of this subsection is not too difficult to hike and is in pretty good shape. Not surprisingly, the parts that are easiest and are in the best condition are those that are closest to Eagle Gap (i.e., they are the easiest for trail maintainers and hikers to get to). There are long stretches through pine forest that are pretty easy to walk.
The hardest area to hike was between MM62 and MM 63, because of the overgrowth. This is the highest area of this subsection and the farthest from Eagle Gap.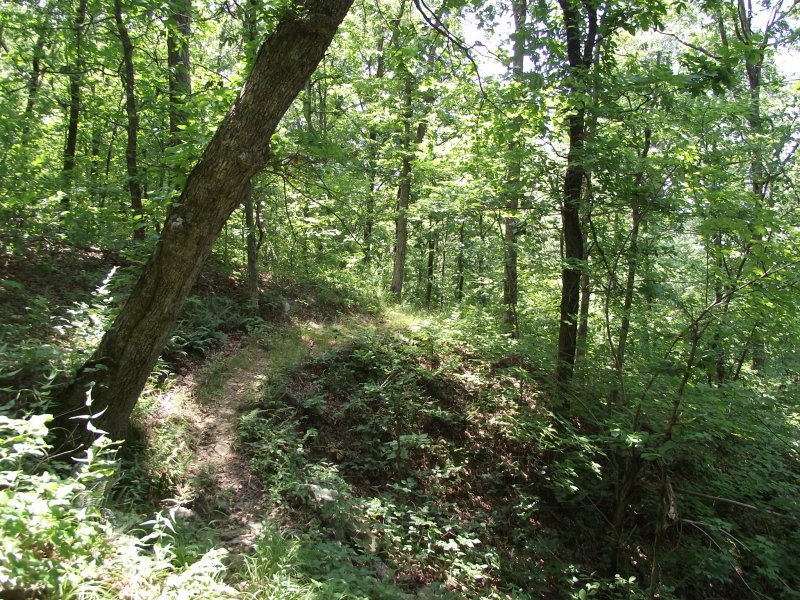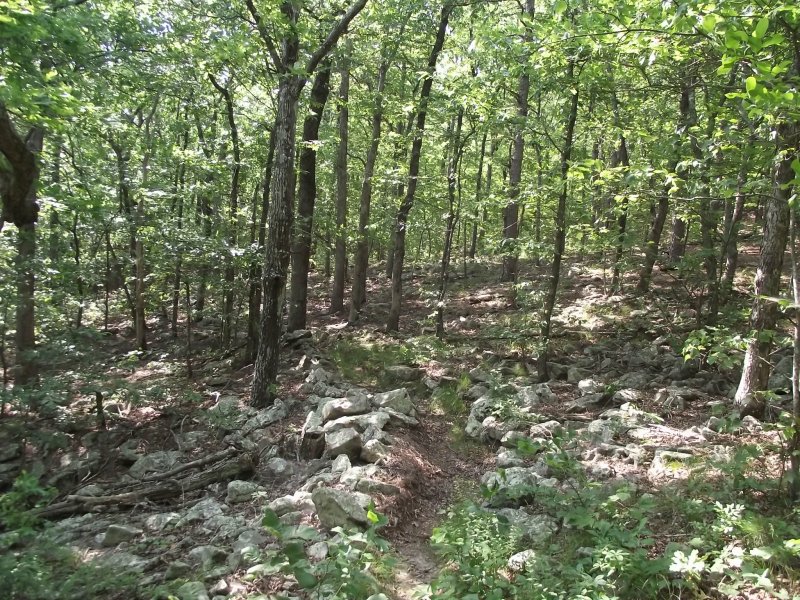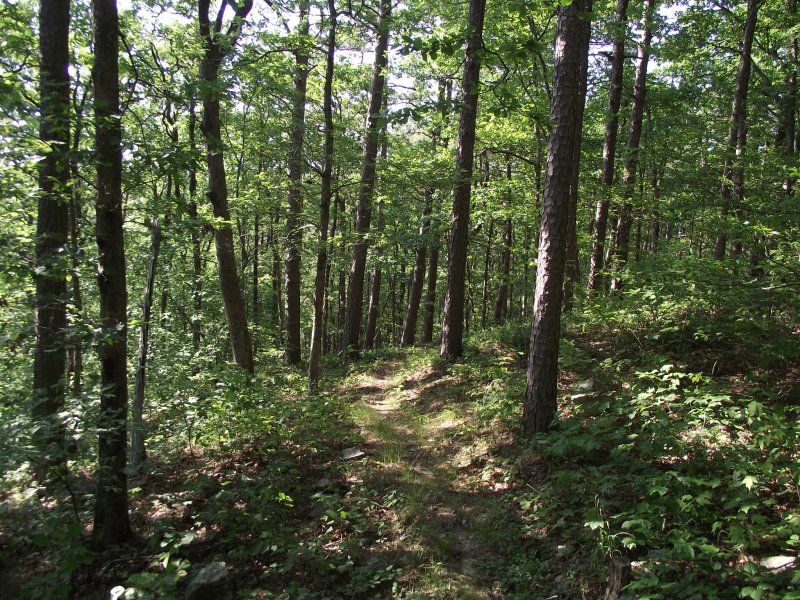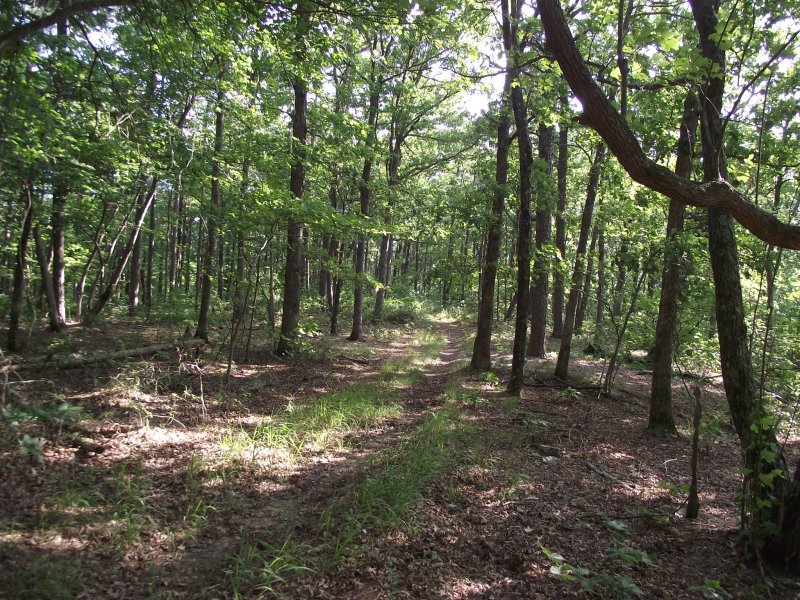 As usual, I have posted some of my photos and a gpx map made from my gps data. You can click the photos for a larger view.
Click here for gpx file download.
VITAL INFO

Trail Name and Location
Ouachita Trail (03-FG) Miles: 58.5 to 63 (From Eagle Gap to MM 63)
County, State
Polk County, Arkansas
Date Hiked
2011-06-18
Weather/Conditions
Upper 80's to upper 90's, sunny most of the time, with a breeze
Directions
I hiked it west to east. I started at Eagle Gap. To get there, go to Eagleton, on Hwy 270/59 (west of Mena). Then get on FR 516 (County Rd 97). The intersection is not easy to see. Look carefully about a half-mile from the highway. Watch for blue blazes. I parked off side of the road about 100 feet from the OT intersection.
Hike Length/Type
4.3 miles each way/8.68 miles out and back. Blue blazes.
Other Permitted Usage
Mountain bikes
Difficulty

(1=Easy; 5=Most Difficult)

5
ATT Cell Coverage?
Partially (About 40%)
Official Info - Phone/Links
501-321-5202 Website. Friends of the Ouachita Trail.