Saturday, I hiked another 5 miles of the Ouachita Trail; this time in Section 3.
This was a pretty cool hike because it was the first time I have come across a waterfall on the Ouachita Trail (or in any national forest for that matter).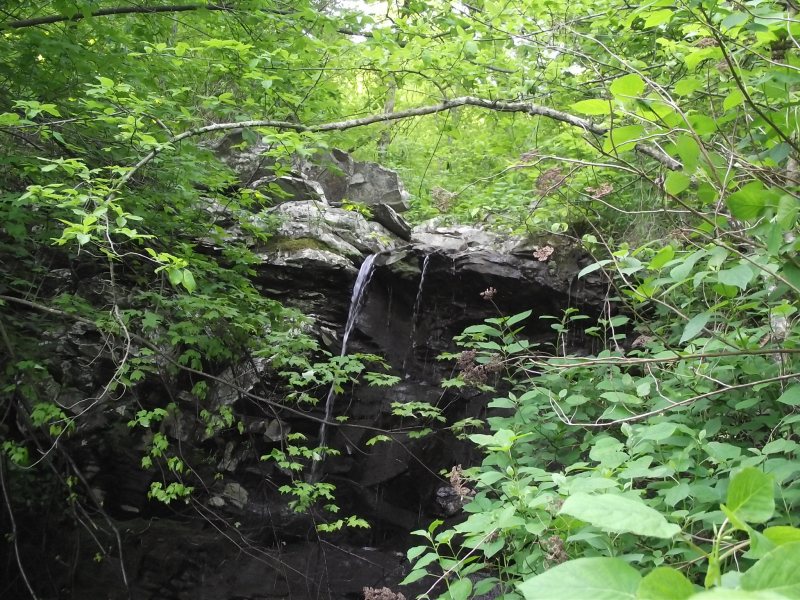 I began (and parked) at the Foran Gap trailhead on Highway 71, between Waldron and Mena, Arkansas. From there I hiked west about 5 miles to MM 63. Originally, I intended to go just to MM 64, but it appears that there is no marker at MM 64.
There is a marker at MM 63, but it looks like it was written with a ball point pen. (There have been problems lately with some of the OT mile markers disappearing.)
I refer to the part of the trail I hiked Saturday as "03-H" and "03-I."
The section of the Ouachita Trail between Eagle Gap (around 58) and Foran Gap is about 10 miles long and has no access points in between. My goal on Saturday was to cover the eastern half of this stretch, a total hike of about 10 miles out-and-back. This stretch is almost all on (the west) Fourche Mountain, which runs parallel to and to the north of Rich Mountain and also to the east of Black Fork Mountain.
This stretch has an ascent of about 1,000 feet.The first half-mile or so is an easy well-established trail. There is a very pretty creek crossing at around a half-mile.
My favorite part of the hike is a waterfall about 1 mile west of Foran Gap. (I was surprised that Tim Ernst doesn't mention this one in his waterfalls book.)
Here is some (shaky) video I took of the waterfall with my cell phone.
[youtube http://www.youtube.com/v/1Aobm-_f7RE]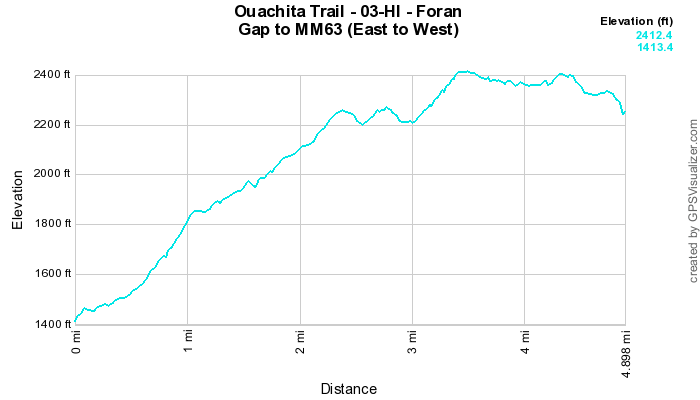 Ouachita Trail 01-HI Map
Click here for full-screen trail map.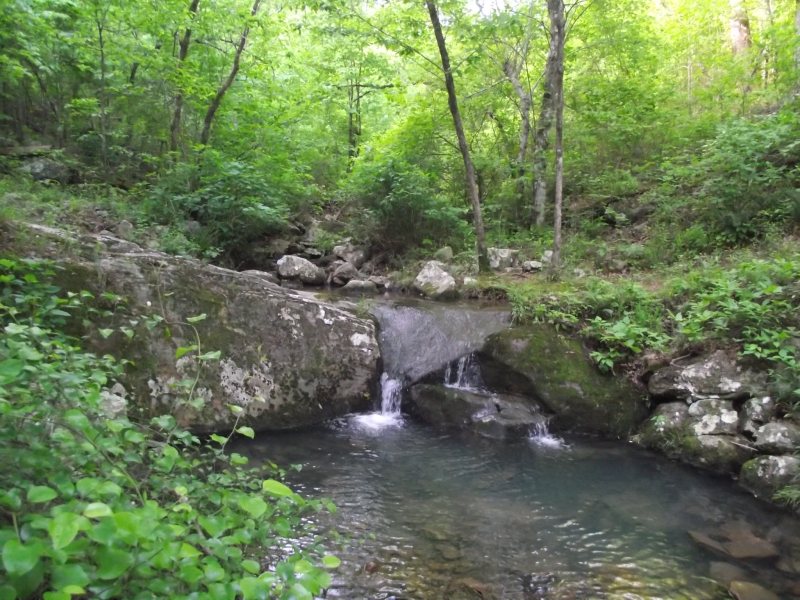 As I frequently mention, the things I get most excited about when hiking are hills, rocks, and water. This was a great hike for all that.
There were quite a few interesting rock gardens and one fairly large bolder field near MM 64 (where it would have been).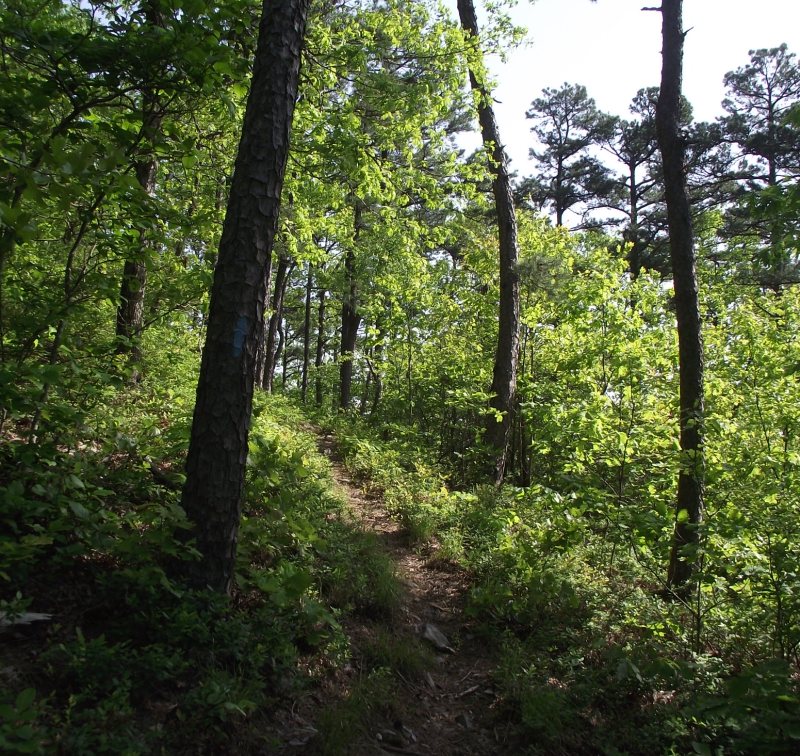 The climb up Fourche Mountain was pretty interesting. It takes about 2.5 miles or so to get up near the top. There are some very nice views on the way up the mountain and in the in the higher elevations, but the hike is probably much more scenic during leaf-off.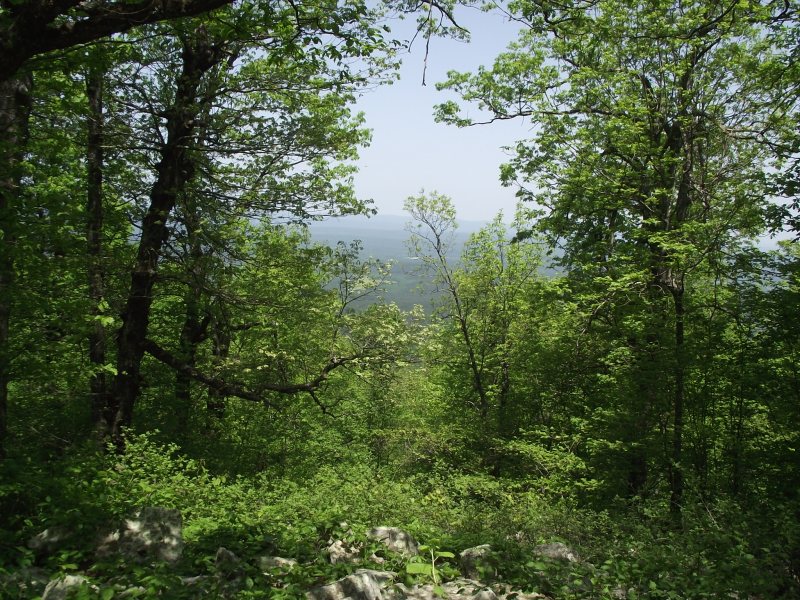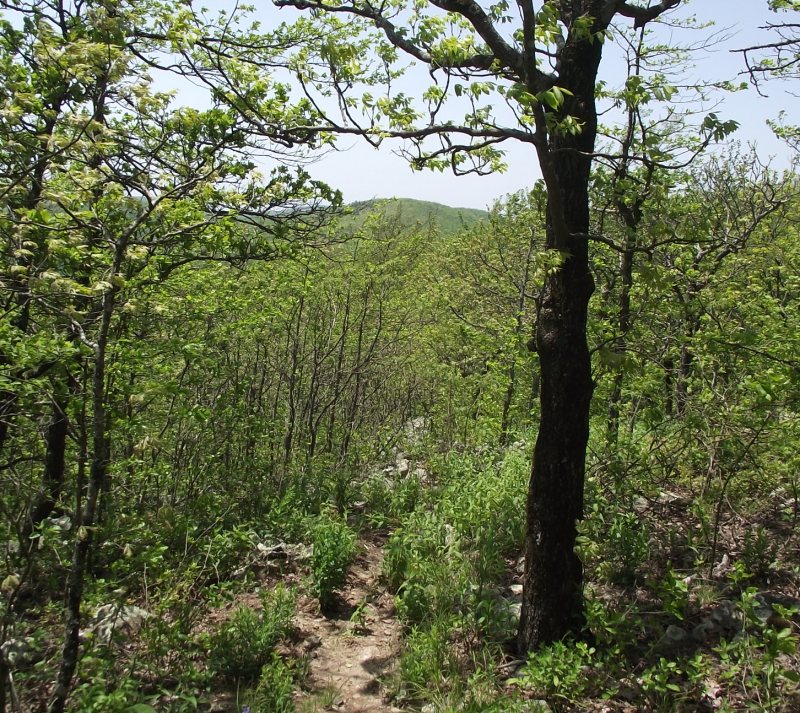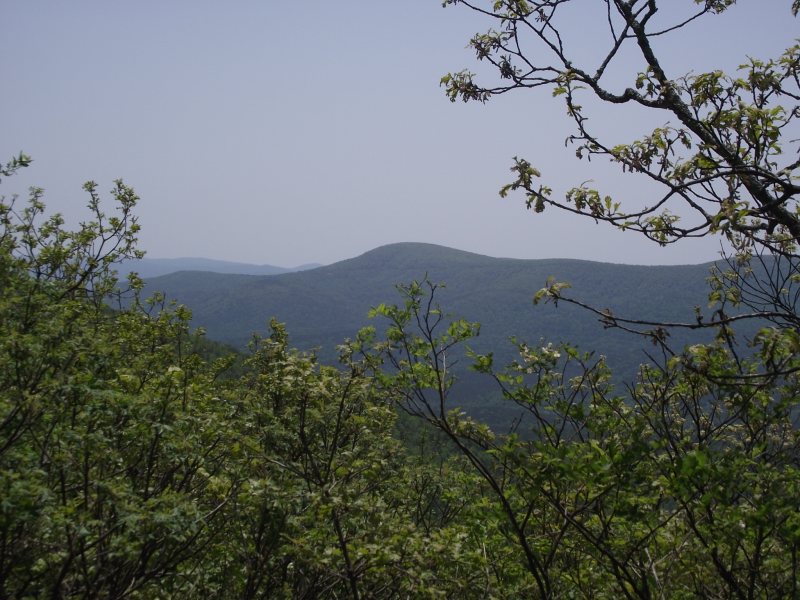 The trail was in pretty good condition for most of the hike except (not surprisingly) for the areas around 63 to 65 – several miles out from Foran Gap. This is the part that would take the longest for trail maintenance volunteers to reach.
Even during leaf-on, there are some very nice views of Rich Mountain in this high elevation area.
This part of the Ouachita Trail is all open to mountain bikes. From the looks of it, it seems that quite a few mountain bikers enjoy biking on most of this stretch.
As usual, I have posted some of my photos and a gpx map made from my gps data. You can click the photos for a larger view.
Click here for gpx file download.
VITAL INFO

Trail Name and Location
Ouachita Trail (03-HI) Miles: 63 to 68.1 (From MM 63 to MM 66 to Foran Gap TH/Hwy 71)
County, State
Polk County, Arkansas
Date Hiked
2011-05-07
Weather/Conditions
70's and low 80's, sunny with a breeze
Directions
I hiked it east to west. I started at the Foran Gap trailhead (parking is there) on Highway 71 (between Waldron and Mena). I hiked to MM 63 (a handwritten sign on tree). And then back. Blue blazes.
Hike Length/Type
4.9 miles each way/9.8 miles out and back
Other Permitted Usage
Mountain bikes
Difficulty

(1=Easy; 5=Most Difficult)

5
ATT Cell Coverage?
Mostly
Official Info - Phone/Links
501-321-5202 Website. Friends of the Ouachita Trail