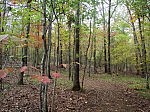 You probably are aware that there is a partial shutdown of the federal government in place now (as of this post).
So where is it okay and not okay to go hiking? Here are some tips based on what we know now:
Hiking Okay
State parks (e.g., Mount Magazine State Park, Robbers Cave State Park).
Any other non-federal government area (e.g., city-owned wilderness areas like Lake Leatherwood Park).
Ozark National Forest. The official website says "Dispersed recreation is permitted" during the shutdown. However, most campgrounds and day-use areas will probably be closed.
Ouachita National Forest (probably). All indications are that hiking trails (e.g., Ouachita Trail, Lake Ouachita Vista Trail) are still open and accessible. Campgrounds and day-use areas are probably closed though.
Hiking Not Okay
Buffalo National River. The grounds of all national park properties, except for through-access roads, are officially closed. (

If you are in the Buffalo River area, you might want to check out

this list

of alternative hiking destinations.)

Pea Ridge National Military Park. This is also run by the National Park Service.
We are all hoping that the shutdown will be over soon.
[Update: The shutdown ended the evening of October 16, 2013.]