Hideout Hollow is an interesting little trail in the Buffalo River Upper District. It features some beautiful views, and ends in a great bluff and waterfall area. While this isn't one of the more popular Buffalo River trails, there's definitely a lot to see and enjoy on this short trail.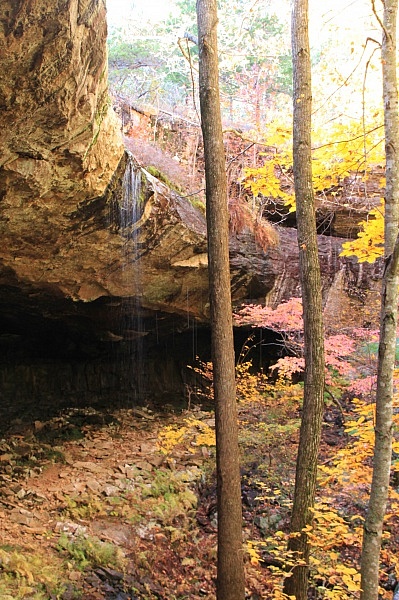 Getting to Hideout Hollow Trail
The trail starts at the Shermerhorn Trailhead in the Compton area. To get there, go to the community of Compton, about 5 miles north of Ponca on Highway 43. Turn onto the dirt road at the Compton Trailhead sign. (This road is County Road 19. If you have a four-wheel drive, it will eventually lead to Erbie. You won't need a four-wheel drive to get to this trailhead though.)
You will come to a sign directing you to the right for the Compton Trailhead. Keep going straight.
At about 3.5 miles from the highway (the road will narrow, so it will seem longer), you will see a "Shermerhorn trailhead" sign on your left. Park in the parking area.
The trail begins behind the sign.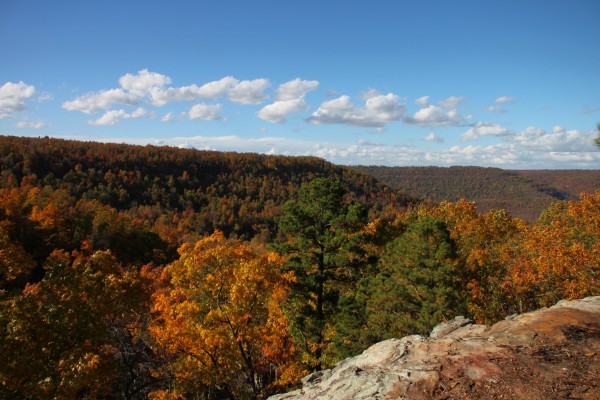 The Hideout Hollow Trail
The first part of the trail isn't terribly scenic. It heads downhill a bit (the trail is pretty rocky here), and it crosses a couple of small, mostly dry, streams.
It heads back uphill and then through a group of pine trees.
At about 3/4 of a mile, the trail begins to get really interesting. Continue reading Hideout Hollow Trail + Waterfall (Buffalo River) – 2 mi (o&b) →