Hike Date – September 22 – 23, 2012
After the last hiking attempt, we opted to head out on a dog-free backpacking trip which means enjoying the wonders of the Buffalo National River.  The weather was perfect, no chance of rain…70's during the day, 50's at night.
The hike – Centerpoint Trailhead to Big Bluff, camp by the river, see Granny's cabin and head back the next day.
The hikers – Shelley, Stuart, and Craig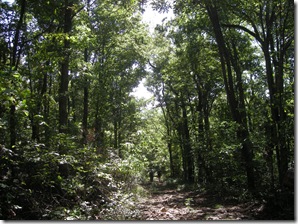 This particular route is about 4 miles out and back.  The crown jewel is the awesome view from Big Bluff.  There is a trail about 300 feet above the river that hugs the side of the bluff leading to a natural rock shelter that overlooks the Buffalo River.  The view is astounding and the acoustics are amazing.  The only trick is overcoming the elevation change, which is approximately 1,200 feet down and then back up. Continue reading Big Bluff Trail (Buffalo River) →