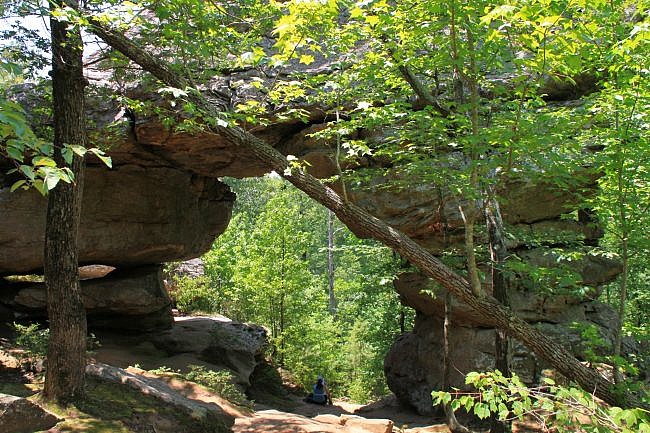 Seven Hollows Trail at Petit Jean State Park (Conway County near Morrilton) is a first-rate hike that features a natural bridge, a grotto waterfall, an a lot of unique views with diverse plant life ranging from ferns to cacti.
The trail takes its name from the seven small streams that run through the area, all of which have carved their own hollows.
The official trail length is 4.5 miles. (Mike's gps calculation puts it closer to 4.1 miles.) The short spur to the grotto (with seasonal waterfall) adds .2 miles.
It is a loop trail that follows through four of the seven hollows and along ridges between the hollows. Bluff lines, tumbling water (in spring), and interesting plant life are abundant.
It is a vigorous hike with an elevation change of about 360 feet. Most of the climbing is on the second half of the loop.
This is a great hike with a lot to observe, and every part of the hike is scenic.