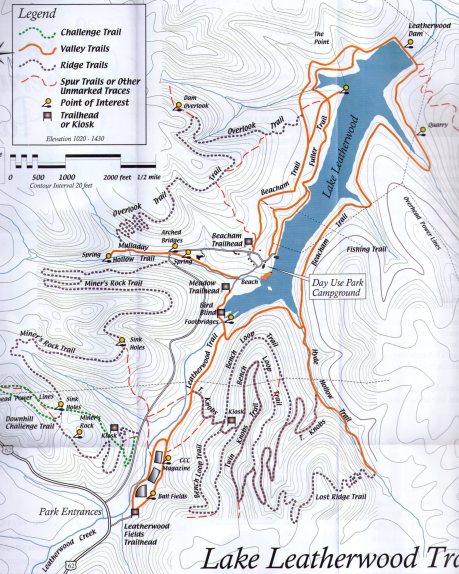 Lake Leatherwood Park is a cool place to visit if you are in the Eureka Springs, Arkansas, area. This 1,600-acre mostly wooded city park features about a dozen hiking trails.
The official trail map pdf can be downloaded from the park website on this page or via this link.
Below are the trail descriptions from the official trail map brochure:
VALLEY TRAILS
Beacham Trail
4 mile loop 2 hours. Beacham Trail circles the lake, passing Leatherwood Dam, the dam quarry and other interesting destinations. Although this trail traverses few extended hills, the varied terrain makes it especially challenging for bicyclists. It begins at either Beacham Trail Head or Meadow Trail Head.
Leatherwood Trail
1 mile 30 minutes. Leatherwood Trail connects the main park facility with Leatherwood Fields, Eureka Springs' Municipal Ball Park. It is predominantly flat and perfect for the light hiker, runner or beginning cyclist. The trail can be accessed from the Meadow Trail Head or the Leatherwood Fields Trail Head.
Fuller Trail
2 miles 1 hour. Fuller Trail follows the shoreline of the lake from near the boat ramp to Leatherwood Dam. A short spur leads to The Point, a great picnic spot with a view of the dam. This trail is mostly flat, but has a few tricky rocky areas and stream crossings.
Hyde Hollow Trail
2 miles 1 hour. This route crosses a tributary creek six times. Lush ground cover and seasonal springs are the highlights of this trail. Slick creek rocks make the trail challenging any time water is present, and during high water, the route can be impassable. The trail can be accessed from Beacham Trail. It is also an access to Twin Knobs Trail.
Mulladay Hollow Trail
1 mile 30 minutes. This trail is completely flat, allowing an easy stroll or spin. The route passes two springs and several Civilian Conservation Corps stone structures. It is a favorite trail for viewing wildlife and enjoying seasonal flowering plants and trees.
RIDGE TRAILS
Overlook Trail
2.5 mile loop 1.5 hour. This trail leads to a bluff overlooking Leatherwood Dam. The dam is highly visible only when the leaves have fallen. There is a long climb either way to the dam overlook. Moss-covered bluffs line the ridge. This is a nice loop when combined with Beacham and Mulladay Hollow Trail.
Lost Ridge Trail
1.5 miles. One of the newest trails in the park, the trail traverses a bench littered with interesting bluffs including a Pivot Rock formation. If approached from Hyde Hollow the trail climbs 10 switchbacks and 300 feet in elevation.
Miner's Rock Trail
3 miles 1.5 hours. Once up the long, steep hill, several miles of mildly graded trail meander along benches beneath beautiful rocky bluffs. This trail is a favorite of local mountain bikers, and leads to Miner's Rock, a unique geological formation. You can use the Park road to make a loop.
Twin Knobs Trail
3 miles 1.5 hours. By far the most physically challenging trail in the park, this trail climbs over 300 vertical feet. It can be accessed from either Leatherwood or Hyde Hollow trails. Views from the "knobs" are great during the winter and early spring. This trail shares routing along the Bench Loop trail. Use Hyde Hollow and Beacham trails to create a loop.
Bench Loop Trail
3 mile loop 2 hours. Bench Loop Trail is located on the same mountain as Twin Knobs Trail. It is comprised of two benches at different elevations that are connected by short grades. The trail passes several rock outcroppings and bluffs. It can be accessed only by ascending the Twin Knobs Trail.
[Update 2011-02-28: I have updated the post to reflect that the official trail map pdf can be downloaded on the web. Previously, I just had links to a scan I made of the map.]