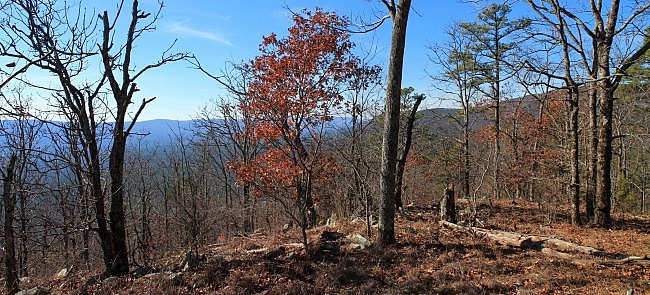 About the Ouachita Trail
The Ouachita Trail is a 223-mile trail that runs from Talimena State Park in Oklahoma to Pinnacle Mountain State Park in Arkansas. The vast majority of it is in the Ouachita National Forest.
You can download a detailed USFS trail map (3.6 MB) here. (Note: the USFS map does not include the eastern end. Also it divides the trail into segments that don't correspond with the Tim Ernst Sections.)
You can learn more about the OT at the Friends of the Ouachita Trail (FoOT) website here.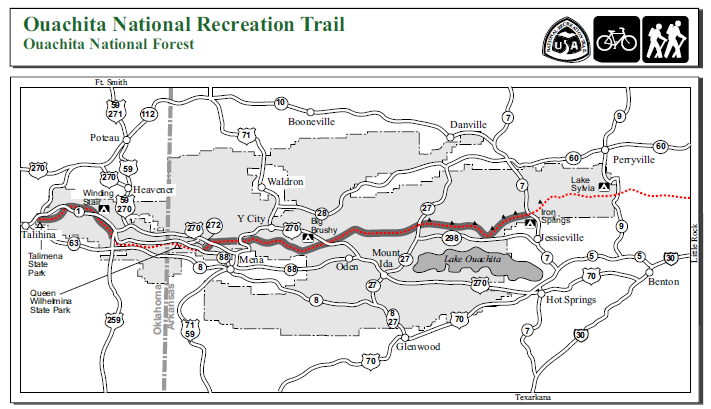 About This Page
The lists below are of segments of the Ouachita Trail, grouped by designated Section. The Sections follow the 10 Section divisions in Tim Ernst's Ouachita Trail Guide. He divides the trail into 10 Sections.
I have subdivided each Section into segments, largely based on those from the FoOT trail conditions page. I added a post link for each segment I have hiked and posted.
The stated lengths are based on my gps calculations. Obviously, if you are hiking a segment out and back (as I usually do), you must double the length.
As of November 2015, I have hiked about 30% of the trail. I hope to eventually hike it all.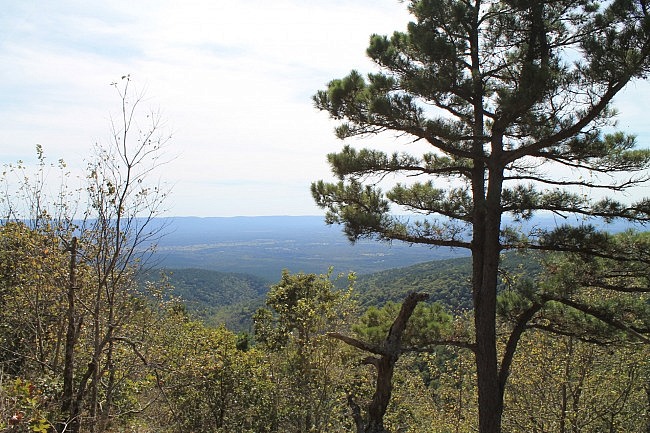 Section 1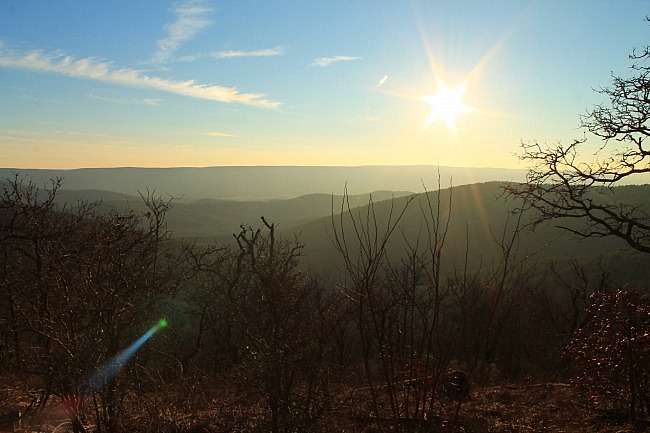 Section 2
| Mile Points | Description | Length (miles) | County | LINK |
| --- | --- | --- | --- | --- |
| 23.7 - 25.8 | Winding Stair TH to East Summit to Highpoint to Saddle (recently updated) | 2.5 | LeFlore, OK | 02-A1 |
| 25.8 - 28.3 | Hiker Campsite (Saddle) to FR 6023 | | LeFlore, OK | 02-A2 |
| 28.3 - 30.5 | FR 6023 to Hwy 259 | | LeFlore, OK | 02-B |
| 30.5 - 34.3 | Hwy 259 to Pashubbe TH | 3.8 | LeFlore, OK | 02-C |
| 34.3 - 39.2 | Pashubbe TH to Wilton Mountain to Kiamichi River TH (FR 6031) (recently updated) | 4.8 | LeFlore, OK | 02-DE |
| 39.2 - 42 | Kiamichi River TH to Mile 42 | | LeFlore, OK | 02-F |
| 42 - 44 | Mile 42 to Mile 44 | | LeFlore, OK | 02-G |
| 44 - 46.3 | Mile 44 to AR State Line | | LeFlore, OK | 02-H |
| 46.3 - 47.8 | AR State Line to FR 514 | | Polk, AR | 02-I |
| 47.8 - 51.6 | FR 514 to Pioneer Cemetery to Queen Wilhelmina SP | 3.7 | Polk, AR | 02-J |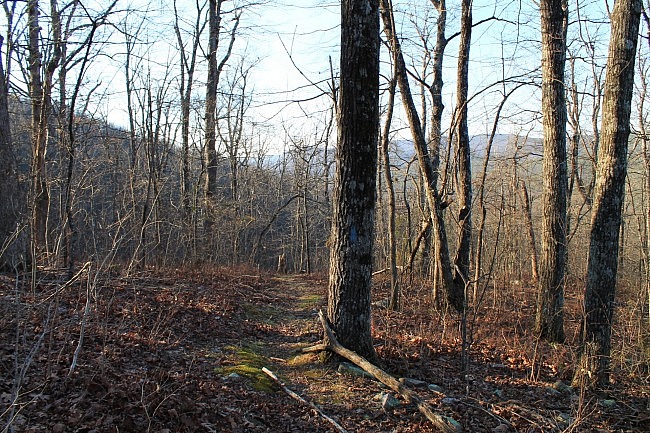 Section 3
| Mile Points | Description | County | Length (miles) | LINK |
| --- | --- | --- | --- | --- |
| 51.6 - 54.1 | Queen Wilhelmina to Talimena Scenic Drive | Polk, AR | 2.5 | 03-AB |
| 54.1 - 56.7 | Talimena Scenic Drive to 270 TH (recently updated) | Polk, AR | 2.6 | 03-CD |
| 56.7 - 58.5 | 270 TH to Eagle Gap/Clear Fork | Polk, AR | | 03-E |
| 58.5 - 63 | Eagle Gap to MM 63 | Polk, AR | 4.3 | 03-FG |
| 63 - 68.1 | MM 63 to MM 66 to Foran Gap/Hwy 71 | Polk, AR | 4.9 | 03-HI |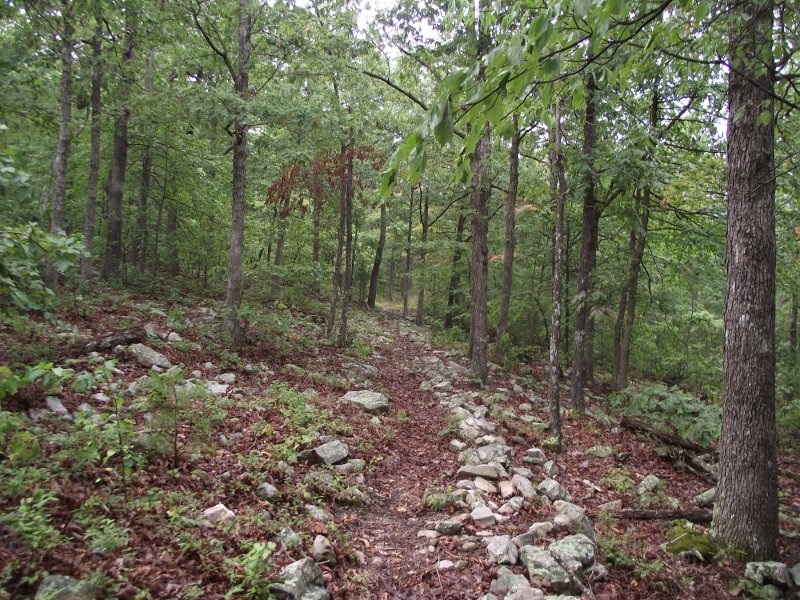 Section 4
| Mile Points | Description | Length (miles) | County | LINK |
| --- | --- | --- | --- | --- |
| 68.1 - 69.7 | Foran Gap/Hwy 71 to 278E | | Polk, AR | 04-A |
| 69.7 - 74.2 | 278E to Tan-a-Hill Gap | | Polk, AR | 04-B |
| 74.2 - 77 | Tan-a-Hill Gap to Mile 77 | | Polk, AR | 04-C |
| 77 - 79.9 | Mile 77 to Turner Creek Gap | | Polk, AR | 04-D |
| 79.9 - 81 | Turner Creek Gap to Mile 81 | | Polk, AR | 04-E |
| 81 - 85.5 | Mile 81 to FR 76A | 4.7 | Polk, AR | 04-F |
| 85.5 - 88.2 | FR 76A to FR 48 | | Polk, Scott, and Montgomery, AR | 04-G1 |
| 88.2 - 90.3 | FR 48 to FR 813 | 2.1 | Scott and Montgomery, AR | 04-G2 |
| 90.3 - 93 | FR 813 to Mile 93 | | Montgomery, AR | 04-H |
| 93 - 94.5 | Mile 93 to Big Brushy Campground | | Montgomery, AR | 04-I |
Last updated: 3-8-2016