Twin Falls of Richland is one of the more famous waterfall areas in northwest Arkansas. I first read about this waterfall about 10 years ago in Backpacker Magazine, and I quickly added it to my must-see list.
This destination is really is worthy of the national exposure.
Twin Falls of Richland is in the Ozark National Forest's Richland Creek Wilderness. (Trail guide author Tim Ernst uses the "Twin Falls of Richland" name because there are multiple Arkansas waterfalls with the name "Twin Falls.")
Twin Falls is actually two different waterfalls from two different creeks — Big Devil's Fork and Long Devil's Fork — that merge together at this site. One of the falls is 17 feet tall. The other is 19 feet tall. They fall over into a glistening pool that is a great swimming hole.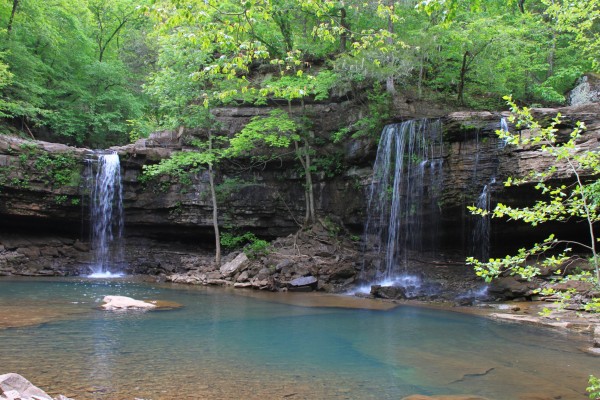 The easiest trail head to get to is via the Richland Creek campground, and it is a spectacular hike. When coming to the area, be sure to also check out Richland Falls and many of the other beautiful areas within the Richland Creek Wilderness Area.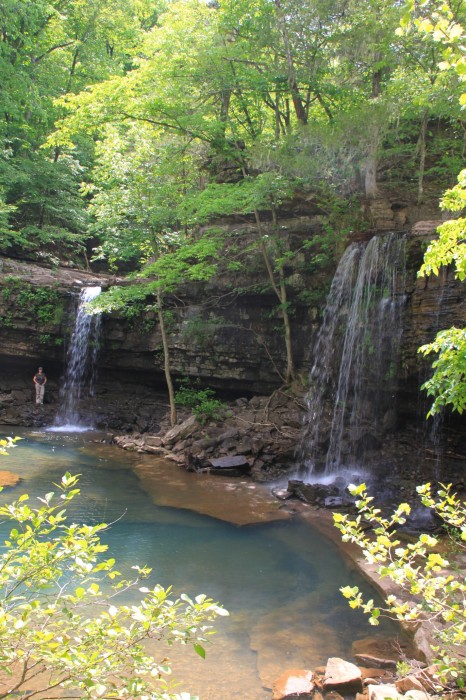 This really is one of the most worthy destinations in the Ozarks. Difficult to get to, but worth the effort.
These photos are from my April 28, 2012 hike. For the full post of that hike, with directions on reaching Twin Falls, see this link.  
Photo Gallery
Click here or below for full-screen photo gallery.
[This post was originally published on May 12, 2012 on the blog "Exploring Northwest Arkansas."]