The Ozarks are full of waterfalls. Many are seasonal falls, meaning they dry up in the hot and dry summers.
And then there are some falls that only appear during very wet weather or after (or during) a heavy rain.
Two of those falls are Roark Bluff Falls and V-Notch Falls.
Both of these falls are at Steel Creek Campground in the Buffalo National River (Newton County). They are easy to get to and can be viewed from the car.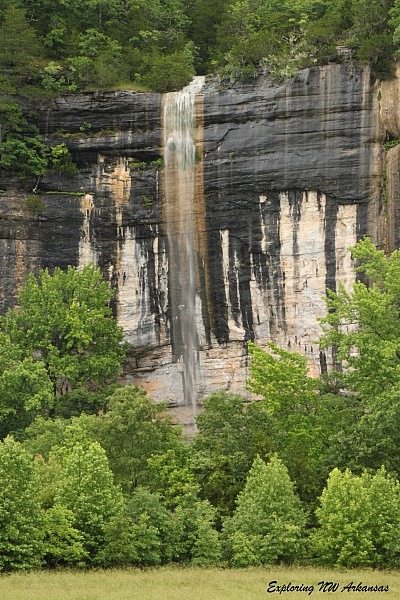 Getting There
To get to Steel Creek Campground from the west, take Highway 74 (east) out of Ponca and go up the hill. At about 2 miles, follow the signs and take a left into the campground.
See this link for Google Maps directions from your location to Steel Creek Campground.
When you reach the bottom of the hill, turn left toward the campsites.
The Waterfalls
The first falls you will come to is Roark Bluff Falls.  This waterfall can be seen from the road and can have a really impressive flow off the large bluff.
If you keep driving, V-Notch Falls appears just behind the first campsites you come to at the campground area. To get the best view of the falls you will need to walk into the woods behind the first campsites to the river and get to where the trees don't completely block your view. Be careful though, as the Buffalo River may be really high so don't wade into murky water!
Both of these falls tumble more than 100 feet over Roark Bluff and are a sight to behold.
Again, don't expect these to be flowing other than during very high water. But when they're flowing, they are very cool.
I've seen these two waterfalls be called various things depending on the source — but these are the names given to the falls by the folks at the Buffalo Outdoor Center, so I consider them a very knowledgeable source of the area.
These photos are from my May 24, 2015 visit to the falls.
Photo Gallery
Click here or below for full-screen photo gallery.
[A version of this post was first published on May 27, 2015 on the blog "Exploring Northwest Arkansas."]