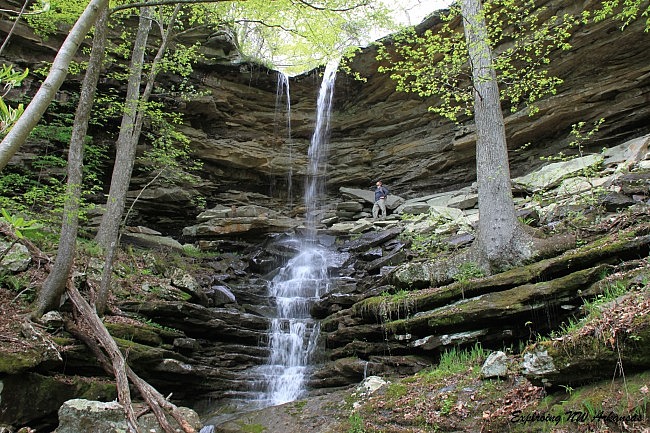 Lonesome Hollow Falls (Ozark National Forest, Newton County) is a great waterfall and probably deserves to be a more popular destination based on the beauty and relative ease of getting to it.
It's a short simple drive and a really very accessible hike to a fantastic 47-foot waterfall amid a beautiful canyon.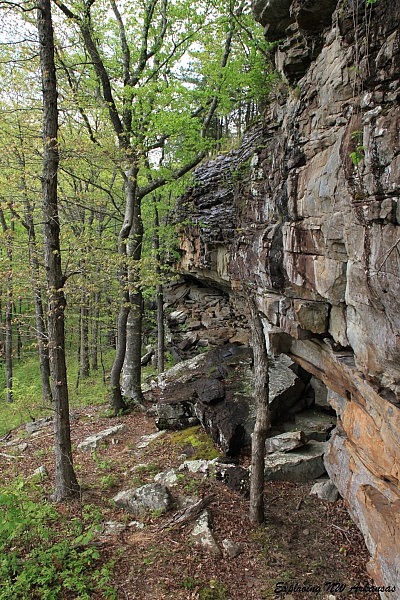 Getting There
To get to the trail head from the north, take Highway 7 to the little community of Cowell (17.6 miles south of Jasper). Just .2 miles south of Cowell is the Cowell Cemetery. Turn right (southwest) onto the road that leads to the Cowell Cemetery.
As you get behind the cemetery, turn right onto Forest Road 1253. (There is a sign marker, and it is marked as a "dead end".)  The road is gravel, but it is generally in good shape for an average vehicle.
There are two roads here–one goes down the hill and one stays on the level. Stay on the one that is on the level.
(Click here for approximate Google Maps directions from your location to this area.)
Go .9 miles on FR 1253 and park in an unmarked parking area on the right.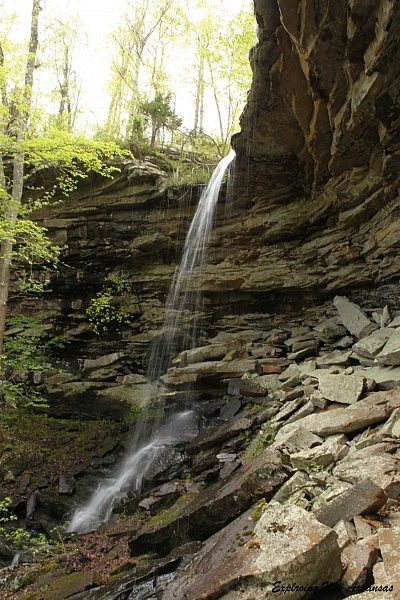 The Trail
The trail follows an old four-wheeler road from the parking area and down the hill. It's a nice little hike, and the trail appears to be somewhat maintained.
The trail bends sharply to the left and continues down the hill. Off to the right while hiking is a fairly steep bluff and a view down into Lonesome Hollow.
At roughly .4 miles, the trail becomes less maintained. There is a little cairn on the side of the trail and a path that goes steeply down the hill. Follow this path to the right, down the hill.
This steep section is a little tricky, but short. Soon, you'll be below the bluff line, and you will turn right and follow the bluff back to the falls.
The bluff line is very scenic.  Follow the bluff line for about .2 miles, and you will eventually come to Lonesome Hollow Falls.
The falls tumbles 47 feet and then cascades down the rocks below.
The whole area is beautiful and worthy of spending some time to enjoy. I am looking forward to my next trip so I can do a little more exploring up and down the creek bed.
When you are done enjoying the falls, head back the way you came.
Final Notes
It is about 1.1 miles to the waterfall and back. I rate the difficulty of the hike as moderate (3 of 5).
Due to the rocky terrain, I recommend wearing hiking boots.
Tim Ernst discusses the falls in his Arkansas Waterfalls.
These photos are from my April 26, 2015 hike.
Photo Gallery
Click here or below for full-screen photo gallery.
[A version of this post was first published on July 26, 2015 on the blog "Exploring Northwest Arkansas."]