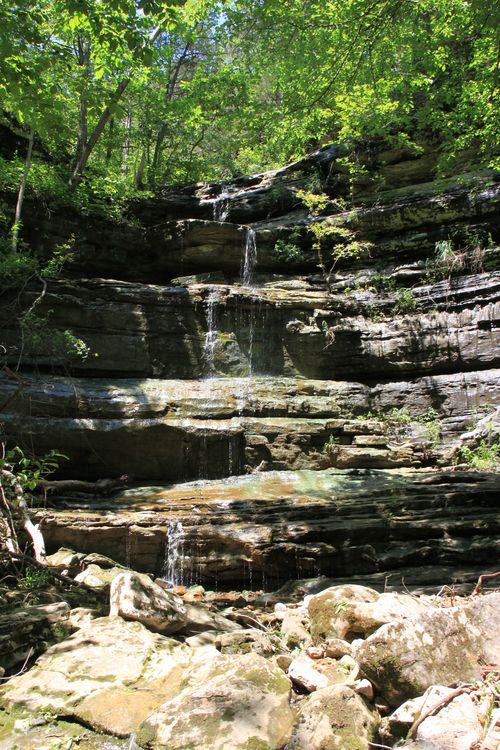 We had been coming down to Arkansas for several years before we ever heard about Liles Falls and only then upon reading about it in a book.
It's super-easy to get to, and very picturesque. Yet, it isn't a place that people talk about a lot.
Getting to Liles Falls
Liles Falls is just off of Erbie Campground Road (aka County Road 79). From Highway 7, take the gravel road where the sign indicates for going to Erbie Campground.
As you head toward Erbie, you will pass the Koen Interpretive Trail, the Ponds Loop, and the Cedar Grove picnic area. At one point, you will cross a little stream, and then the parking area is there on the right.
If you park your car there and then walk back out across the creek on the road, there is an unmarked-but-well-traveled trail that dips down into the woods from the opposite side of the creek. It isn't a maintained trail, but it is flat and easy to follow.
The falls is only about a quarter-mile of flat trail from the road.
The Falls
Once you get to the Liles Falls, the scramble down to the bottom is a little challenging, but it can be done by most active individuals. When you get to the bottom, you'll be greeted by a wonderful, 41-foot tall, cascading waterfall.
Liles Falls is also easily accessible off of the Buffalo River Trail between Erbie and Ozark.
We came during the wet season, but it had been several days since it had rained, and the falls was just a small little cascade. I've seen some wonderful photos of it on Flickr and plan to come back after a good rain to see it in all its glory.
Even with a small stream of water, it was still a beautiful place to sit and relax for a spell.
Difficulty: Easy — although the scramble to the bottom of the falls is a little tricky
Footwear: I recommend trail shoes, but tennis shoes would be fine
Kids: Except for very young kids, this should be easy enough.
Trail Guide: Tim Ernst's Arkansas Waterfalls book
[This post was originally published on July 25, 2011 in the blog "Exploring Northwest Arkansas."]