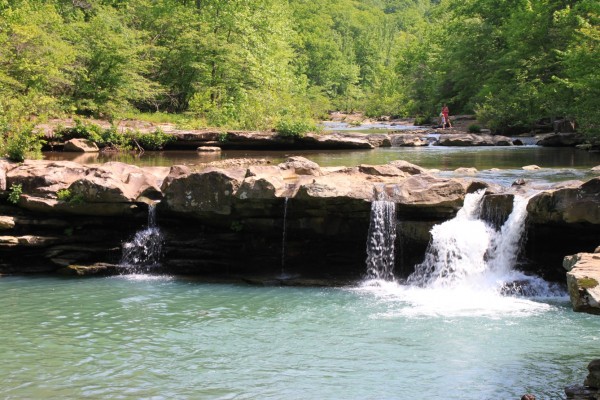 One of the great things about hiking and playing in the wilderness in Arkansas is that each time you visit an area, it takes on a bit of a different feel depending on the time of year you go. Different weather and water levels make a big impact, as do leaf color, what flowers are in bloom, and who you are sharing the trail with.
There may be no better example of this than the Kings River Falls Natural Area in east Madison County.
The Kings River Falls Trail is a great hiking trail, only about 1.8 miles round trip (.9 miles, out and back), and filled with beautiful scenery. It's a relatively flat, easy hike, so it's good for families too.
The highlight of the trail is the 10-foot tall Kings River Falls.  During warm weather, the area can become a (justifiably) popular swimming hole.  It's definitely worth the time to check out.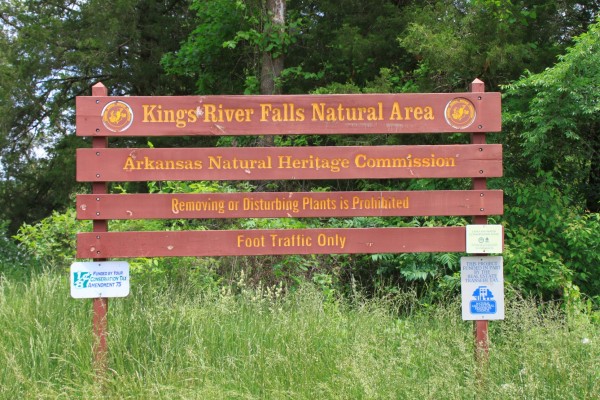 Getting to Kings River Falls Trail
To get there, go to the community of Boston (just a few homes there now). It is on Highway 16 between Pettigrew and Red Star, about 19 miles west of Fallsville.
From Boston, turn north onto County Road #3175 (gravel, but a good road) for 2 miles and then turn right onto CR #3415. Stay on this for 2.3 miles until the road stops at a T intersection.
Turn left at the T. After a few hundred yards, you'll cross a small stream, and then there is a decent-sized parking area on your right. The Kings River Falls Natural Area sign marks the spot. (The Area is managed by the Arkansas Natural Heritage Commission.)
The Trail
The trail takes off just to the left of the sign, and runs along a fence and an open field (to your left) and a creek (to your right).
After a bit, the trail reaches the Kings River, turns left, and then runs downstream along the river. A little further, the trail crosses over a nice footbridge.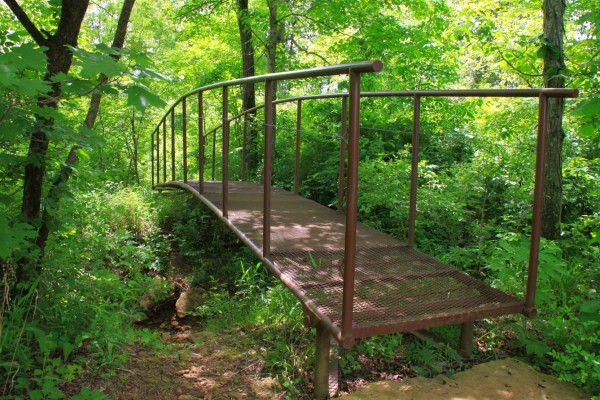 The trail continues and is level the entire time, so it makes for great hiking.  It's a wide trail that is really easy to navigate.
There are a lot of great little areas to check out along the river so plan to go slow and enjoy the trail and the river a bit.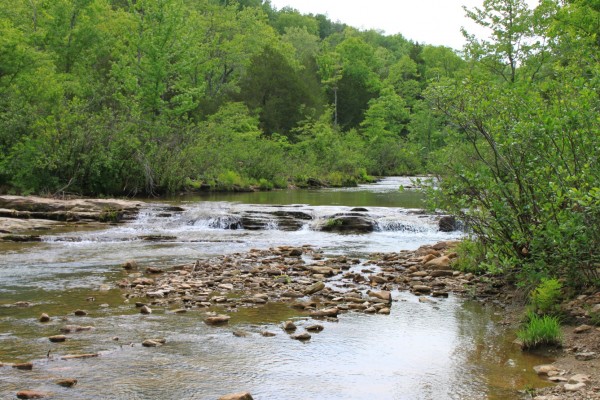 We hiked this trail on Memorial Day weekend, and the trail had an extra special surprise for us. The azaleas were in full bloom, and the bright pink flowers were a wonderful sight along the river.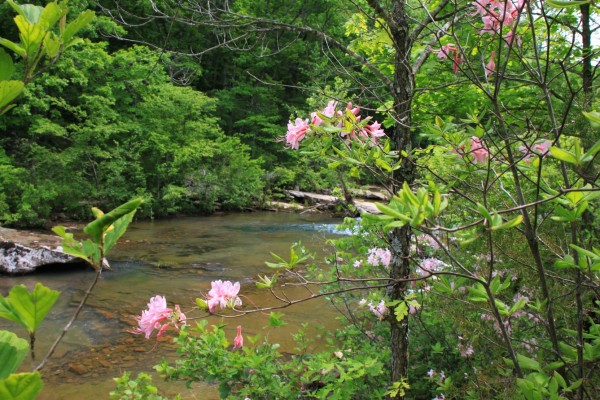 After about a mile, you eventually get to main event — Kings River Falls. This is a great, 10-foot high waterfall that is set in an amazing area. Plan to spend a little bit of time enjoying this fantastic waterfall.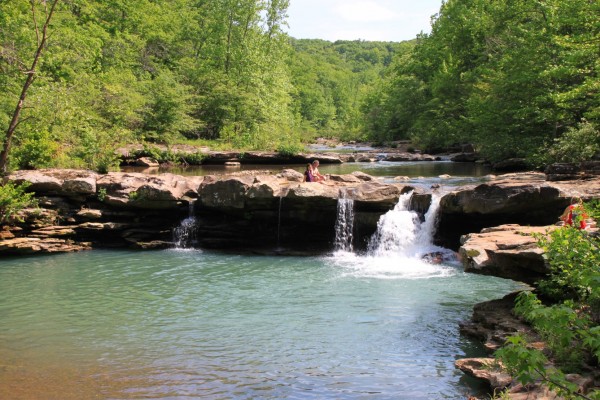 During warm weather, the swimming hole below the falls becomes very popular. So if you are planning to come to this area and want some peace and quiet,  early mornings or during the week are probably best.
If hanging out with people who are all having a great time is more your game, a weekend afternoon will work.
Getting to the Overlook
While the hike to Kings River Falls is great, and most people are perfectly fine enjoying the falls itself, there is a bit more to see here.  Just upstream from the falls, there is a creek that comes in from the trail-side of the river.  If you follow this little creek upstream a bit, there are also a series of waterfalls that come down off the top of the hill.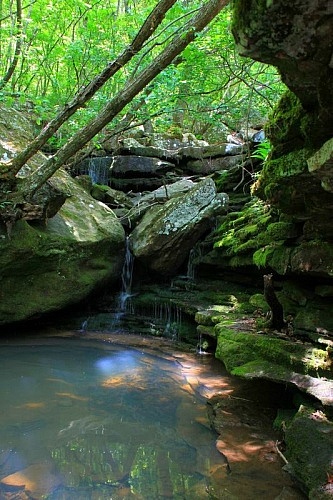 There is a volunteer trail that heads up along these falls that is pretty easy to follow. When the water is high, it is definitely worth checking out.
Then, to your right, there is another trail that leads back toward the river.
From this trail, you can get an amazing view of Kings River Falls from high above the Falls on the bluff.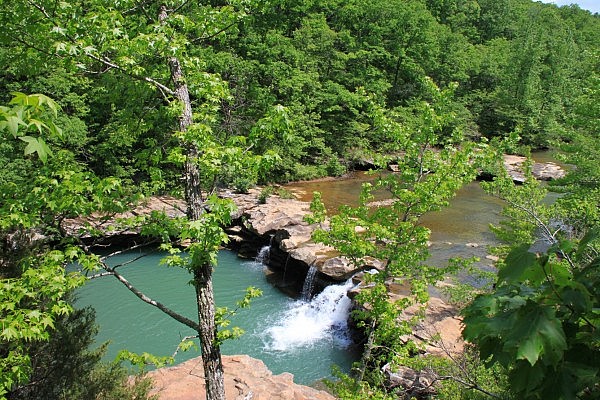 For footwear, I recommend trail shoes or Keen water shoes.
This trail is covered in Tim Ernst's "Arkansas Hiking Trails" and his "Arkansas Waterfalls Guidebook."
Photo Gallery
Click here or below or below for full-screen photo gallery.
Kings River Falls Trail Map
Click here for full screen map.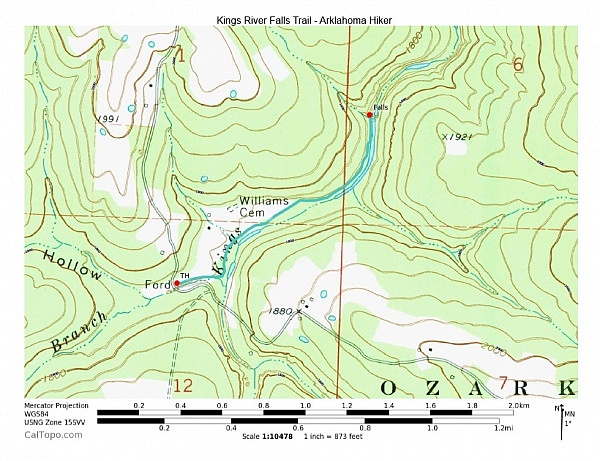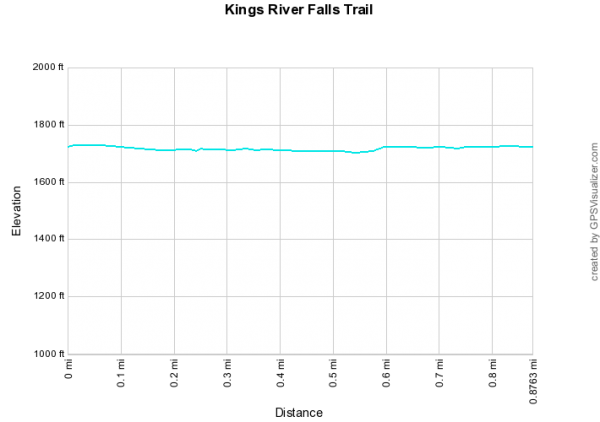 Kings River Falls Trail

Location
Kings River Falls Natural Area, Madison County, Arkansas
Hike Length/Type
1.8 miles, out and back (.9 miles each way)
Difficulty
Easy (1 of 5)
Gpx file (by Mike)
Link
Date Hiked
May 24, 2014
Official Info
Phone: (501) 324-9619; Website.
Directions (via Google Maps)
Directions to trailhead
[Click here for photos from Mike's 2013 visit.]
[This post was originally published on August 4, 2014 on the blog "Exploring Northwest Arkansas."]