Hawksbill Crag (aka Whitaker Point) is one of the most recognizable and photographed points in Arkansas. It's a very beautiful spot as well.
Fortunately, it is not that difficult to find.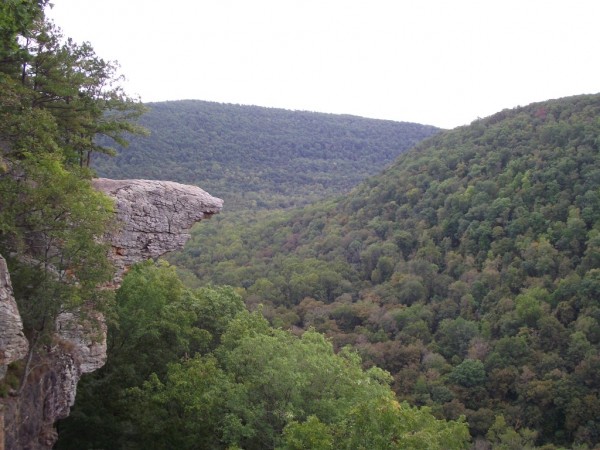 Hawksbill Crag is in the Upper Buffalo Wilderness Area of the Ozark National Forest, about 30 miles southwest of Harrison, Arkansas.
The Hawksbill Crag Trail (aka Whitaker Point Trail) is about 1.5 miles each way (for a total hike of 3 miles). It is not difficult walk although there is some climbing on the way back. The total elevation change is about 300 feet.
As with many beautiful areas in Arkansas, it can be very dangerous near the bluffs or on the crag. Be extremely careful.
I was very excited at the large number of hikers that were there when my girlfriend and I went out there in late September. I probably saw 30 or more people on the trail that day. That was probably the largest number of hikers I have seen on a National Forest trail.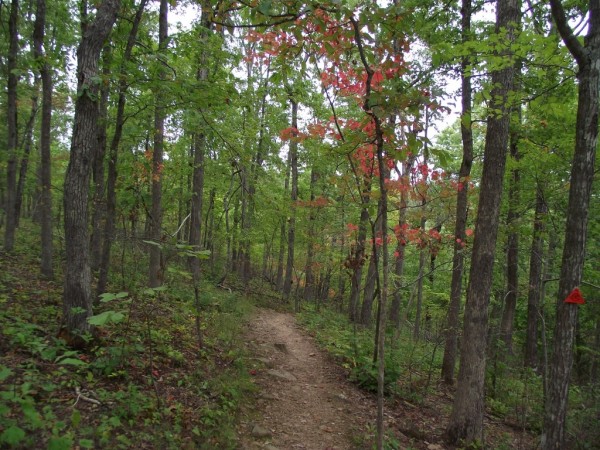 Directions to Hawksbill Crag Trail: If you are coming from northwest Arkansas, take Highway 412. A few miles past Marble, turn right (south) on Highway 21. Stay on 21 through Kingston. About a mile south of the juncture with Highway 43 (a few miles past Kingston), take a sharp right on Cave Mountain Road (aka County Road 5). (It is right before the Buffalo River bridge crossing.) When I was there, there was no sign for this dirt road.
If you are coming from Harrison, you will take Highway 43 south through Ponca. Then take Highway 21 south for about a mile. Take the sharp right turn right before the Buffalo River bridge.
Stay on this road (it goes way uphill) for about 5 miles. The trailhead ("wilderness area") parking area is about a half-mile past a small church with a cemetery. Parking is on the right. The trailhead is on the opposite side.
For approximate Google Maps directions to the Whitaker Point (Hawksbill Crag) trailhead, see this link.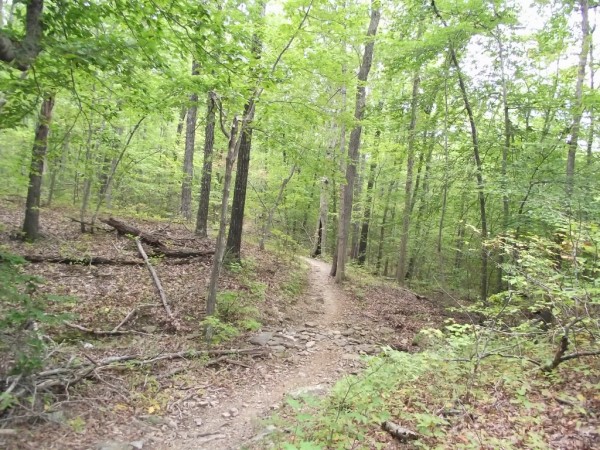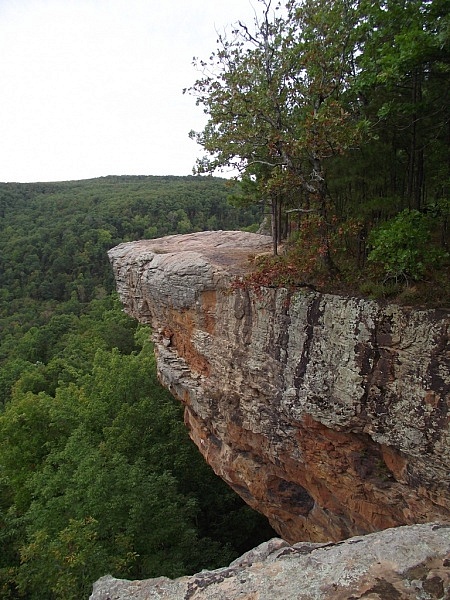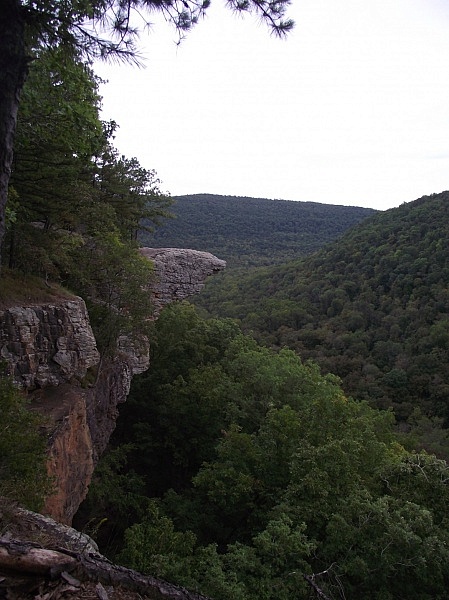 As usual, I have posted some of my photos and a gpx map made from my gps data
Hawksbill Crag Trail Map
Click here for full-screen trail map.
Click here for Mike's gpx file.
Hakwsbill Crag (Whitaker Point) Trail (Ozark Forest)

Location
Upper Buffalo Wilderness, Ozark National Forest, Newton County, Arkansas
Hike Length/Type
2.8 miles out-and-back (1.4 miles each way)
Difficulty
Moderate (3 of 5)
Directions
If coming from the north (like I did), you need to get to Highway 21, about a mile south of the juncture of Highway 21 and Highway 43 (a few miles from Kingston or Ponca). Turn right on County Rd 5 (aka Cave Mountain Road). (No sign when I was there. It's a dirt road next to Hwy 21 Buffalo River Crossing.) Stay on this road (it goes way way uphill) for about 5 miles. The trailhead ("wilderness area") parking area is about a half-mile past a small church with a cemetery. Trail is on other side of road.
Other Permitted Usage
None
ATT Cell Coverage?
None.
Official Info - Phone/Links
(479) 754-2864 Recreation area website.
Weather/Conditions
70's, overcast, very nice.
Date Hiked
September 24, 2011

Print Friendly