Big Bluff in the Buffalo National River is thought to be the tallest bluff along the Buffalo River. I had seen the bluff from many different places, including from across the river on the Buffalo River Trail, and even from Grandma Stella's Homestead. But I had never actually been to the bluff itself.
Last weekend we decided to hike to Big Bluff.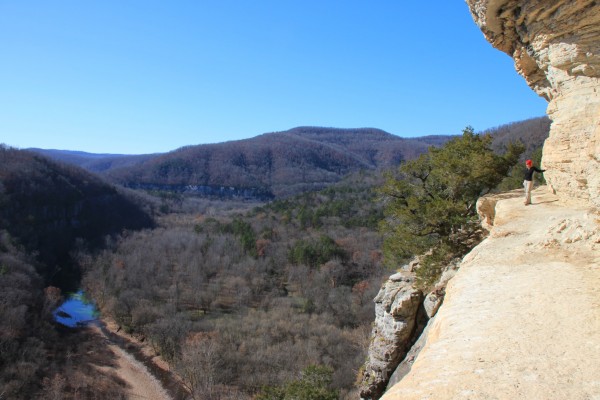 The hike to Big Bluff is actually part of a longer route from Center Point trailhead that leads all the way to Hemmed-in Hollow. It's a 10-mile round trip hike to Hemmed-in Hollow from here.
There are shorter (but maybe tougher) routes to get to Hemmed-in Hollow, but the trail down to Big Bluff is worth the hike.
The Center Point trailhead is easy to reach. It is right off of Highway 43, about 3.5 miles north of Ponca. It is also about 3.5 miles south of Compton, just a few hundred yards south of the intersection of Highway 103.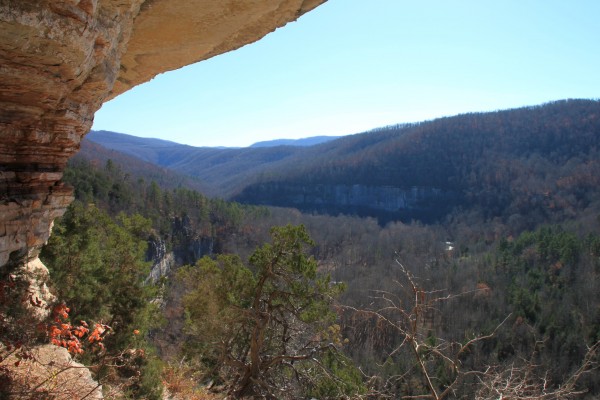 The trail is very easy to follow. It is well traveled, and shared between hikers and horseback riders. (Except for one stretch, the trail is easy to hike for a shared horse trail as it isn't as rutted from hoof prints as I would have expected. The fact that it has barely rained all year probably helped that.)
On all but about .2 miles, the trail goes along a road trace.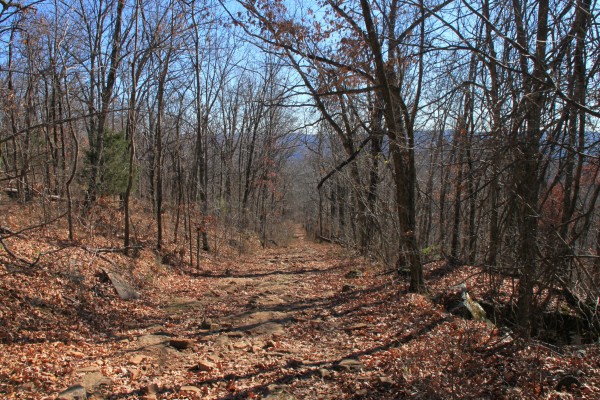 As you start off down the trail, it is a nice stroll along the top of a ridge with great views of the river valley during the winter months when the leaves are off the trees.
At about 1 mile, the trail heads steeply downward and gets much rockier. It's still a good trail, and easy to follow, but you'll want to watch your footing.
After a stretch, the road veers left and back down again.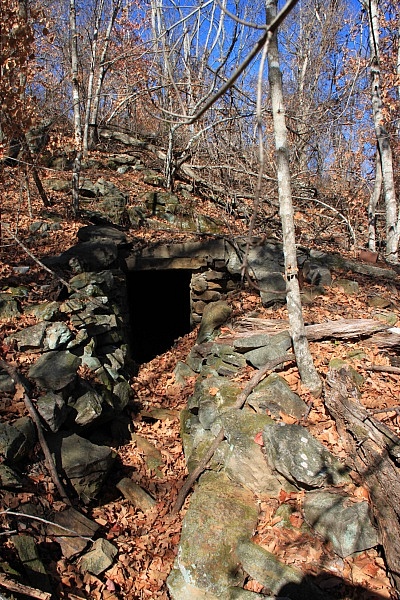 Along that stretch there is the remains of an old homesite, next to a spring that they would have used for drinking water. (I don't recommend you drink the water now though.)
There are even a few buckets still hanging from the trees that used to be used to gather water.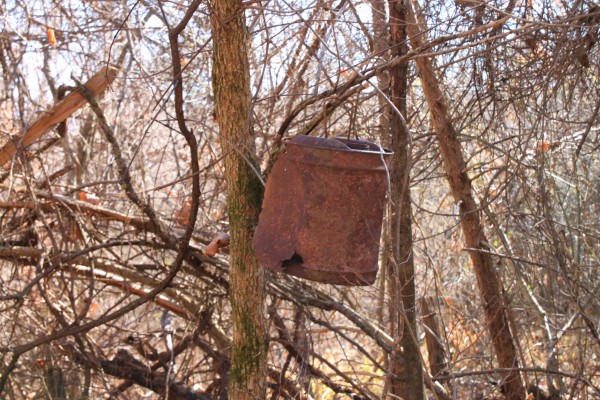 Just past the home site, the trail levels out a bit, but still going downward.
At about 1.6, the trail bends left and leaves the road bed for a bit. (The road continues up and to the right, but it's barely distinguishable now.)
At 1.8, the trail rejoins the road at a place where several large boulders were put in the middle of the road to stop travel on the road. The road continues and is mostly level although there are some downward stretches. This area is spectacular hiking – the trail is wide, and there are views in both directions (again, in winter when leaves don't obstruct viewing). To the right is the Buffalo River Valley, to the left is the Snead's Creek Drainage.
At 2.7, there is a very wide stretch in the trail in a very open area. The road continues straight here and goes to Granny Henderson's Cabin, and Hemmed-In-Hollow. There is a little spur trail to the right that is called is affectionately called the Goat Trail (not to be confused with the Goat Bluff Trail near Erbie). That is the one you'll want to take to Big Bluff. This isn't marked except for a small post a few yards down that notes that horses are not allowed beyond that point.
A word of caution about the trail to Big Bluff: This trail is not maintained by the National Park Service. The trail is well traveled and easy to follow, but going to Big Bluff can be quite dangerous. Big Bluff towers about 500 feet above the Buffalo River. The goat trail that leads out to the bluff and then across a ledge in the bluff is about 300 feet or so above the river. It is a very steep route down. If you were to slip and fall, it would likely be fatal.  If you decide to make this hike, exercise extreme caution.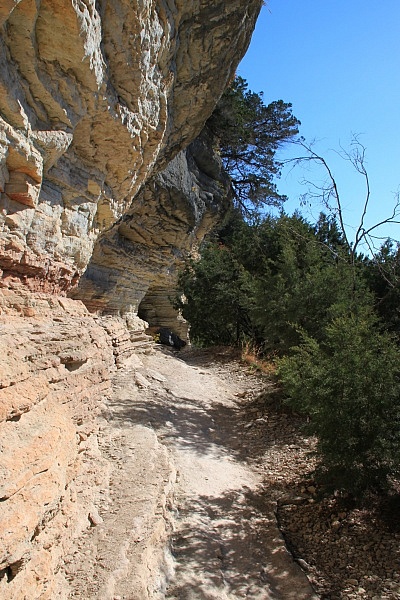 The spur trail heads down about 300 yards or so along some nice little bluff line area to your left (and steep drop to your right). It continues around a couple of corners and there is a great cave-like area to sit and enjoy a 180-degree view of the Buffalo River valley, several bluff lines and even an old homestead across the river below.
Around one more corner is a rock ledge that has more views. This stretch is particularly narrow and dangerous.
After this, the trail seems to come to an end, and it's time to carefully head back the way you came.
Photo Gallery
Click here or below for full-screen photo gallery.
Date Hiked: November 25, 2012
Trip Distance: 5.8 miles round trip to Big Bluff (this is a trail that may feel like it's about 2 miles down and 8 back up as you will lose about 1000 feet of elevation on the way down, and then have to make that up on the way back).
Difficulty: Moderate to difficult
Footwear: Hiking boots are preferred, but a pair of trail shoes will probably work if you have strong ankles.
Trail Guide: Tim Ernst's Buffalo River Hiking Trails
[This post was originally published on November 29, 2012 on the blog "Exploring Northwest Arkansas."] [Check out Shelley's hike to Big Bluff.]