Six Finger Falls (southwest Searcy County, Ozark National Forest) is another great waterfall along Falling Water Creek Road.  And like Falling Water Falls and another falls area along the road, it can be seen just a few hundred yards from the road.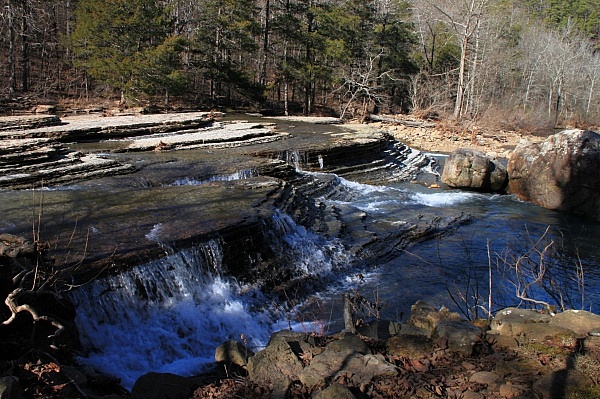 I'm also going to note that Six Finger Falls is a difficult waterfall to photograph well. It's very wide and has six different falls that are a part of it (hence the name).
Also you have to turn due south to face the falls, so taking pics in the middle of the day in winter means having a ton of sun in the background.
Directions to Six Finger Falls
Take Highway 7 to the community of Pelsor (halfway between Jasper and Dover) and turn east onto Highway 16. Travel 10 miles on Highway 16 (past the Pedestal Rocks Special Interest Area) and about 1 mile past the community of Ben Hur, then turn left onto Forest Road 1205.
There is no sign for the Forest Road, but there are signs to "Falling Water Horse Camp." So turn on the road leading to the horse camp.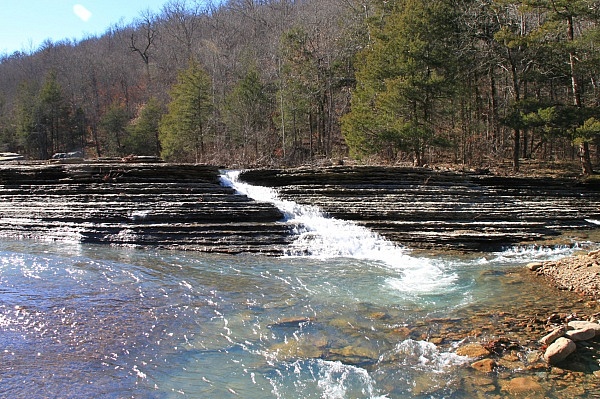 Follow FR 1205 for 5.3 miles and cross a bridge over Falling Water Creek.
At about a half-mile past the bridge, there is a little parking area and a sign board on your left. Park here. The falls is just a few yards down the hill from here.
Six Finger Falls
As noted above, unless the water is really high, there are six different waterfalls here that tumble over the same 6-foot-high ledge that make up the "fingers."
The falls give the area a lot of character. It is a really peaceful area to just watch the water flow, hear the roar of the water falling, and just enjoy nature.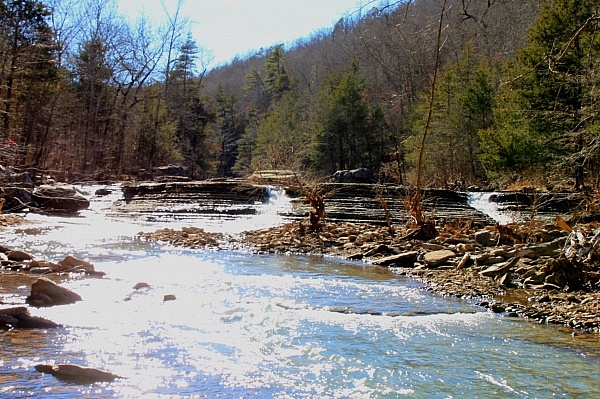 I also encourage you to explore a little upstream and downstream. It is really a pretty area.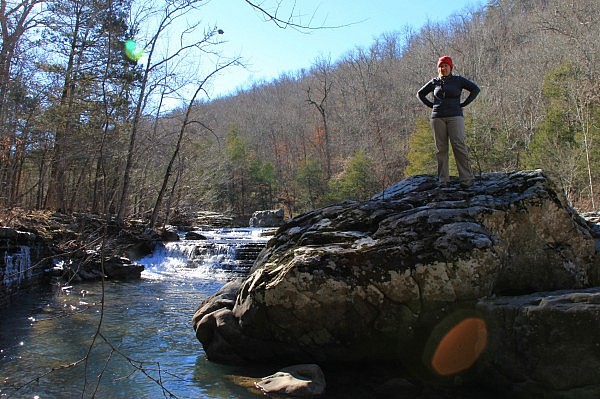 There are a couple of other waterfalls nearby. Across the creek and downstream a few hundred yards is Fuzzy Butt Falls, but it requires crossing the creek. On a cold day in December, this wasn't too appealing, so we decided to catch that one another time.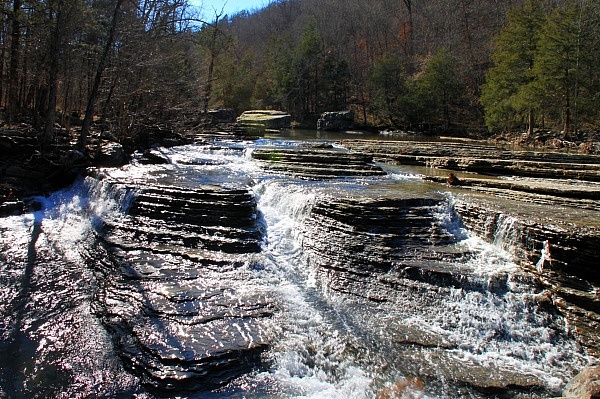 Date Visited: December 31, 2013
Distance: A few yards
Difficulty: Easy
Footwear: Whatever is fine, although water shoes such as Keens or hiking boots will be required for more exploring
Trail Guide: Tim Ernst's Waterfall Guide
[Read about nearby Fuzzybutt Falls here. Check out video of Six Fingers Falls in this post.]
Photo Gallery
Click below or below for full-screen photo gallery.