Robbers Cave Nature Trail is a pretty cool .4-mile loop trail at Robbers Cave State Park (Latimer County, Oklahoma, near Wilburton) in the Sans Bois Mountains of southeast Oklahoma. It's a must-see if you're in the area.
The trail goes around and over some really cool rock formations, including the namesake Robbers Cave.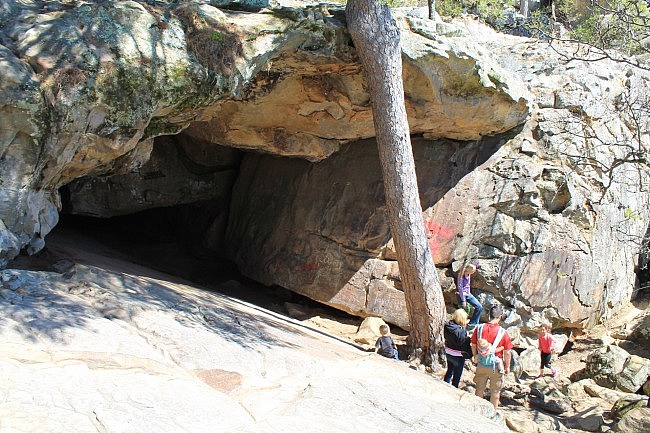 Getting to the Robbers Cave Nature Trail
Wilburton is on Highway 270, about 40 miles west of Poteau. From Wilburton, take Highway 2 north about 6 miles to the park. Go in the park's main entrance on the left.
The trail is at the park's Robbers Cave area. Follow the signs. (You will go north on Robbers Cave Road for about 1.5 miles and then take a left.)
There is parking in the Robbers Cave parking lot.
CLICK – Google Maps Directions to Cave Parking Area (Trailhead)
The Trail
The heads up a hill with a large number of rock formations and heads out across some of the formations, including Robbers Cave.
According to the information signage, it is not actually known if the cave was used by bandits in the late 1800's, but it could have been a good hideout for outlaws during that time.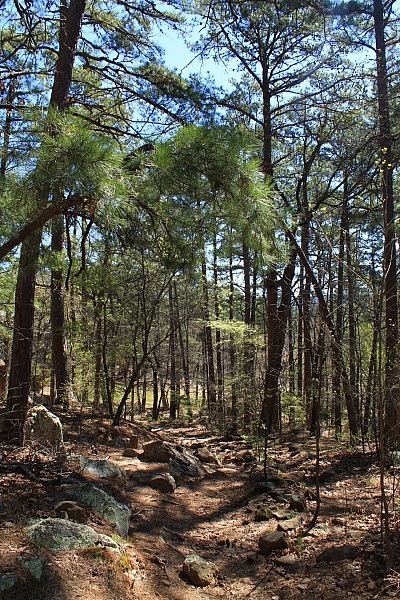 To get started go straight ahead into the main entrance, then follow the orange blazes. I recommend going to the left to take the trail clockwise.
There is some climbing on this short trail. The high point is about 150 feet higher than at the start.
The most scenic part is in the higher elevation. It goes across some cool rock formations and has wonderful views of the San Bois Mountains off to the south. It is up above the Robbers Cave.
About half the trail is up at the higher elevation part.
Note of caution: There are a number of places on the trail with bluffs or drop-offs. Use extreme caution in these areas. A fall could result in serious injury or death.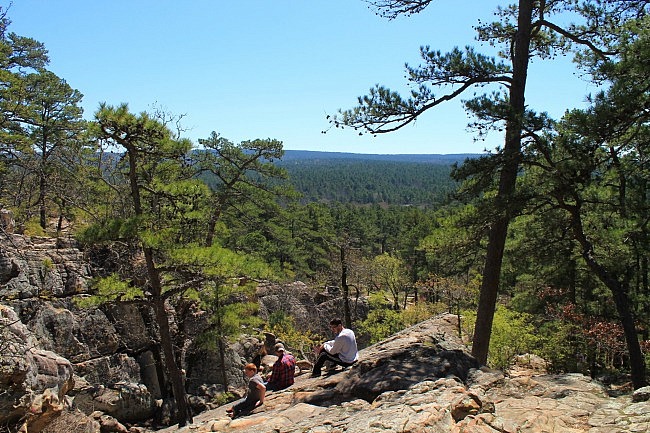 The trail descends briefly into the woods (at the same place where the Rough Canyon Trail ends) before returning to the starting point.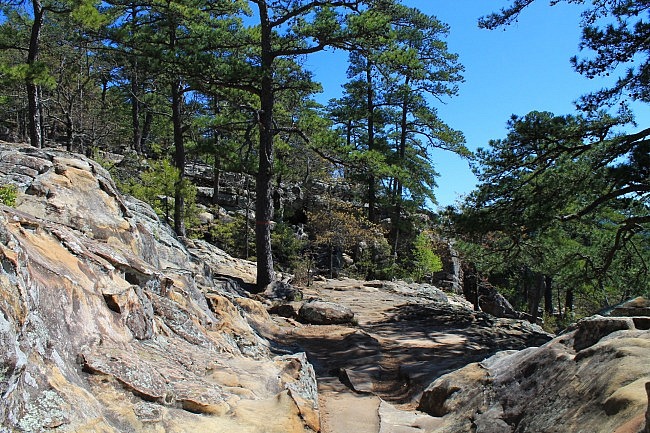 Final Notes
The trail is easy to follow. Just watch for the orange blazes and the signage.
I had AT&T cell signal the whole time when I was last there.
These photos are from my April 2, 2016 visit.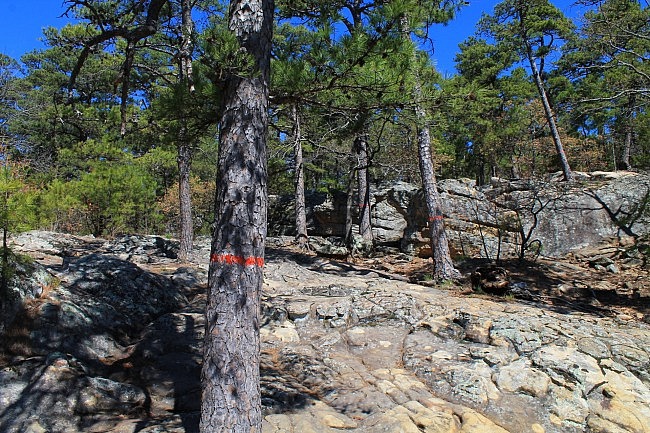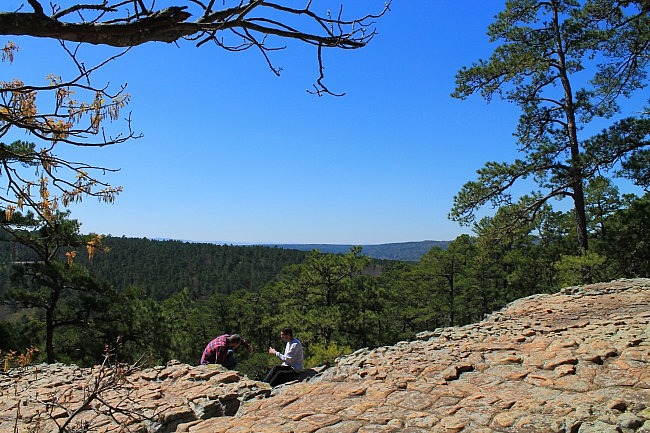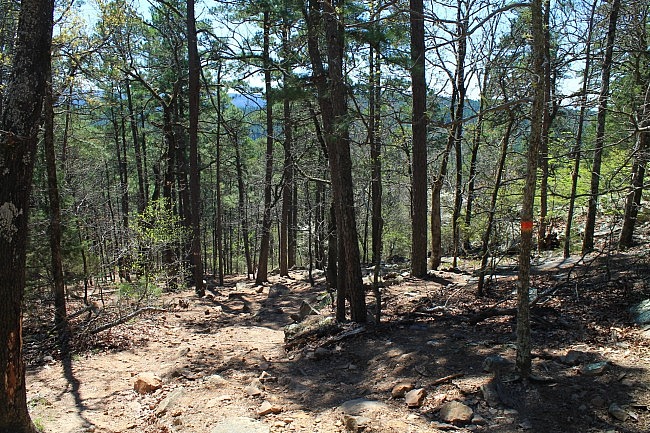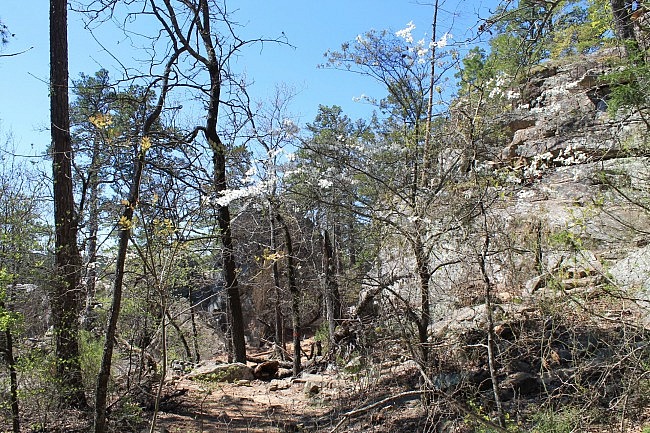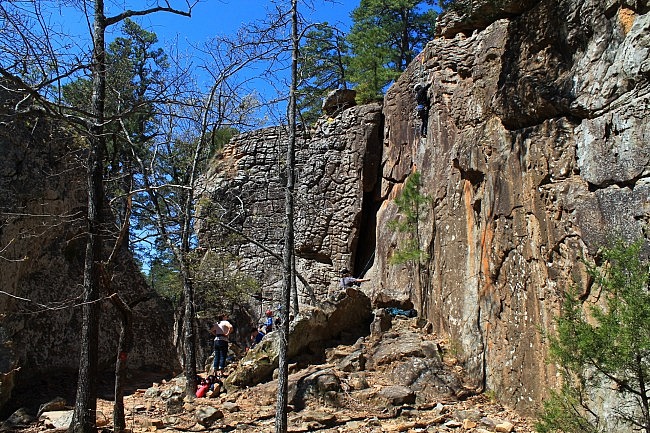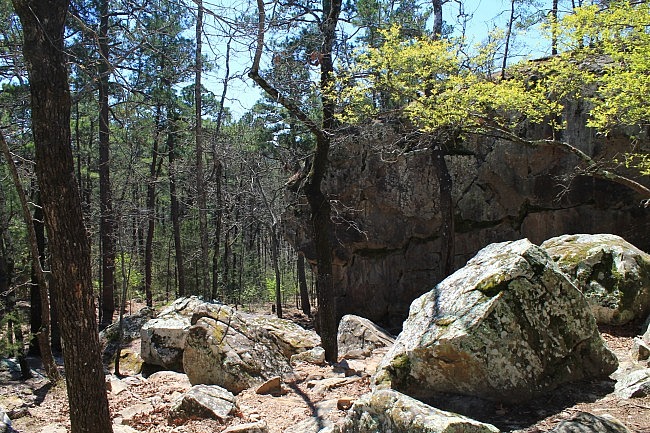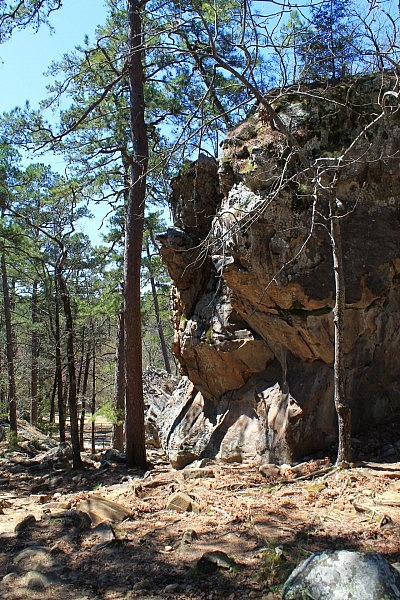 Photo Gallery
Click below for full-screen photo gallery.
Maps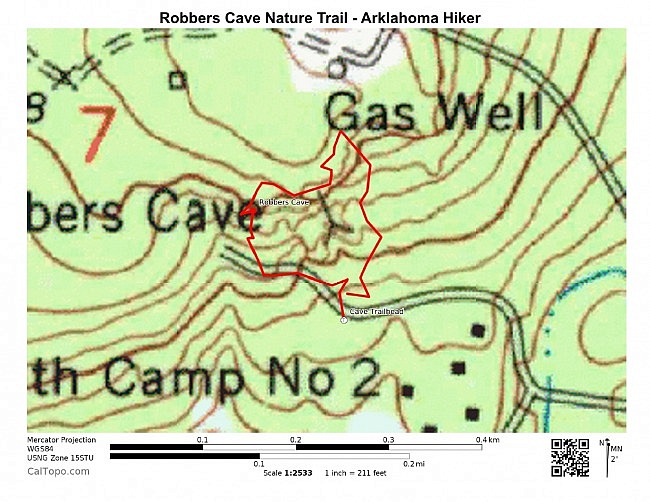 CLICK – Interactive Trail Map
[Last updated: 4-25-2017]