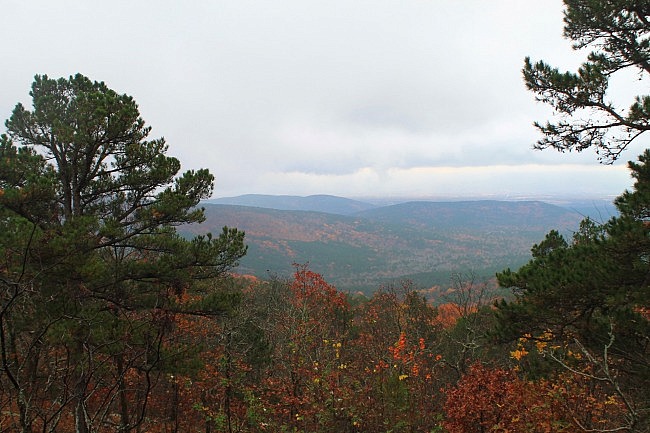 This 2.2-mile segment of Section 1 of the Ouachita Trail (Ouachita Forest, LeFlore County, Oklahoma) runs from Forest Road 6010 (about mile point 5.8) to Deadman's Gap (mile point 8.0). At that point, the OT crosses the Talimena Scenic Drive (Highway 88) over to the north side of Winding Stair Mountain.
This is a pretty cool stretch to hike with some nice scenic spots and some pretty south-facing views.
There is a 650-foot elevation drop on this segment from the west to the east. So if you're just doing this as a thru-hike from west to east, it shouldn't be difficult.
If you hike it as an out-and-back like I did, you'll have some significant climbing.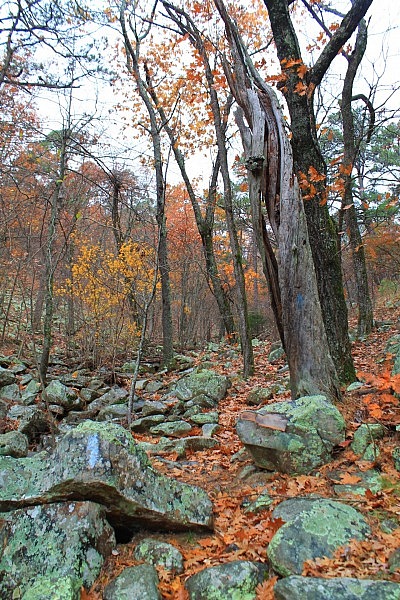 Getting to Deadman's Gap
I did the hike as a 4.4-mile out-and-back hike starting at the Deadman's Gap trailhead (where the OT crosses the Scenic Drive). There's no parking right at that spot. I parked at the Deadman Vista overlook, about a quarter-mile uphill. (This is a very nice vista. Check out the picture below.)
From Deadman Vista, walk downhill (east) on the highway to the Deadman's Gap crossing.
Start the trail on the right (south) side of the road. Going this way, you will be heading west heading to FR 6010.
CLICK – Google Maps Directions to the Deadman Vista overlook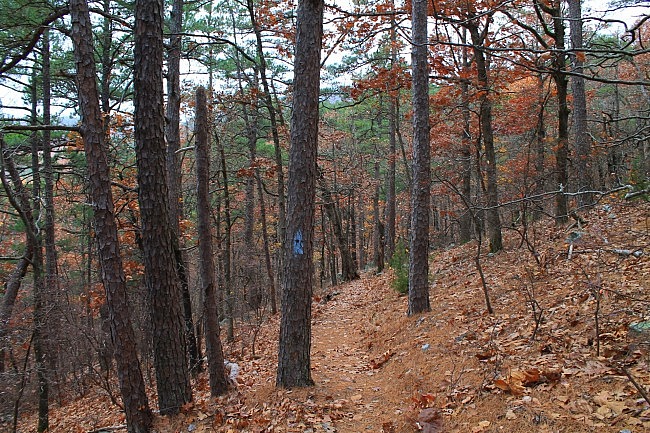 The Hike
Again, this description is heading east to west (as I did it) from the Deadman's Gap trailhead.
The first quarter-mile or so is an interesting downhill walk heading southwest on the north side of Winding Stair Mountain. The descent here is about 100 feet of elevation.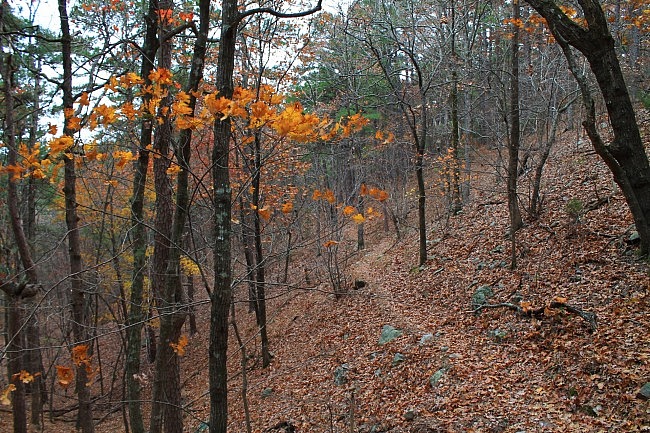 From here, the elevation stays fairly level for the next half-mile. The trail winds in and out along the hillside alternating between heading southwest and south.
Toward the last part of this half-mile (around mile point 7.4) is probably the most scenic part of this segment. It is goes along and crosses a pretty significant seasonal stream bed. (It had a bit of water flowing even during the dry late autumn day I was there.) There are lots of cool rocks and boulders in this area.
Shortly after the stream bed, the trail starts to climb. Heading west, it's about 1.5 miles to FR 6010, and it's a steady uphill climb all the way.
This part has an ascent of around 1,600 feet elevation. For the first mile of it, the trail makes a u-curve around a hillside as it heads uphill. Then as it gets into steeper terrain, the trail makes switchbacks until it connects to the forest road.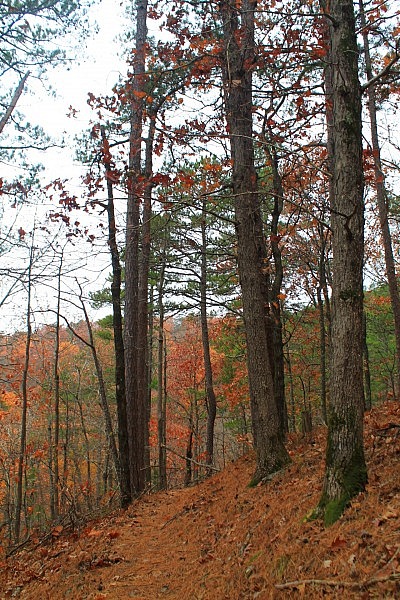 This uphill stretch isn't as rocky as the eastern part, but there are a number of small rocky areas that the trail goes through.
If you do this as an out-and-back, the forest road is the point where you turn around and head back. (Or you could make a loop by turning right, heading to the Scenic Drive, and walking it back to Deadman's Gap.)
As I mentioned, the most scenic part of this hike is the large stream bed. After that, I  liked the eastern part of the trail with its winding hillsides the best.
Although the west part of this segment (with the big climb) wasn't my favorite part, it is pretty cool too, especially as it gets into the higher elevations. The elevation (heading west) goes from around 1,500 to 2,100 feet.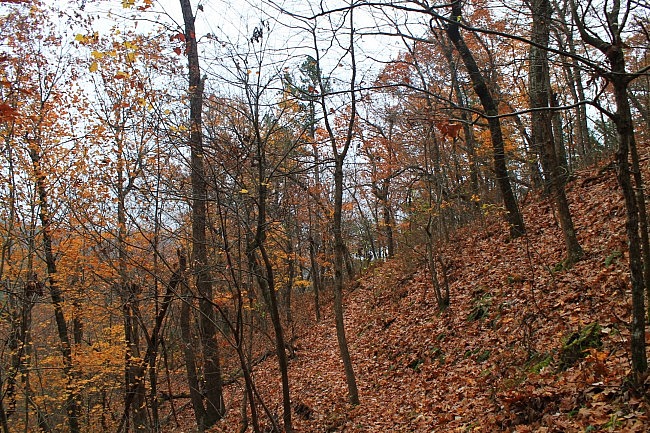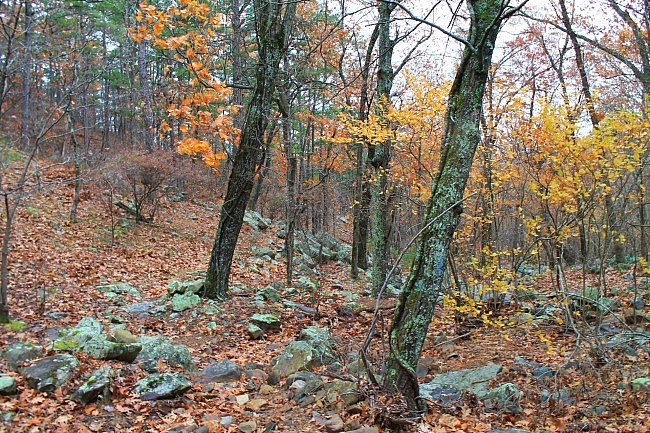 As you get into the higher areas, there are some nice south-facing views, especially during leaf-off. You may be able to see Lake Bohannon (where Boy Scout Camp Hale is).
My late-November hike was a little before complete-leaf-off. It was a cloudy and occasionally drizzly and foggy day, but there was still quite a bit of fall foliage on Winding Stair Mountain.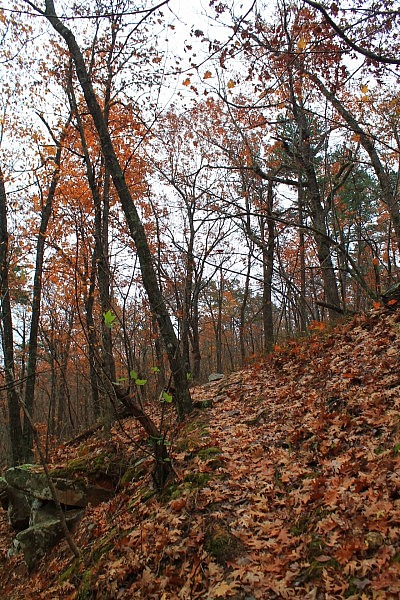 Final Notes
The trail overall was in good condition and easy to follow (blue blazes).
I rate the difficulty as strenuous (4 of 5).
At around mile point 6.3, there is a junction with Bohannon Trail which apparently heads down to Camp Hale.
I had AT&T cell signal about 30% of the time.
For hiking the Ouachita Trail, I recommend Tim Ernst's Ouachita Trail Guide.
These photos were all taken on my November 26, 2015 hike. [More pics from the hike are at this link.]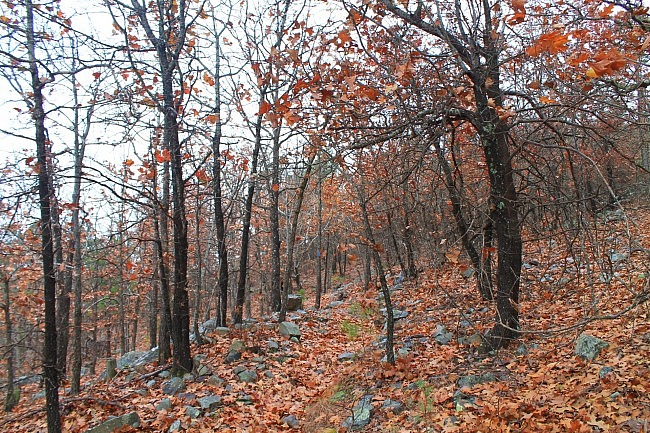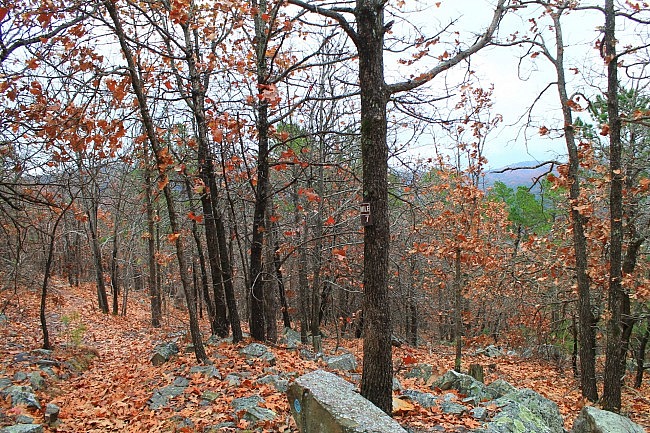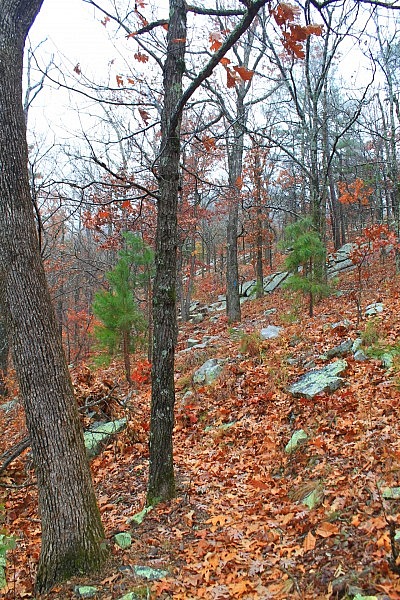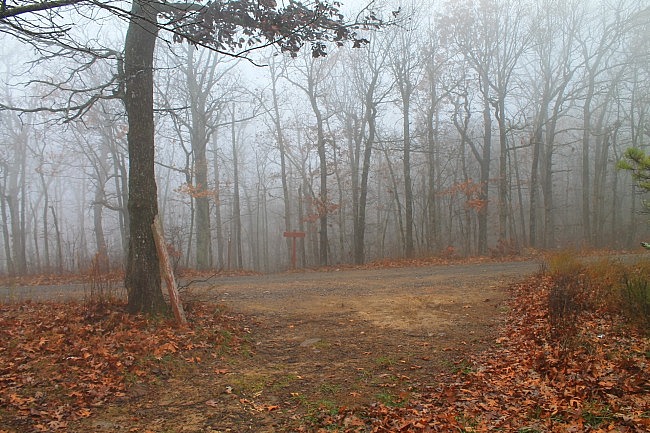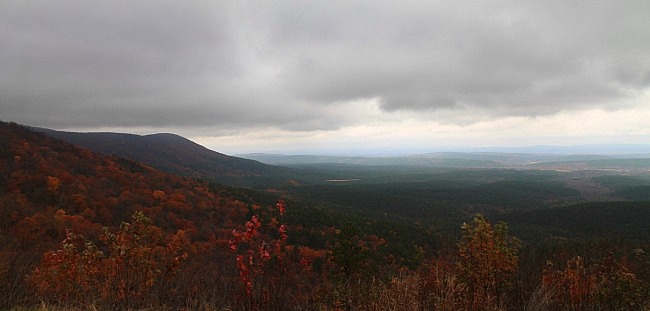 Photo Gallery
Click below for full-screen photo gallery.
Maps
CLICK – Interactive Trail Map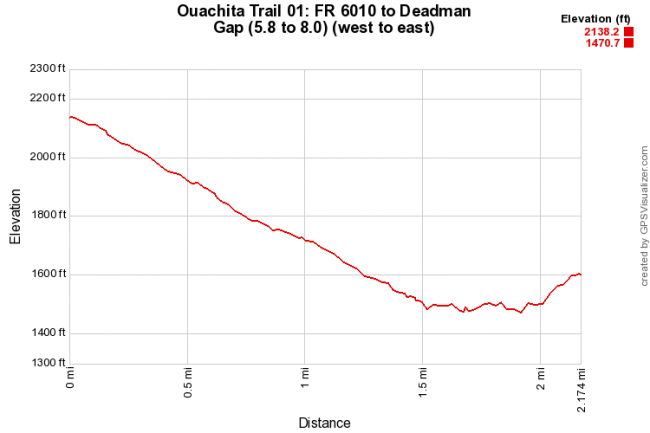 [Last updated: 5-21-2017]