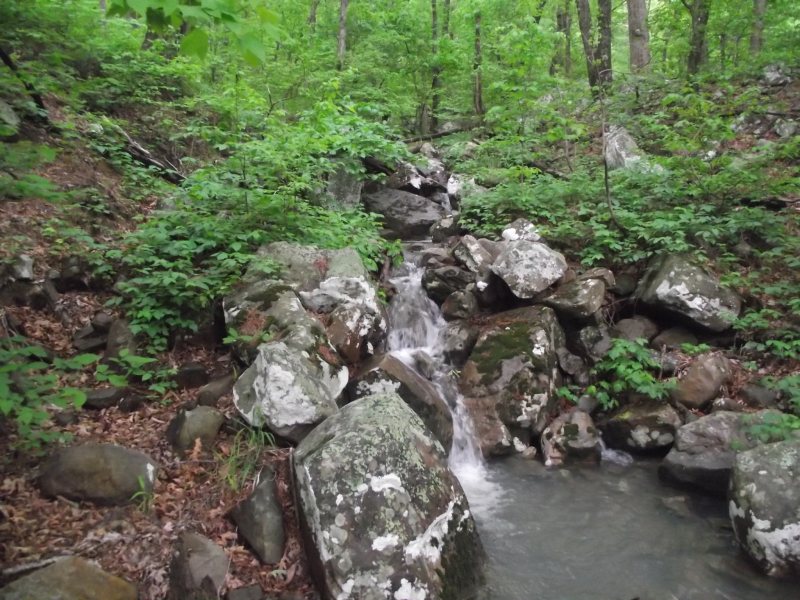 You may remember from this post that last May I tried hiking on the Ouachita Trail from Deadman's Gap east to Cedar Branch on Winding Stair Mountain in LeFlore County, Oklahoma. The segment I was trying to do is about 5.5 miles, but I wasn't able to make it much past mile marker 13.
I think my being on antibiotics played a role in my not making it to Cedar Branch that day. I got very overheated and queasy. It seemed like heat exhaustion.
I climbed my way through the brush up to Highway 1 (Talimena Highway), and my girlfriend thankfully came and took me to my car. (I refer to the parts I completed as "01D" and "01E1.")
This past Saturday, my goal was to finish Section 1. The only part I had not yet hiked was the part from Horsethief Springs west to MM 13 (a little past Cedar Branch). (I refer to this as "01E2," "01F," "01G", and "01H.")
It was an exhausting day, but I made it.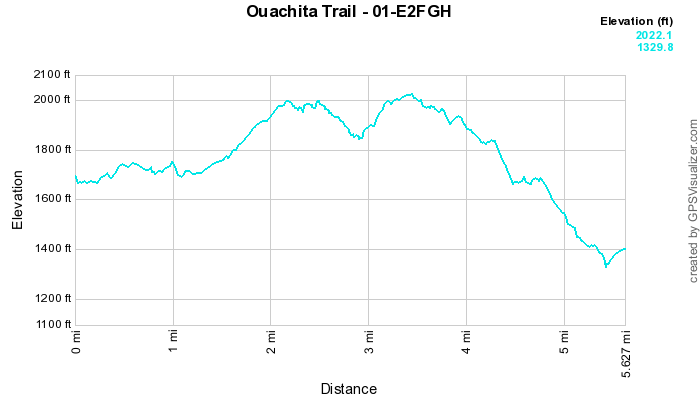 Ouachita Trail 01-E2FGH Map
Click here for full-screen trail map.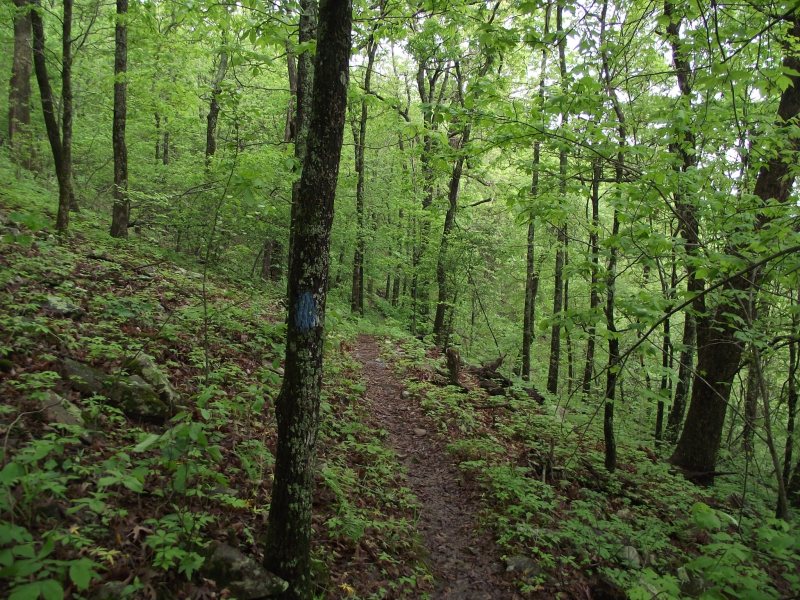 I started my hike around 9 a.m. at the Horsethief Springs/Ouachita Trail juncture. Horsethief Springs is a USFS picnic area on Highway 1. There is a short spur near the springs that connects you to the Ouachita Trail.
I turned left (west) on the OT to start heading toward Cedar Branch. (At this juncture, the east branch of the Horsethief Springs Trail continues on northward (downhill).) The west branch of Horsethief Springs Trail intersects with the OT a little over a mile to the west.
About a mile or so past that juncture is a cool vista. The Holson Valley Vista is a nice place to get a good clear view of the valley below (even during leaf-on). Be sure to take the short spur to the vista when you see the sign.
I really like the Ouachita Trail in this area along the north side of Winding Stair Mountain. The sloped terrain is pretty and interesting, there are many rocks and bolder fields, and there are some nice views of Holson Valley below. Of course, the views are better during leaf-off. The day of my hike, the forest had that nice "rain forest" feel as it was overcast and had rained just recently.
Continuing on another mile or so west is a massive boulder field, probably a couple hundred feet across. Tim Ernst refers to this as a "rock glacier."
There are quite a few boulder fields along the north side of Winding Stair Mountain. To me, they make this a very interesting area to hike.
About a mile further west is Cedar Branch. Cedar Branch is a smaller creek than I was expecting, but I guess I shouldn't have been expecting a large one since it is on the side of a mountain. It is a significant water source, so I can see why the OT was routed down to this very pretty area.
I also saw a number of smaller streams and springs as well on my hike since it had just rained recently.
MM 13 is about a quarter-mile to the west of Cedar Branch. I calculate the distance from Horsethief Springs to MM 13 as 5.6 miles. There is about a 700 foot descent from the high point down to Cedar Branch.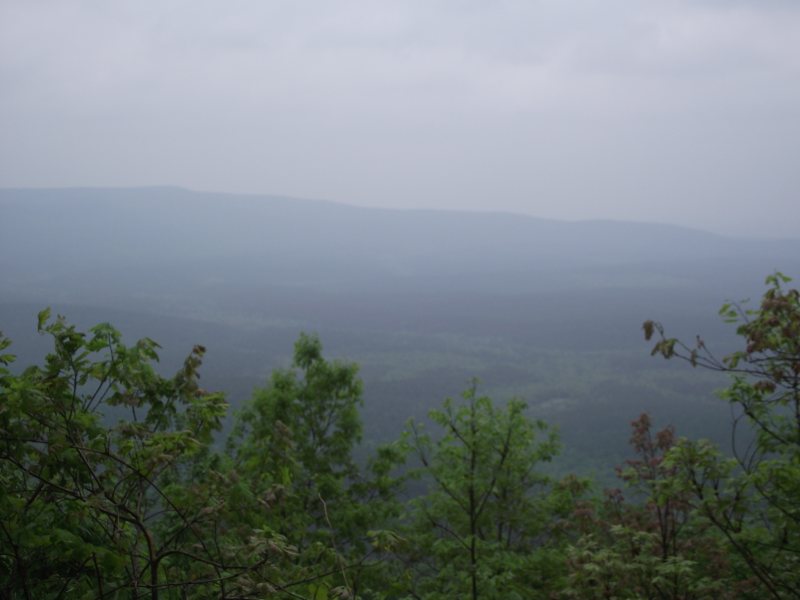 Unfortunately, during my hike, I overshot MM 13 as I didn't see it at first. I kept on going until I reached MM 12. Then, about 4:30 p.m., I turned around and headed back.
I knew going out that I might not make it back via the trail before dark. I persevered anyway because I really wanted to complete this segment, and I knew that most of the trail through this area is not very far from Highway 1. (If I hadn't overshot MM 13, I might have almost made it back before it got too dark.)
A little after 8 p.m., it was getting pretty dark, and I was not quite half-way back to Horsethief Springs. So I started working my way uphill to the highway through the thick brush (not easy to do in the dark with only a small flashlight). My gps was very helpful with my making it to the highway.
It was close to 9 p.m. when reached Highway 1. I was glad to have made it out of the brush, but then I had a 3-mile walk to my car.
Walking along the highway in the dark that late was creepier than I thought it would be. I saw zero cars. There were some animals crossing the road. (I saw a snake and a frog.)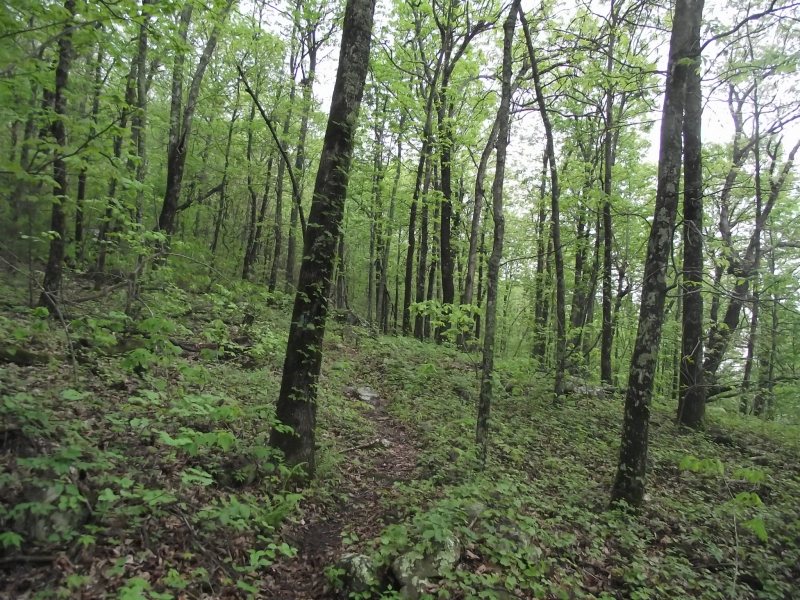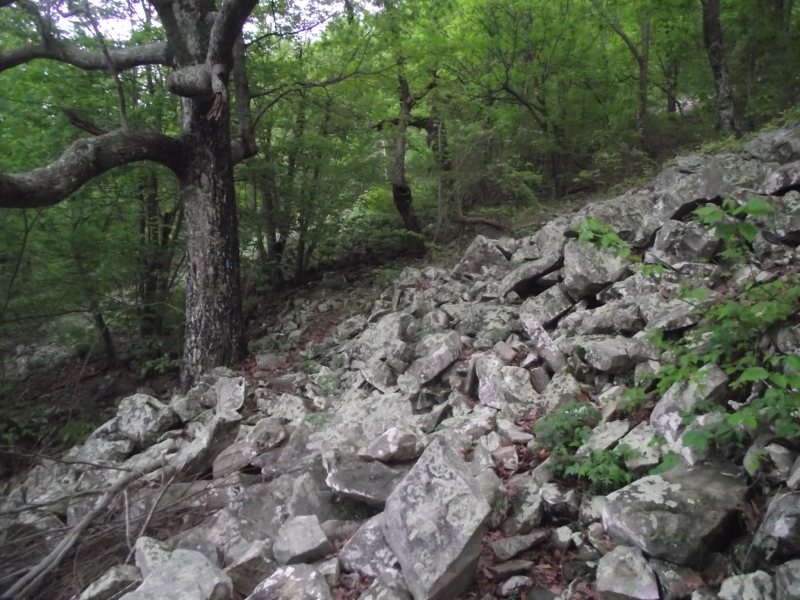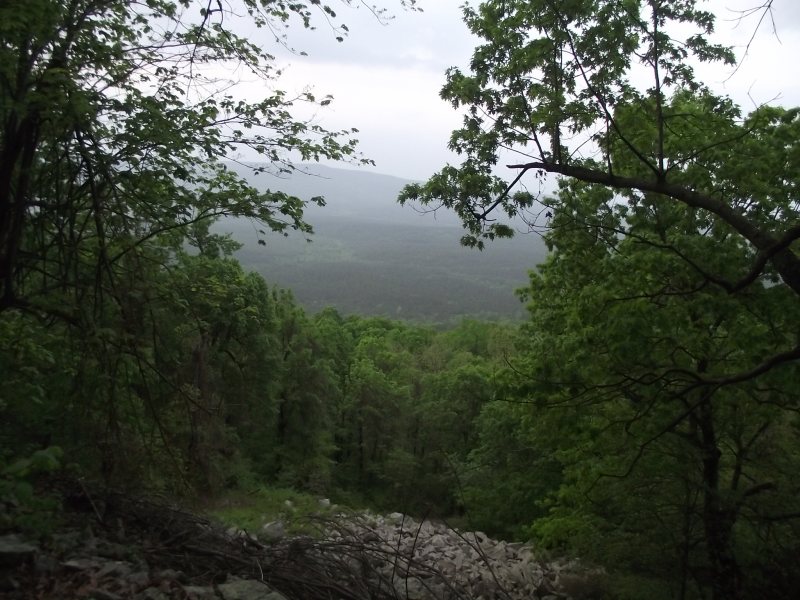 I was pretty exhausted and a little queasy when I reached my car at 10:30. Navigating the many large rocks on the trail also takes quite a bit of extra work. But it was a cool adventure.
I ran into 2 backpackers on the trail. They were planning to hike the entire Ouachita Trail. They had started at Talimena the day before and were expecting to reach Pinnacle Mountain State Park in about 15 days.
Officially, this part of the Ouachita Trail is open to mountain bikes, but it is hard for me to picture someone mountain biking through many of the rough rocky areas on this part of the trail.
As usual, I have posted some of my photos and a gpx map made from my gps data. You can click the photos for a larger view.
Click here for gpx file download.
VITAL INFO

Trail Name and Location
Ouachita Trail (02-E2FGH) Miles: 13.0 to 19.9 (From MM 13 to Cedar Springs to "Rock Glacier" to Horsethief Springs area.)
County, State
LeFlore County, Oklahoma
Date Hiked
04-23-2011
Weather/Conditions
60's and overcast, pleasant
Directions
I started and parked at the Horsethief Springs picnic area (on Talimena Highway (Hwy 1)). I then headed west to the "rock glacier" and to Cedar Branch. This part ends at MM 13, about a quarter-mile west of Cedar Branch. Blue blazes.
Hike Length/Type
5.6 miles each way/11.2 miles out and back
Other Permitted Usage
Mountain bikes
Difficulty

(1=Easy; 5=Most Difficult)

4
ATT Cell Coverage?
Yes
Official Info - Phone/Links
501-321-5202 Website.
[Updated: 2011-05-09]