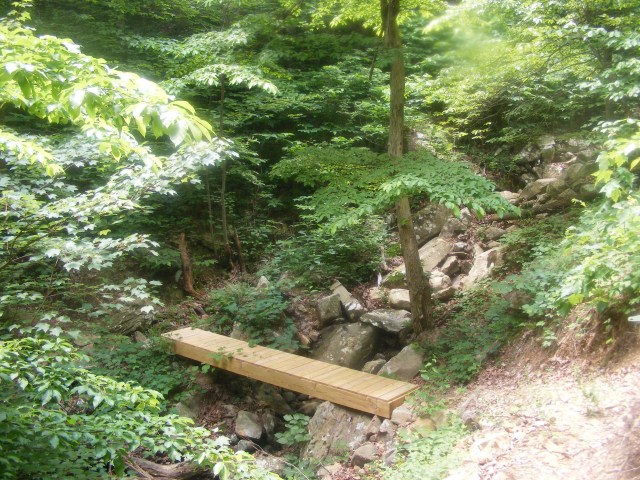 My Memorial Day Weekend hiking adventure turned out to be a misadventure.
I had hiked close to all of (Ernst) Section 1 of the Ouachita Trail. The parts I had not yet hiked were from the Deadman's Gap trailhead to Cedar Branch (what I call 01-D and 01-E) and from Cedar Branch to Horsethief Trail (what I call 01-F and 01-G).
A long stretch like this with no intermittent access points can be a challenge for a dayhiker like myself.
According to the official mileages (plotted by Tim Ernst), it looked like it should be about 5.4 miles from Deadman's Gap trail head to Cedar Branch. I had hiked about 8 miles (round trip) the previous weekend. So a 10.8-mile hike to Cedar Branch on a Memorial Day Weekend Saturday seemed perfectly doable for me.
It wasn't.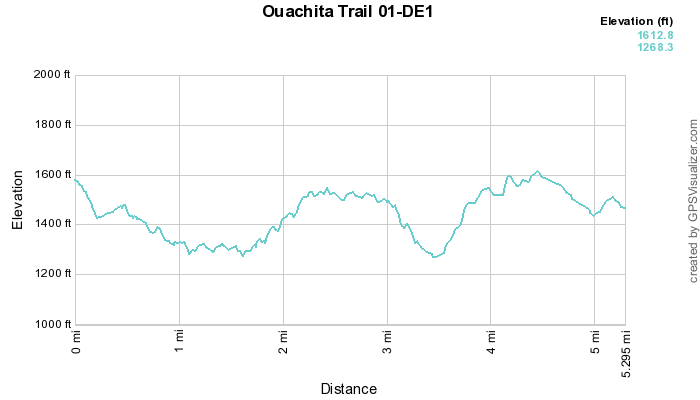 .
Ouachita Trail 01-DE1 Trail Map
Click here for full-screen trail map.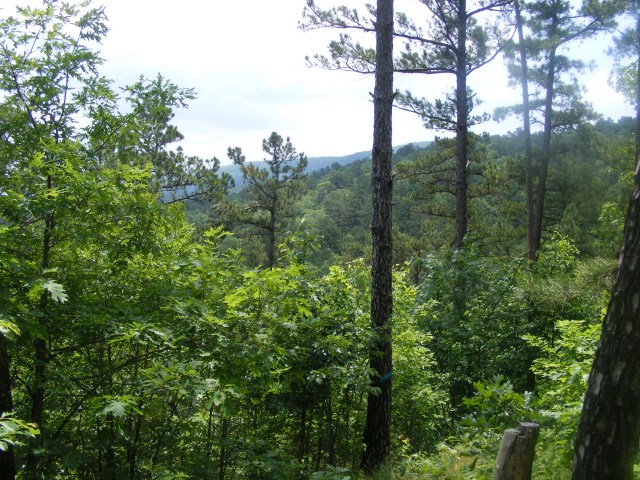 I'm not sure, why but I was physically not up to hiking both ways from Deadman's Gap trail head to Cedar Branch and back. Not even close.
I got a good start making it to the trail by about 9:30 a.m. (That's not bad for me as it takes about 75 minutes for me to reach Winding Stair Mountain from my house.) Since my hiking average is usually around 1.4 miles an hour, I should have been doing fine timewise.
Maybe it was the fact that I ran out of G2 early in the (low 90's) afternoon. Maybe it was that I was finishing up antibiotics from an infection on my arm. Maybe it was the wade-through-the-jungle brush I had to deal with in the first half-mile.
Whatever it was, my body gave out. I started feeling a little lightheaded early in the afternoon. I saw that I was not progressing as quickly as I needed to so I pushed myself pretty hard to reach Cedar Branch in time to be able to make it back. In hindsight, I had pushed myself too hard. I became nauseous, exhausted, and dehydrated.
So about a quarter-mile past Mile Marker 13, I decided I had to just try to make it up to the Talimena Scenic Drive and walk the highway (5 or 6 miles) back to my car.
Getting up to the highway was a massive struggle. Even though it was just about 2,500 feet in distance, I had to climb through brush up Winding Stair Mountain from an elevation of 1,400 feet up to about 2,200 feet. About every few dozen feet it seemed, I had to stop for 10 minutes due to the nausea.
I am thankful that I had cell phone signal and my gps and flashlight.
And I'm most thankful that my wonderful girlfriend was willing to drive all the way out there that evening to pick me up on the highway so I didn't have to try to walk in the dark back to my car.
Since I did not make it all the way to Cedar Branch (just to Mile Marker 13), I have labeled what I hiked as 1-D and 1-E1. (1-E2 will be from Mile Marker 13 to Cedar Branch.)
Regarding the trail itself, I probably would have enjoyed hiking it on a day where I felt better and with cooler temperatures.
There are long stretches that are fairly straight, and there are some difficult up-and-down climbs. Be prepared for the trail to actually be longer than the mileage markers would indicate (probably due to reroutes). There are a number of pretty streams to see and some impressive boulder and rock fields.
By my calculation, it is about 5.3 miles from the Deadman's Gap trail head to Mile Marker 13. It is probably another half-mile or so to Cedar Branch.
A few additional notes:
The Mile Marker 12 tree is in a different location than the metal Mile Marker 12 post.
There is a sort-of-a-road at around 12.5.
Members of the Friends of the Ouachita Trail recently did a lot of work improving this area of the trial. The improvements are appreciated.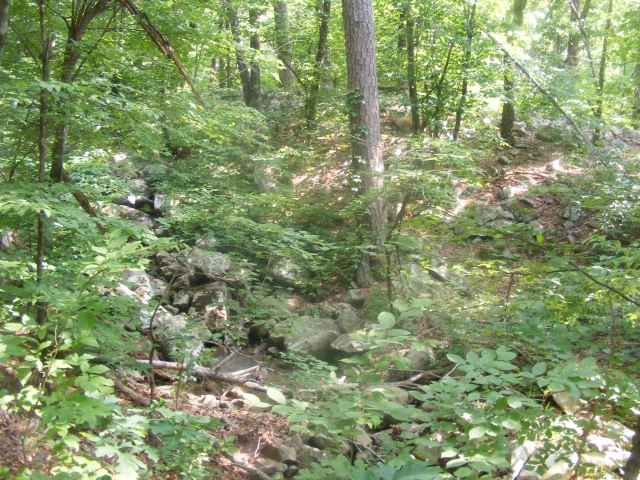 I have posted my photos and gpx file.

VITAL INFO

Trail Name and Location
Ouachita Trail (02-J)
County/State
LeFlore/Oklahoma
Date Hiked
05-29-2010
Weather/Conditions
Upper 80's/Low 90's
Directions
I parked at the Deadman's Gap vista. It is about a quarter-mile walk from there down to the (OT) Deadman's Gap trail head.
Length
5.3 miles (each way) from Deadman's Gap trail head to Mile Marker 13.
Loop?
No
Difficulty

(1=Easy; 5=Most Difficult)

4
ATT Cell Coverage?
Partial
Official Info (Links)
Website.
Click here for gpx file download.
[Last revised: 2012-03-11]