The hikes I have enjoyed the most lately have had these qualities: moderate length (2-6 miles), well maintained (no wading through fields of grass or thorn bushes), interesting scenery, and some significant elevation change. (I think hills make a trail more interesting, and I enjoy the additional workout.)
My hike on the Seven Hollows Trail at Petit Jean State Park, near Morrilton, Arkansas, was good in all these respects.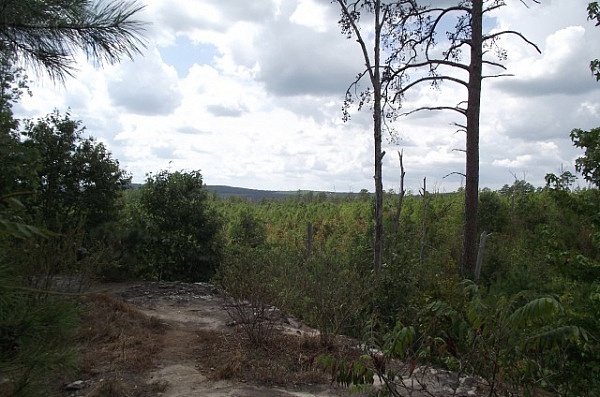 Seven Hollows Trail Map
Click here for full screen trail map.
.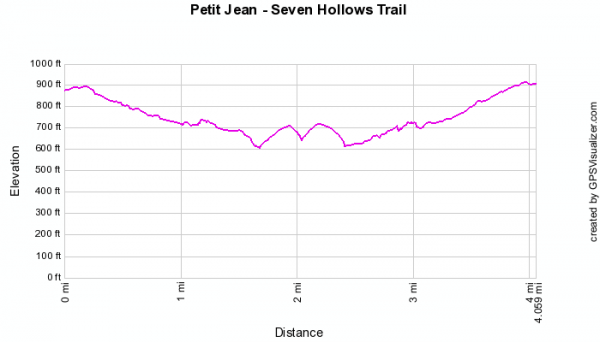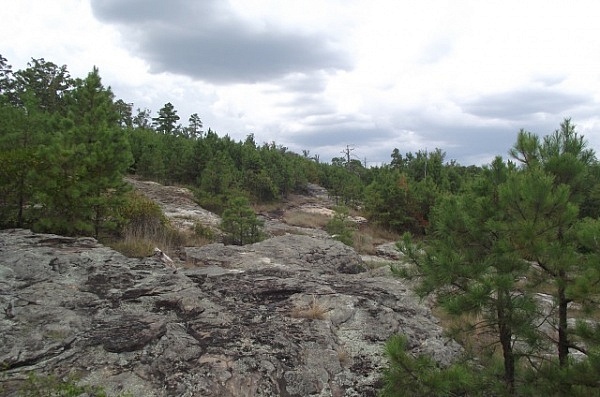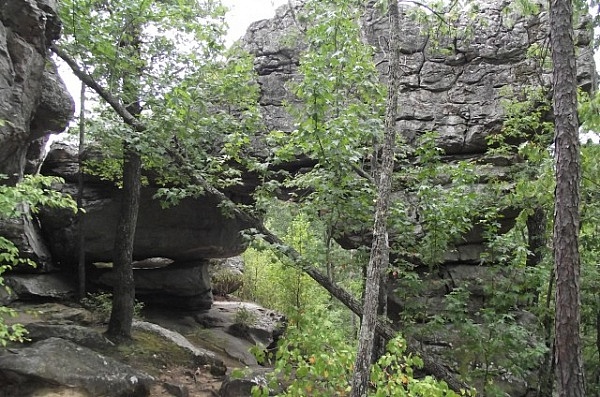 Seven Hollows Trail, a 4.1-mile loop trail, takes you through a series of hollows (four of them, according to the Park), carved out by streams over long periods of time. When I hiked it in early September, I think I only saw one stream with water. The area is probably more scenic after some recent rain.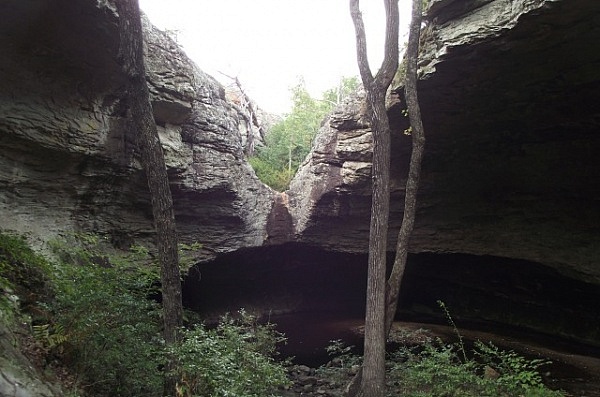 One of the park's best known landmarks, Natural Bridge (a large natural stone arch), lies adjacent to the trail. According to the brochure, it is easy to miss when walking down the trail. I thought it was very visible, but I was walking the trail clockwise rather than the suggested direction of counterclockwise. (I did not realize the suggested direction until I was already well into the trail.)
This loop trail roughly makes a rectangle with long east and west sides and with an arch on the south side. The trail starts at the northeast corner. The Natural Bridge is in about the middle of the east side.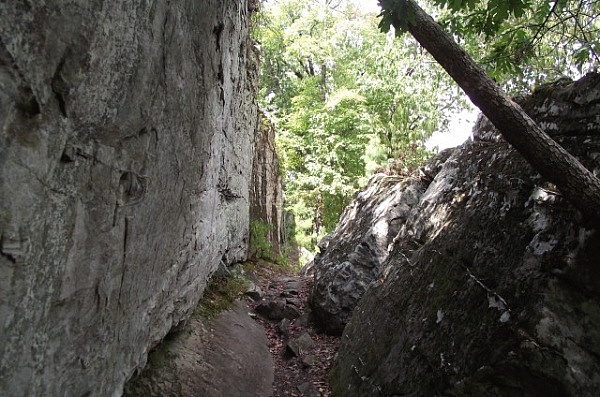 In the middle of the south side, is a spur to the Grotto, a small cavern with a seasonal waterfall. Unfortunately, there is no sign to let you know you are at the Grotto spur other than a small 3-arrow sign. Watch for it as you go along the south part of the trail.
The walk to the Grotto is well worth the effort. The Grotto spur (.3 miles each way) winds through rock crevices and was among the most interesting parts of the trail.
The trail also features some pretty cool large moonscape-like glades.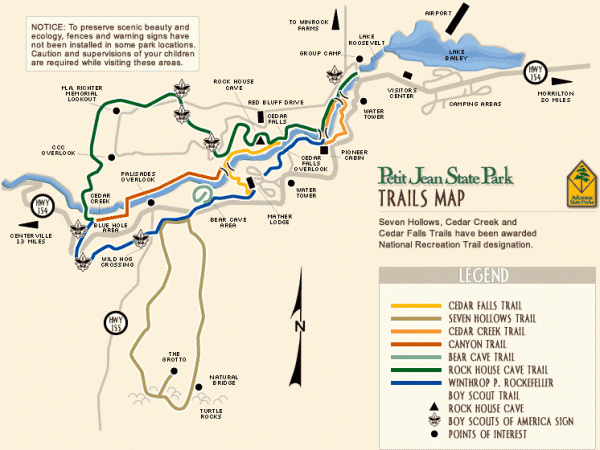 On a safety note, there are some dangerous bluffs near the vicinity of the southeast area of the trail. Be careful.
As usual, I have posted some of my photos and a gpx map made from my gps data.
Click here for gpx file download.
Petit Jean: Seven Hollows Trail

Location
Petit Jean State Park, Conway County, Arkansas
Length/Type
4.1 miles loop. If you take the spur to the Grotto (recommended) and back, add another .6 miles.
Difficulty
Strenuous (4 of 5)
Directions
The trailhead is well marked and has its own parking lot. It is on the main road (Hwy 154) just a little ways west of the Mather Lodge.
I hiked the trail counterclockwise (taking a right at the fork), but apparently it is suggested to hike the trail clockwise.
ATT Cell Coverage?
No
Official Info - Phone/Links
(501) 727-5441
Website. Seven Hollows Trail Brochure.
Weather/Conditions
low 90's, then cooled down to 80's with rain nearby.
Date Hiked
September 1, 2010