Petit Jean: Cedar Creek Trail – 1 mi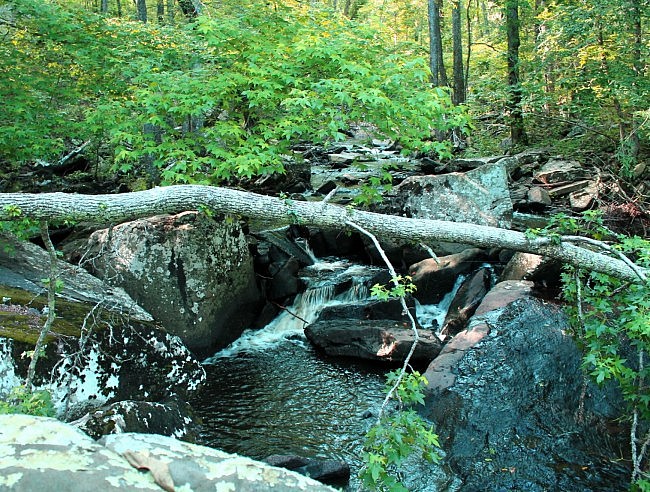 About a week ago, I got to hike the Cedar Creek Trail (aka "Cedar Creek Self-Guided Trail") at Petit Jean State Park. It had been about 4 years since I hiked this trail, and I had forgotten how pretty it is.
It is especially nice after there has been recent rain. When I hiked it last week, there had been quite a bit of recent rain in central Arkansas.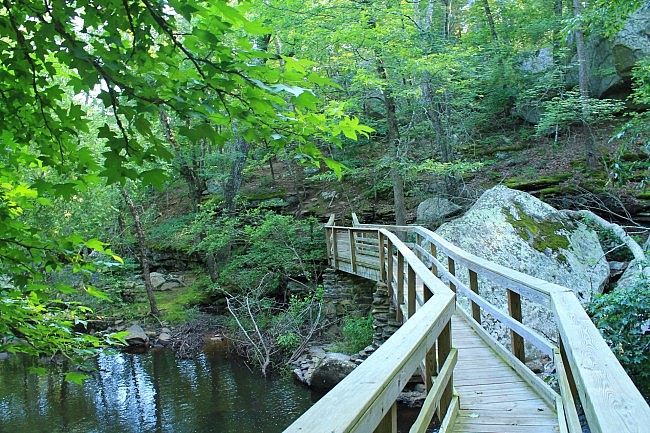 This 1.1-mile loop trail has some climbing, but it is not very difficult. There is only about 240 feet of total elevation gain. The net elevation change is about 120 feet.
The Cedar Creek Trailhead is easy to find. It is on the park's main road (Petit Jean Mountain Road), about a half-mile east of Mather Lodge. Just watch for the pioneer cabin at the trailhead.
From the trailhead, the trail proceeds downhill to Cedar Creek. (This is upstream from the Cedar Falls Trail.) Adjacent to much of this part of the trail is a small stream (when flowing) with some nice cascades and mini-waterfalls.
At Cedar Creek, there is a footbridge crossing. The trail then turns right and goes along the creek's north side for about .4 miles. On the north side, part of the trail is near the creek level and part is a few dozen feet higher. This stretch, also part of the Boy Scout Trail, has some very nice views of the creek.
The trail then crosses the creek over a longer footbridge to the south side. It then turns right and climbs uphill, heading back to the trailhead. For the most part, the creek isn't visible for this part of the hike during leaf-on.
The trail was well marked and in good condition.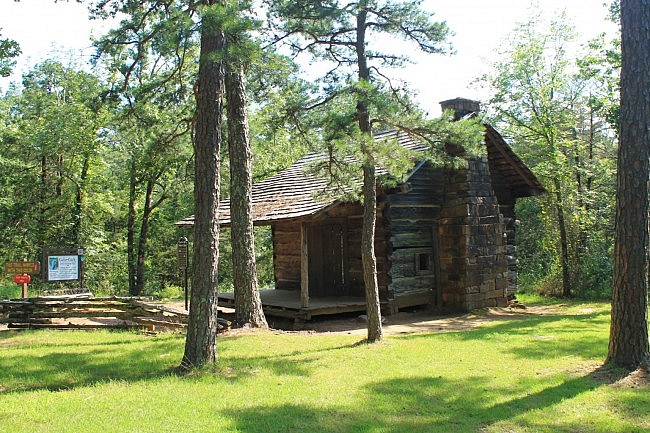 Like many of the trails at Petit Jean, there are some really cool rock formations along the trail. One of the most impressive is a large leaning slab rock (pictured) that the trail goes under before the second footbridge.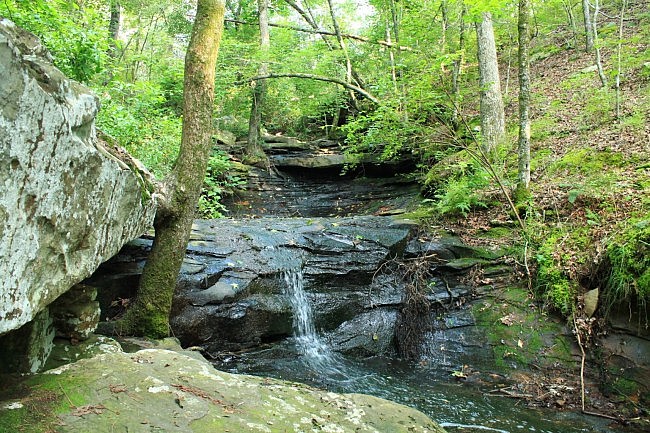 Of course, Cedar Creek, when flowing, is beautiful. But as the official brochure indicates, the area of Cedar Creek to the west (downstream) from here is a designated restricted area. This is the area that approaches the top of Cedar Falls.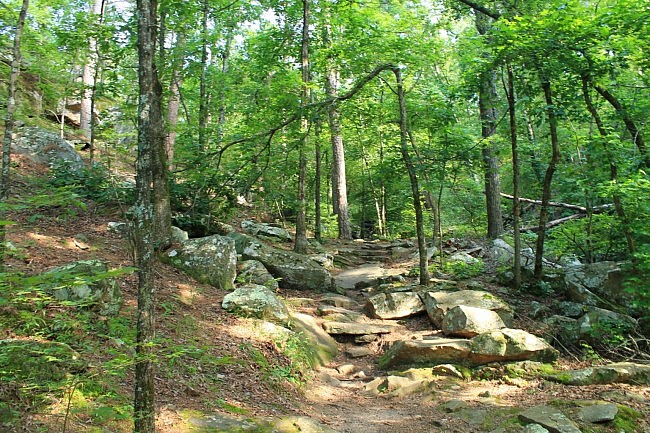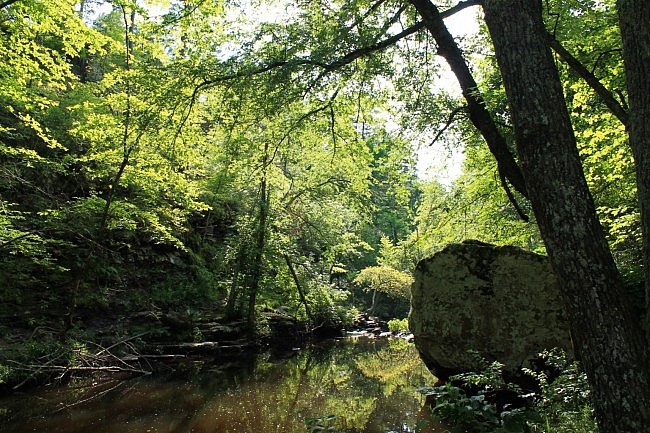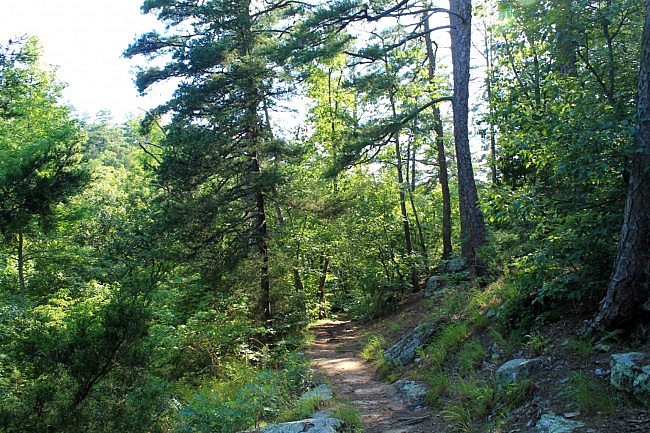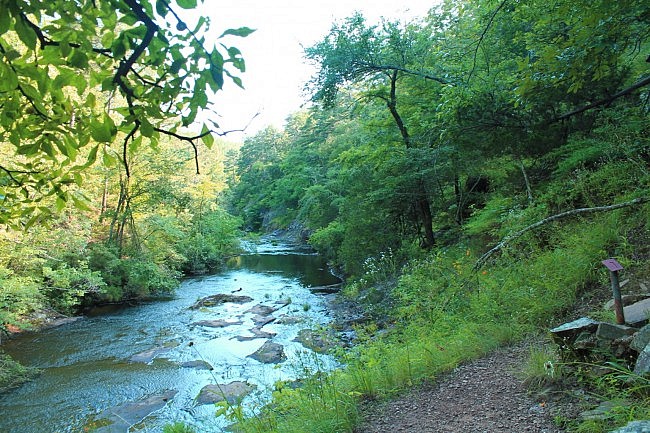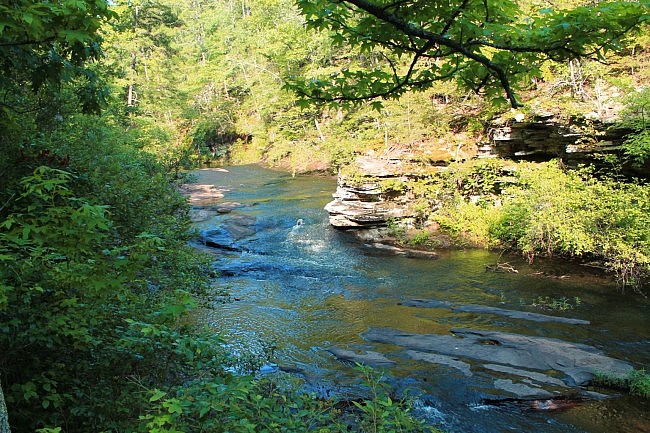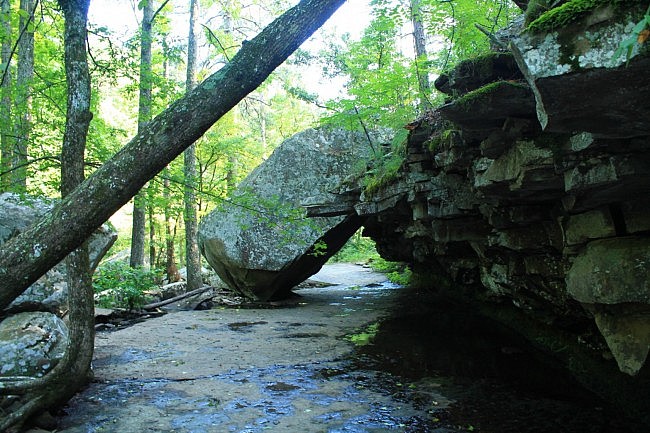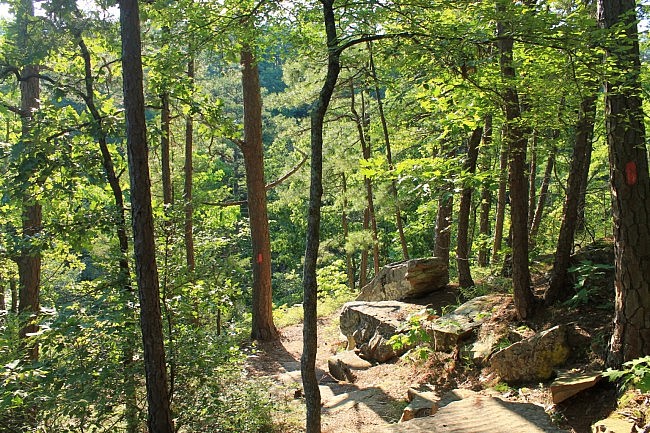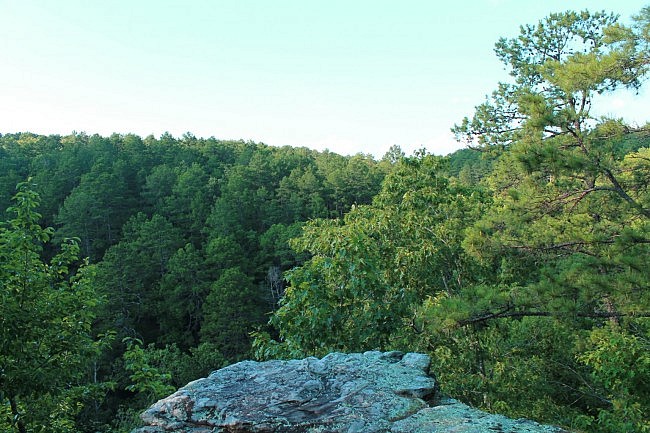 The photos are ones I took from my early evening hike. (Click for larger view.) I have also posted above a trail map made from data from my gpx.
Photo Gallery
Click here for full-screen photo gallery.
Petit Jean Cedar Creek Trail Maps
Click here for full-screen trail map.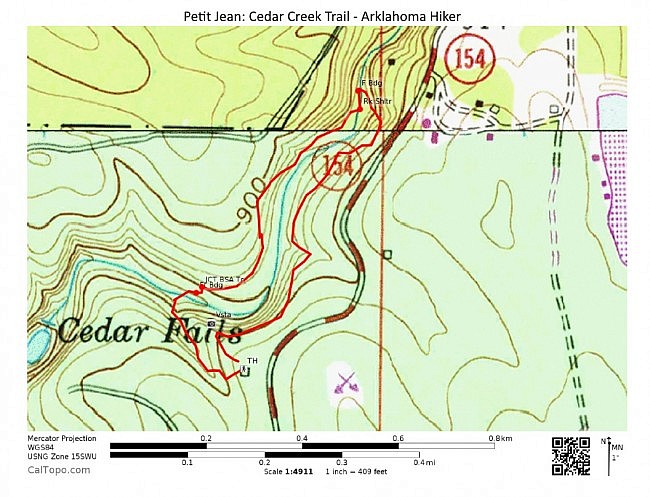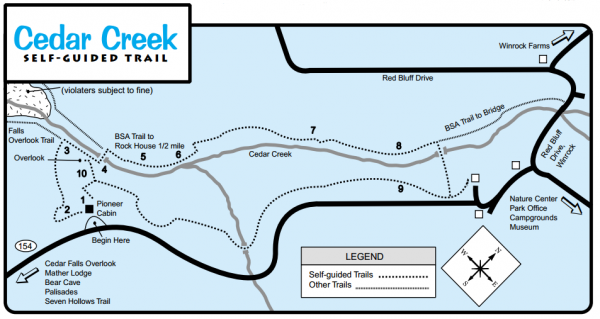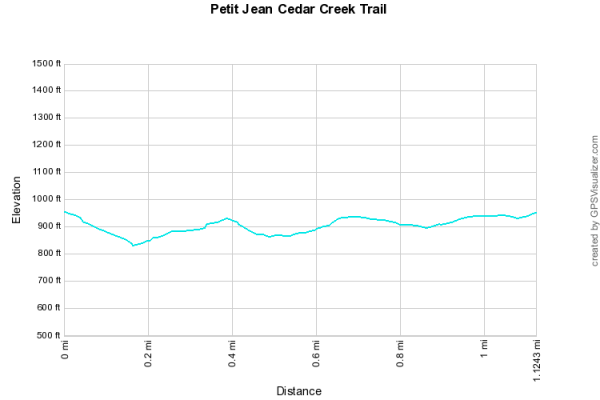 Petit Jean State Park - Cedar Creek Trail

Location
Conway County, Arkansas
Length
1.1 mile loop
Difficulty
Mildly challenging (2 of 5)
Weather/Conditions
80's
Directions
The trailhead is well marked and has its own parking lot. There is a cabin at the trailhead.


Blazes: light red.

ATT Cell Coverage?
Mostly
Official Info - Phone/Links
(501) 727-5441
Official Cedar Creek Brochure.

Date Hiked
June 24, 2014 (p.m.)
You can download the official Cedar Creek Trail brochure here.
Click here for gpx file download.
Enter your location to get Google directions to the Cedar Creek Trailhead:
[Last updated: 3-1-2015]

Print Friendly