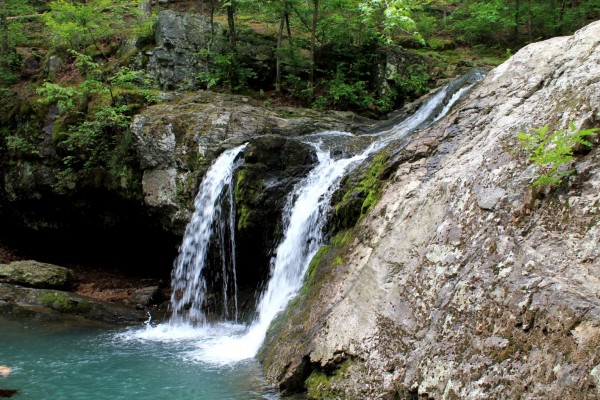 If you're a sucker for streams and hills like I am, you should check out the Falls Branch Trail at Lake Catherine State Park (Hot Spring County, near Hot Springs). I think this 1.6-mile semi-loop is the most scenic trail in the park.
The highlight of the trail is the 10-foot waterfall, Falls Creek Falls.
CLICK – Google Maps Directions to Trailhead
The trail starts at the park's main trailhead, close to the bathhouse. From there, follow the signs (heading counterclockwise) and the red blazes.
The first .3 miles goes uphill along a pretty stream with a number of small footbridge crossings.
The trail then makes a sharp left turn and heads up part of Horseshoe Mountain. Just a little ways up is a nice overlook.
The trail reaches its highest elevation point at about .6 miles when it crosses the Horseshoe Mountain Trail.
The trail then heads downhill and toward the waterfall. (The net elevation change on the hike is about 180 feet.)
Pretty soon, the trail starts following another stream. At about .8, there is a several-foot-tall mini-waterfall in this stream.
Eventually, the trail comes upon Falls Creek and then the waterfall. The pool beneath the falls is also gorgeous and is sometimes used as a swimming hole.
The rest of the trail, finishing the loop back to the trailhead, has some great views of Lake Catherine.
These are some photos and my gps-based map from my hike back on June 14.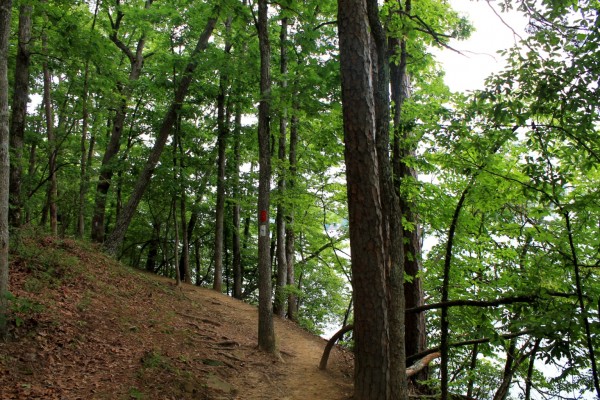 Photo Gallery
Click here or below for full-screen photo gallery.
Maps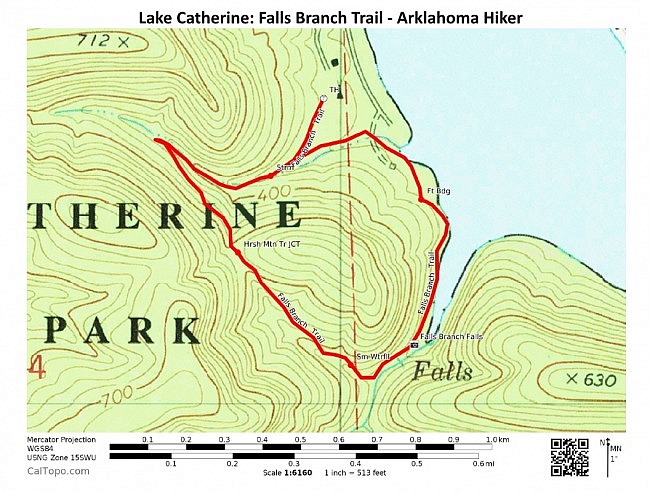 CLICK – Interactive Trail Map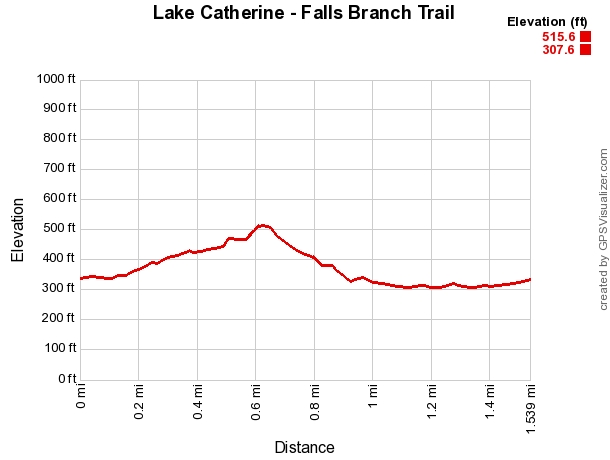 Lake Catherine: Falls Branch Trail

Location
Lake Catherine State Park, Hot Spring County, Arkansas
Google Maps Directions to Trailhead
Link.
Length/Type
1.6 mi./Semi-Loop. Red blazes.
Difficulty
Mildly challenging (2 of 5)
Other permitted usage?
Pets on leash.
ATT Cell Coverage?
Yes
Official Info
501-844-4176
Official website.
Gpx file by Mike
Link.
Interactive trail map
Link.
Date Hiked
June 14, 2014