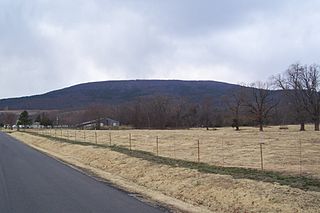 Cavanal Hill is in Poteau, in Southeast Oklahoma. It is promoted as the "tallest hill in the world."
The U.S. Geological Survey refers to it as "Cavanal Mountain" and notes that its elevation is 2,385 feet.
If you ever visit Poteau, you can't miss Cavanal Hill. It is by far the most prominent natural feature of the surrounding area. In fact, it is easily viewable from many parts of Fort Smith, about 25 miles away.
Although I have been in and through Poteau many times, I have never been up on Cavanal Hill. My understanding is there are not any trails going up the mountain. Please send me a line if I am incorrect on that.
This is a short video from Discovery Oklahoma with some more information about Cavanal Hill.
[Updated: 4-11-2017]