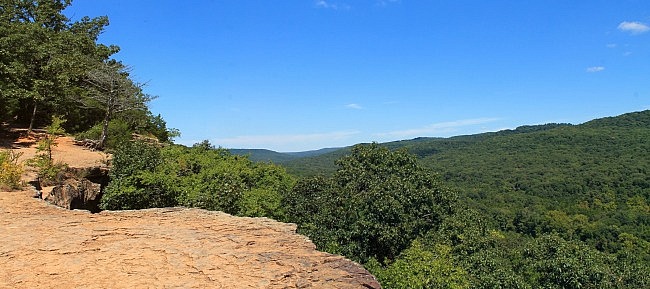 Yellow Rock Trail at Devil's Den State Park (southern Washington County, Arkansas) is one of my favorite trails. This 3.1-mile semi-loop hike has beautiful views and wonderfully interesting and scenic rocks formations.
The trail is a semi-loop with two major spurs. The opening half-mile spur connects then to a largely triangular-shaped loop.
At the west end of the loop, there is a .3-mile spur over to the CCC Overlook. Including travelling both spurs, the hike length is 3.1 miles.
It's a moderately challenging hike with some significant climbing and an elevation change of about 400 feet.
For my money, the highlights of the hike are: (1) the Yellow Rock bluff; (2) the CCC Overlook; and (3) the cool rock formations in the initial spur.