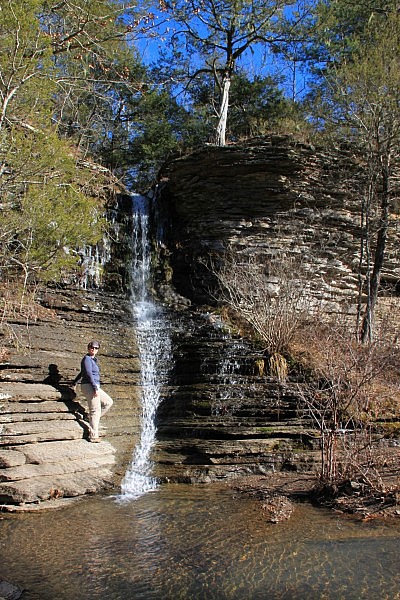 Intersection Falls (southeast Searcy County, Ozark National Forest) is a great, tropics-like waterfall that is just a short bushwhack from Six Finger Falls.
It's a bit of a challenge to get to, but it has first-class scenery all along the way to make for a very enjoyable bushwhack.
Getting to the Intersection Falls Bushwhack
(These are the same driving directions as for Six Finger Falls.) Take Highway 7 to Pelsor (halfway between Jasper and Dover). Turn east onto Highway 16.
Travel 10 miles on Highway 16, past the Pedestal Rocks Special Interest Area and about 1 mile past the community of Ben Hur. Then turn left onto Forest Road 1205.
There is no sign for the Forest Road, but there are signs to "Falling Water Horse Camp." Turn on the road to the horse camp.
Follow FR 1205 for 5.3 miles and cross a bridge over Falling Water Creek.
About a half-mile past the bridge, there is a little parking area and a sign board on your left. Park here.
Continue reading Intersection Falls Near Falling Water Creek (Ozark Forest) →